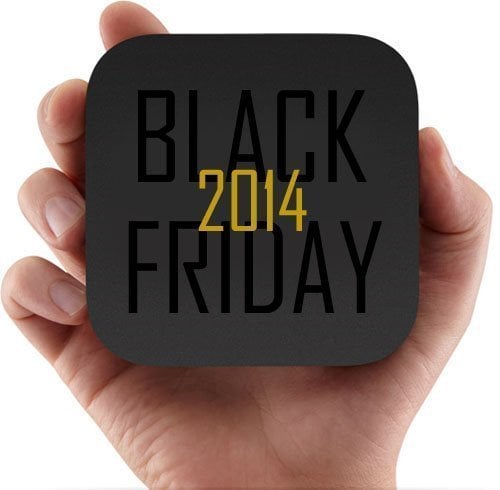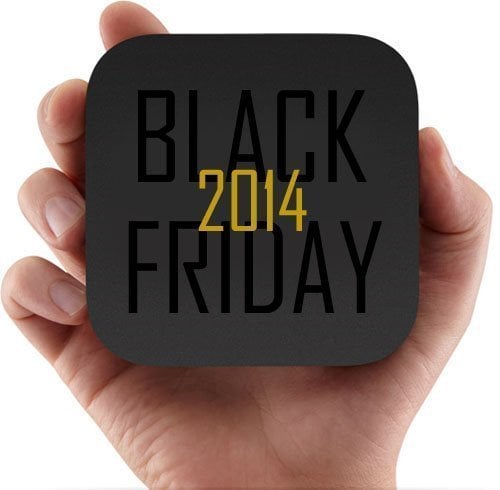 Black Friday is here! Apple TV Hack is joining the fun as we bring you the best deals* on Apple TV related products!
Black Friday deals on Apple TV
1. Apple TV 3rd Generation MD199LL/A (Current Version) – ($99 $89)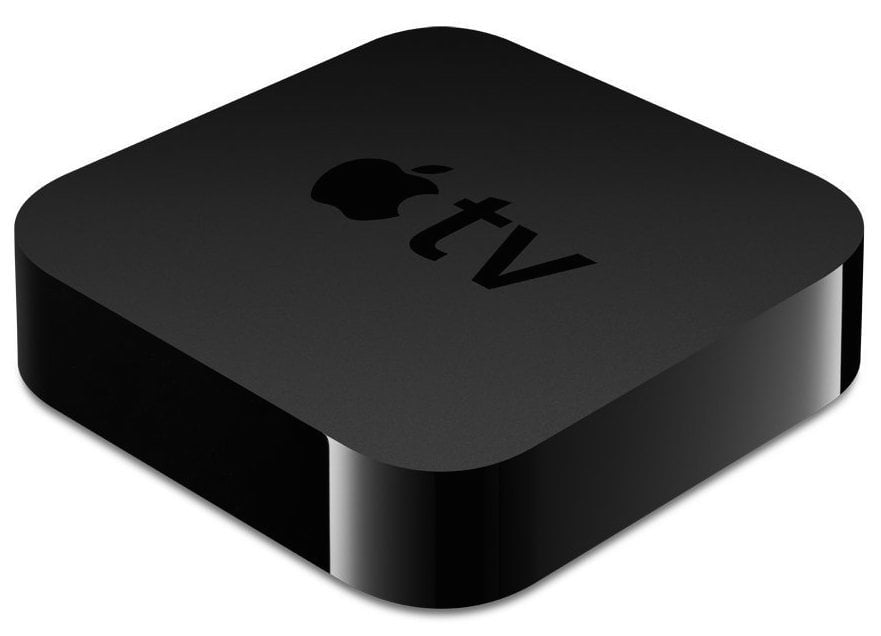 2. Apple TV and Amazon Basics 6.5-Feet HDMI Cable ($110 $94.99)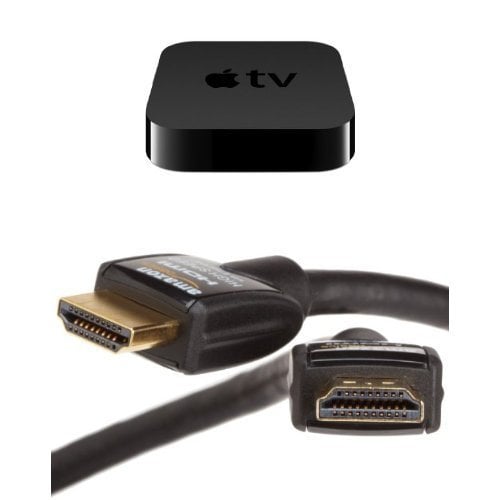 HDMI and digital optical audio output; connects to network via Wireless-N or Ethernet
Black Friday deals on Apple TV mounts
1. Maclocks Apple TV Security Mount Enclosure ($54.95 $40.99)
High-grade aluminum security enclosure for Apple TV
Security locking head
Protects against overheating and Wi-Fi signal loss
Includes 2 keys
Peripheral cable security trap
2. OLLO Shelf Mount for Apple TV ($39.99 $19.99)
100% ALUMINUM / MATTE FINISH
FITS ALL APPLE TV AND ROKU MODELS
ALLOWS DIRECT IR CONTACT, CABLE MANAGEMENT
MOUNTS TOP OR BOTTOM OF TV
3. TotalMount – Apple TV Universal Mounting System ($29.99 $12.95)
Universal mounting kit for Apple TV – Hides Apple TV behind your television (Not designed for rooms with two-story high ceilings)
Easy to install – no tools necessary (Clips onto back of TV without adhesive)
Eliminates the need to tunnel an HDMI cable through your wall
Declutters the area around your TV
Apple TV and HDMI cable are not included
4. QualGear Mounting Kit for Apple TV / Apple AirPort Express Base Station ($29.95 $17.51)
Simple construction allows easy installation
Mounting options: attach to back of TV, attach to TV wall mount, or mount to wall
Pre-sorted hardware pack for easy installation
Mounting hardware is included for mounting to wooden studs, concrete and brick wall surfaces
5. TotalMount – APPLE TV Mounting Shelf (Newest Design) ($29.99 $16.95)
Universal mounting shelf for Apple TV
Easy to attach – no tools necessary
Eliminates the need to tunnel an HDMI cable through your wall
Ideal for wall-mounted televisions (Requires at least 2.5 inches of clearance behind the TV in the mounting area)
6.  Tryten T5825US ALUMINUM MOUNT WITH KEYED LOCK FOR APPLE TV ($39.90 $38.70)
Tryten Apple TV Mount
Aluminium Strong built
with key for security
Black Friday deals on AirPlay speakers for Apple TV
1. Klipsch G-17 Air Wireless Sound System ($549.99 $189.99)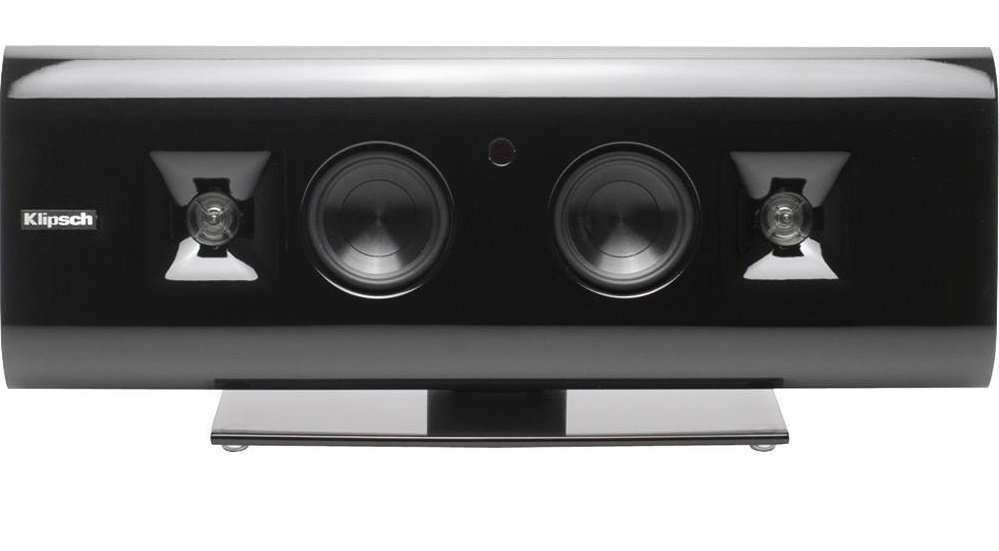 Airplay enabled speaker connects wirelessly over an existing Wi-Fi network
Allows control of your iTunes library from your Apple smart device
Employs horn-loaded technology in an extremely thin speaker
Sleek, minimalist cabinet in high-gloss piano black finish
2. Logitech UE Air Speaker for iPad, iPhone, iPod Touch and iTunes ($399.99 $134.99)

Wi-Fi speaker with Apple AirPlay: Stream uncompressed audio over home Wi-Fi from your iPad, iPhone, iPod touch or laptop
Simple setup for multiple devices: Quick-start app connects the speaker to your Wi-Fi network and all your iOS devices-no individual pairing required
Easily expandable: Add AirPlay speakers to more rooms to sync your music as you move around the house
Premium sound and style: Beautiful modern design looks great in any room and delivers big, detailed stereo audio
Built-in Apple Dock Connector: Makes it easy to charge your iPad or iPhone or play music from your iPod classic or iPod Nano
3. Philips DS8800W/37 Fidelio SoundCurve Wireless Speaker with AirPlay ($99.99 $59.95)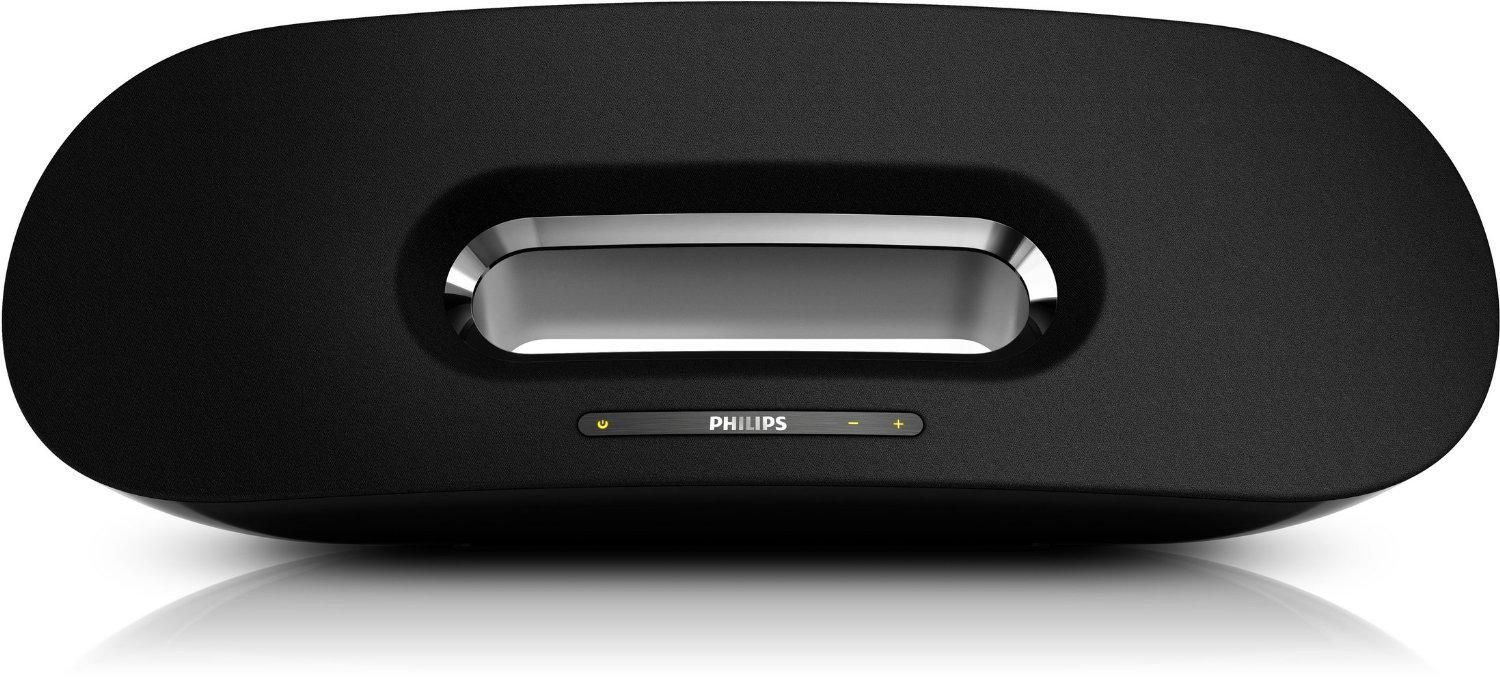 SoundCurve for superb crystal-clear sound
Precisely tuned bass pipes for deep, tight bass reproduction
Optimal acoustic volume to match speakers' requirements
Stream music with AirPlay wireless technology
Compatible with: iPod touch, iPod touch 2nd generation, iPod touch 3rd generation, iPod touch 4th generation. Compatible with: iPhone, iPhone 3G, iPhone 3GS, iPhone 4. Compatible with: iPad
4. Sony SANS500 Portable Wi-Fi Speaker System with AirPlay ($399.99 $299.95)
Wirelessly stream your favorite music to any room from Pandora, Slacker, iTunes, iPad, iPod Touch, iPhone, your PC, Sony Tablet, Sony Blu-ray integrated systems and more
Apple AirPlay lets you stream your music from your iPhone, iPad, iPod Touch and iTunes wirelessly
Up to 5 hour battery life for complete portability around your home
Powerful, 360-degree, room filling sound
iPhone Remote Control and Sony Tablet Music Sharing apps available
5. Harman Kardon Aura Wireless Stereo Speaker System ($480 $359.95)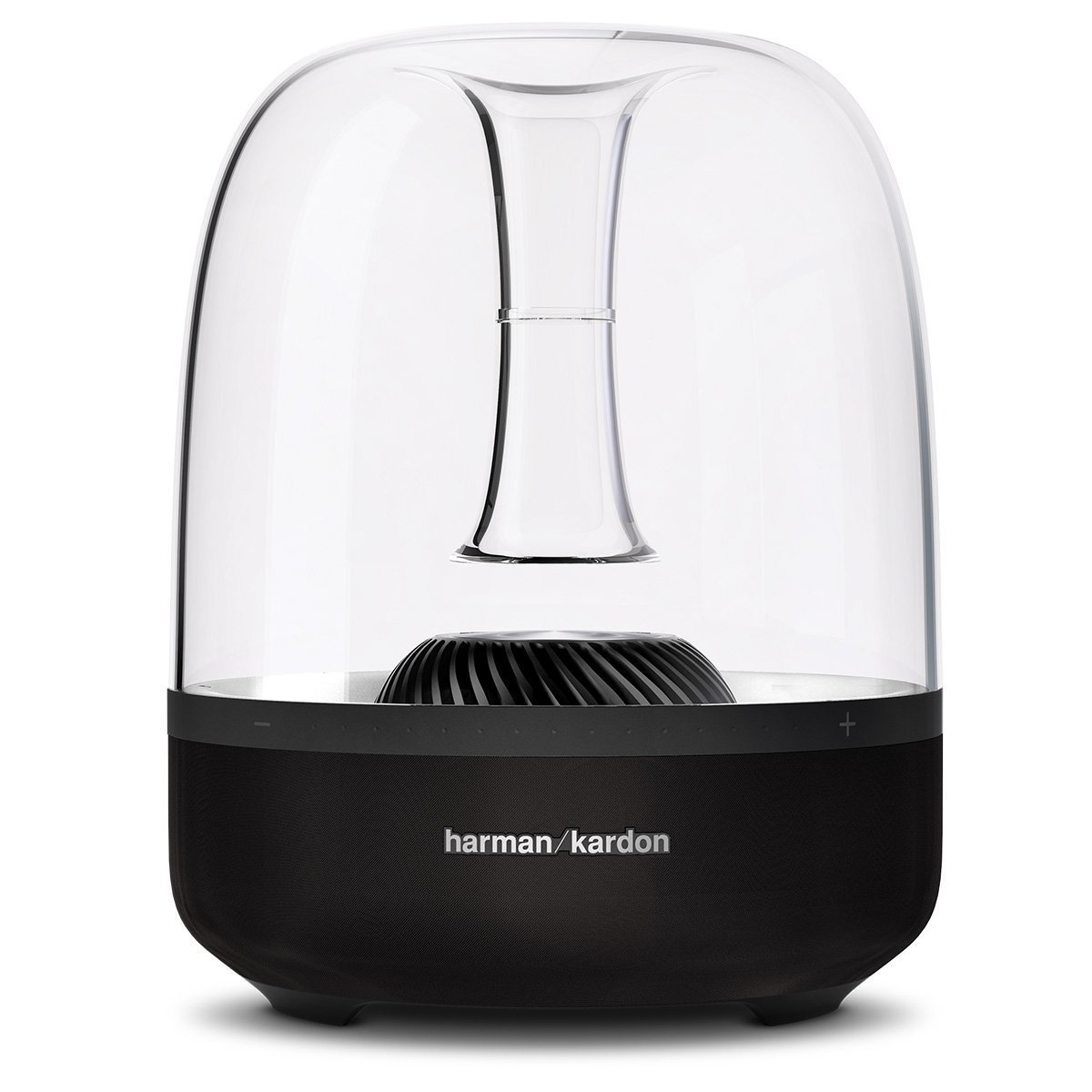 Six mid- to high-range 1.5″transducers deliver accurate, Omni-directional sound while a 4.5″subwoofer gives rich, powerful bass
Custom, stereo-widening DSP audio technology is engineered for room-filling, full frequency sound
Built-in Bluetooth feature streams audio from your Bluetooth devices wirelessly
Built-in Apple AirPlay system has easy set-up for use with all your Apple devices and DLNAfor Windows and Android
Customized Harman Kardon Remote app allows for easy set-up and added connectivity
Black Friday Deals on Bluetooth keyboards for Apple TV
1. Logitech Harmony Smart Keyboard 915-000225 ($149.99 $124.05)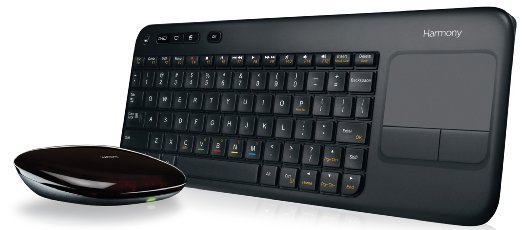 Living room TV keyboard/touchpad: Simplifies text entry/searches on Internet-connected entertainment devices
One-touch Activity control: Press one button, like "Watch A Movie", and the right devices power on and switch to the right settings
Harmony App: Supplements keyboard controls to turns household smartphones and tablets into personal entertainment controllers
Closed-cabinet control: Controls up to 8 devices, even ones hidden behind cabinet doors and walls
Works with over 270,000 devices: Controls cable TV, Apple TV, Roku, Sonos, Amazon Fire TV, Phillips hue, Xbox One, PS3 and TV-connected PC or Mac
2. iWerkz Universal Foldable Bluetooth Keyboard ($79.99 $29.99)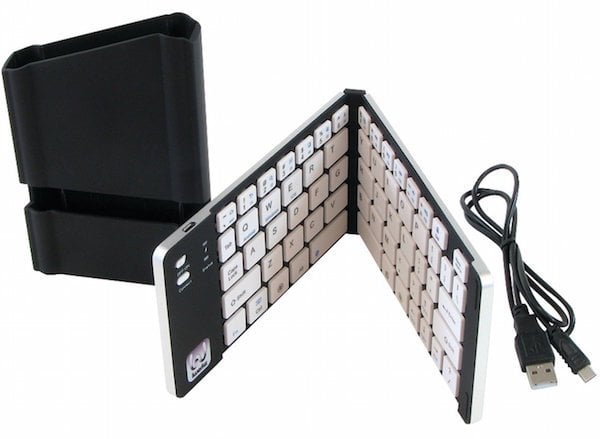 Protective Case Doubles as a Stand
Docks Tablet Devices or Smartphones While in Use
Compatible with Android & iOS Devices
Folding Design
30 Days Standby Time
44-Hr Run Time
Convenient to Carry
3. Apple Wireless Keyboard ($69.99 $64.04)

Easy on the eyes. And hands: you' ll see that it takes up far less space. Up to 24 percent less than other full-size keyboards.
The Bluetooth connection. Your Mac works with the Apple Wireless Keyboard through the Bluetooth technology built into both.
One less battery. All the difference:The Apple Wireless Keyboard now requires just two AA batteries, one less than the previous model.
4. Logitech Bluetooth Easy-Switch K811 Keyboard ($99.99 $79.99)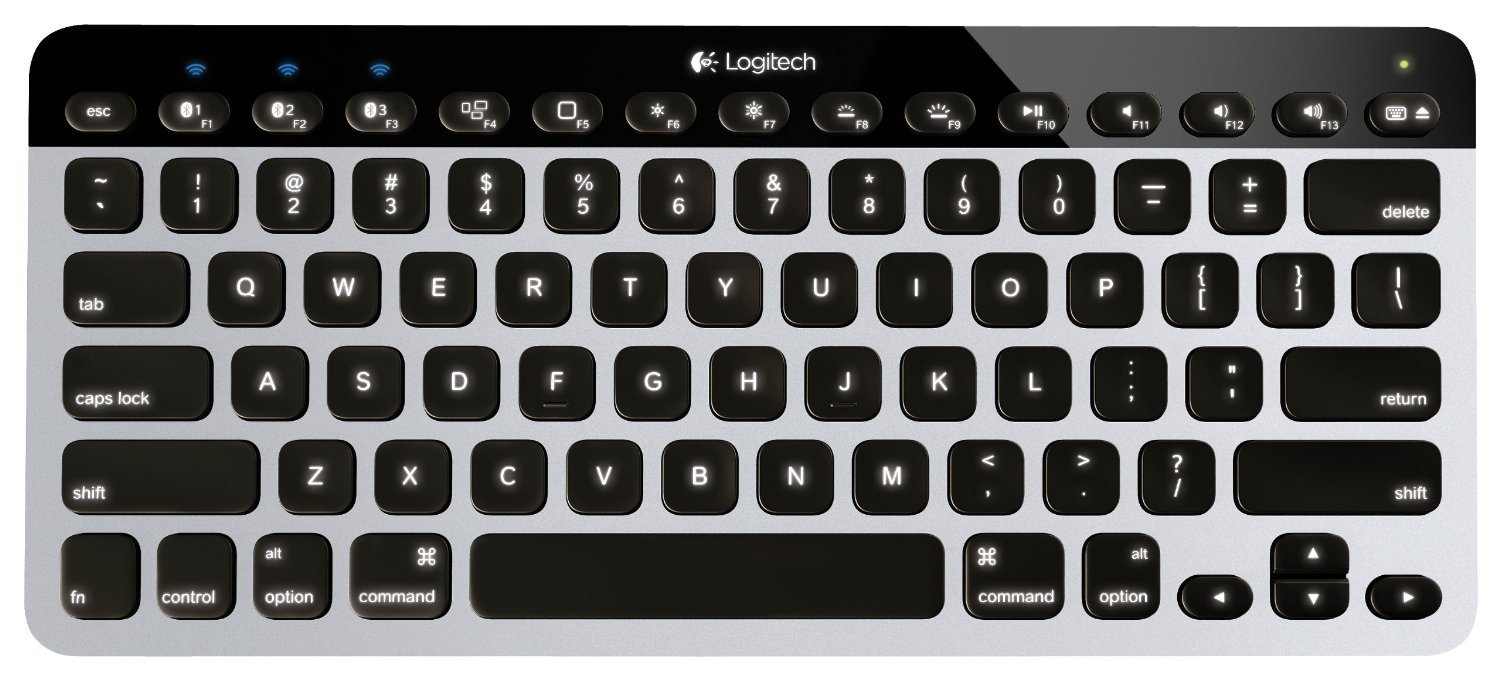 Logitech Easy-Switch Bluetooth technology: Press one button to instantly toggle between typing on your Mac, iPad and iPhone
Sharp, bright backlit keys: Type easily, even in the dark. Keys are always easy thanks to the auto-adjusting illumination.
Rechargeable: No battery hassles. Use the USB cable to recharge, even while you type
Specially designed for Mac: Compact and slim with a real aluminum finish and familiar Mac layout.
Type more comfortably: Unique Logitech keycap design for comfortable, whisper-quiet typing
5. iPazzPort Bluetooth Mini Wireless Keyboard for Apple TV ($64.78 $19.99)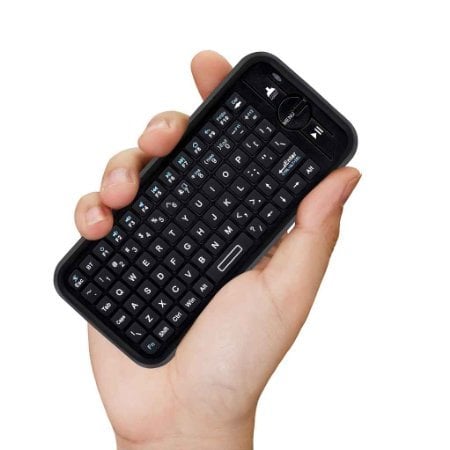 A sleeve for Apple TV Remote,also protect the keyboard from damage.
One of a Kind Silcone Sleeve to Safely Secure your Apple TV Remote Control to the Air Mouse
Bluetooth connectivity via internal Bluetooth with a 33 Ft./10 M range
82 keys, Page up/down, scrolling, 90 degree orientation flip, Multimedia Controls
Good for surfing web on smart tv on bed and occupy little space on coffee desk.
Black Friday Deals on Apple TV remotes
1. Logitech Harmony Smart Control with Smartphone App and Simple Remote ($129.99 $108.99)
Harmony smartphone app: Turns your smartphone or tablet into a Harmony remote control (Initial setup required)
Swipe and tap control: Use your smartphone for one-touch control of your entertainment system, up to 50 favorite channel icons, volume, media playback and more (Works with iPhone iOS 6.0 or later and Android 4.0 or later)
Closed-cabinet control: Included Harmony Hub lets you control devices hidden behind cabinet doors or walls, plus game consoles like PS3, Wii and Xbox 360
Remote included: A simple Harmony remote anyone in the house can use when your smartphone is not handy
Future-proof control of up to 8 devices: Works with over 270,000 devices: Controls cable TV, Apple TV, Roku, Sonos, Amazon Fire TV, Phillips hue, Xbox One, PS3 and TV-connected PC or Mac
2. L5 Universal Remote Control – for 30 pin devices – works with most media center brands, Apple TV and more ($59.95 $39.99)
Does not require batteries nor Wi-Fi or external power to work
Drag and drop to design the remote you want, and learning function from current remotes
Intuitive app and add-on remte for iOS devices–apowerful alternative for replacing multiple remote control devices
Keep the buttons you use, delete the ones you don't
Works with all models of iPhone, iPod touch, and iPad–connects via universal dock connector
L5 Remote will work fine with an authentic Apple Lightning to 30-pin adapter
3. Apple Remote ($49.99 $24.99)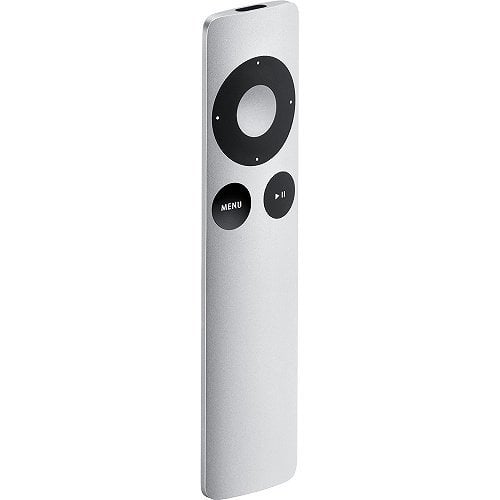 Apple Remote with iPod and iPhone: If you connect your device to the Universal Dock or a compatible home stereo, powered speakers, or TV set with an IR port, the remote lets you experience your songs, slideshows and more from across the room.
Apple Remote with Mac: Control audio volume, play, pause, and control music and videos, or even put your Mac to sleep from anywhere in the room.
The Apple Remote gives you total command of your Mac's music, photos, videos and DVDs via FrontRow—a menu-based, full-screen interface—to make accessing the digital content on your Mac simple.
4. Griffin Beacon Universal Remote Control for iPod touch, iPhone and iPad ($79.99 $9,95)
Connects to your iOS device via Bluetooth and gives you control of your TV, stereo, and other home entertainment components.
Your entertainment system expects a remote control to speak to it via infrared signals. Your iOS device speaks Bluetooth. Beacon acts as a bridge between them. Imagine being able to control your TV or stereo using your always-handy iPhone. Or your iPod touch. Or your iPad. Beacon pairs with your iOS device via Bluetooth and works with Dijit's Universal Remote App to put complete control of your home entertainment center in the palm of your hand.
5. Inteset 4-in-1 Universal Backlit Media Center & XBox One Learning IR Remote INT-422($27.95 $23.95)
Pre-programmed for Apple TV, XBox One, Media Center and Roku device codes which are easily changed. Full LED Backlighting-All buttons; Channel Lock- The user can lock access to the channel changing capability in one mode such as the cable box.
Volume Lock-The user can lock the volume in all modes; ID Lock- After a valid code has been set that code can be locked.
Macro Programming-This allows the programming of a string of commands (up to 15) within a mode or mode independent.
Device Code Database- Complete worldwide database of device codes; Library Search Capability-You can search the data base for any missing codes; Learning Capability-Used to program any device that is not in the data base
Button Labels- These self-adhesive labels, as pictured, can be cut out and applied underthe buttons that you program for your device functions; Key Punch Through-Allows the user to configure the same key function in one mode into any or all other modes; Warranty-One Year
Black Friday deals on TV Sets
1. LG Electronics 65UB9500 65-Inch 4K Ultra HD 120Hz 3D LED TV ($4299 $2499)
Refresh Rate: 120Hz (Native) and 240Hz (Effective)with IPS Panel; Ultra Clarity Index: 1500 (Effective)
Backlight: LED (Edge-Lit)
Smart Functionality: Yes – WebOS, includes Magic Remote
Dimensions (W x H x D): TV without stand: 57.2" x 33.8″ x 2.4", TV with stand: 57.2" x 36.0" x 11.8"
Inputs: 4 HDMI, 3 USB, 1 Component, 1 Composite, 1 Digital Audio Out, 1 LAN
2. Seiki 50-Inch 1080p LED TV ($499 $349)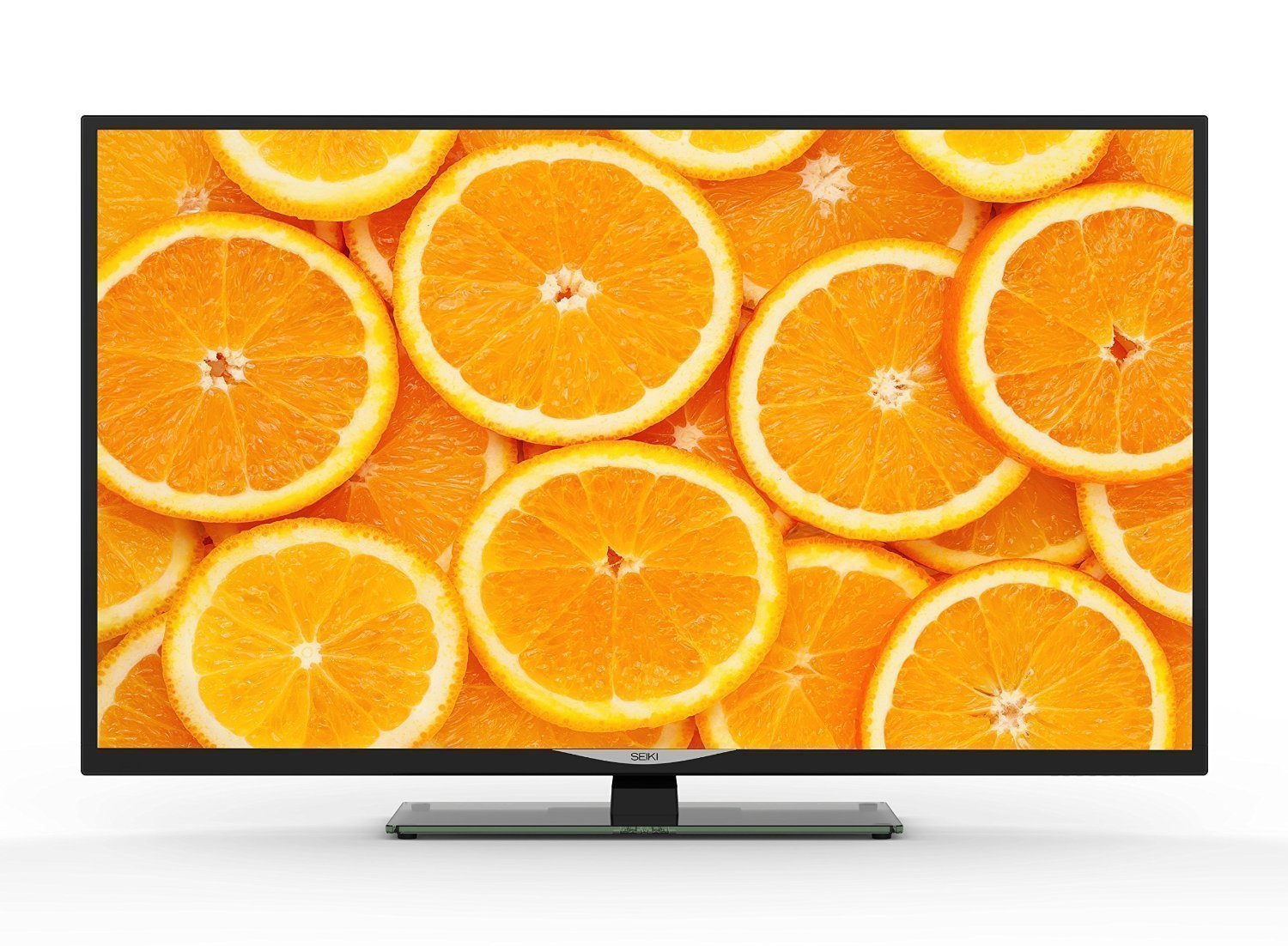 Refresh Rate: 60Hz
Backlight: LED (Full Array)
Smart Functionality: No
Dimensions (W x H x D): TV without stand: 44.59" x 26.22″ x 3.60", TV with stand: 44.59" x 28.49" x 10.11"
Inputs: 3 HDMI, 1 USB, 1 VGA
Accessories Included: Remote w/ batteries
3. Samsung UN65HU7250 Curved 65-Inch 4K Ultra HD 120Hz Smart LED TV ($3299.99$1997.99)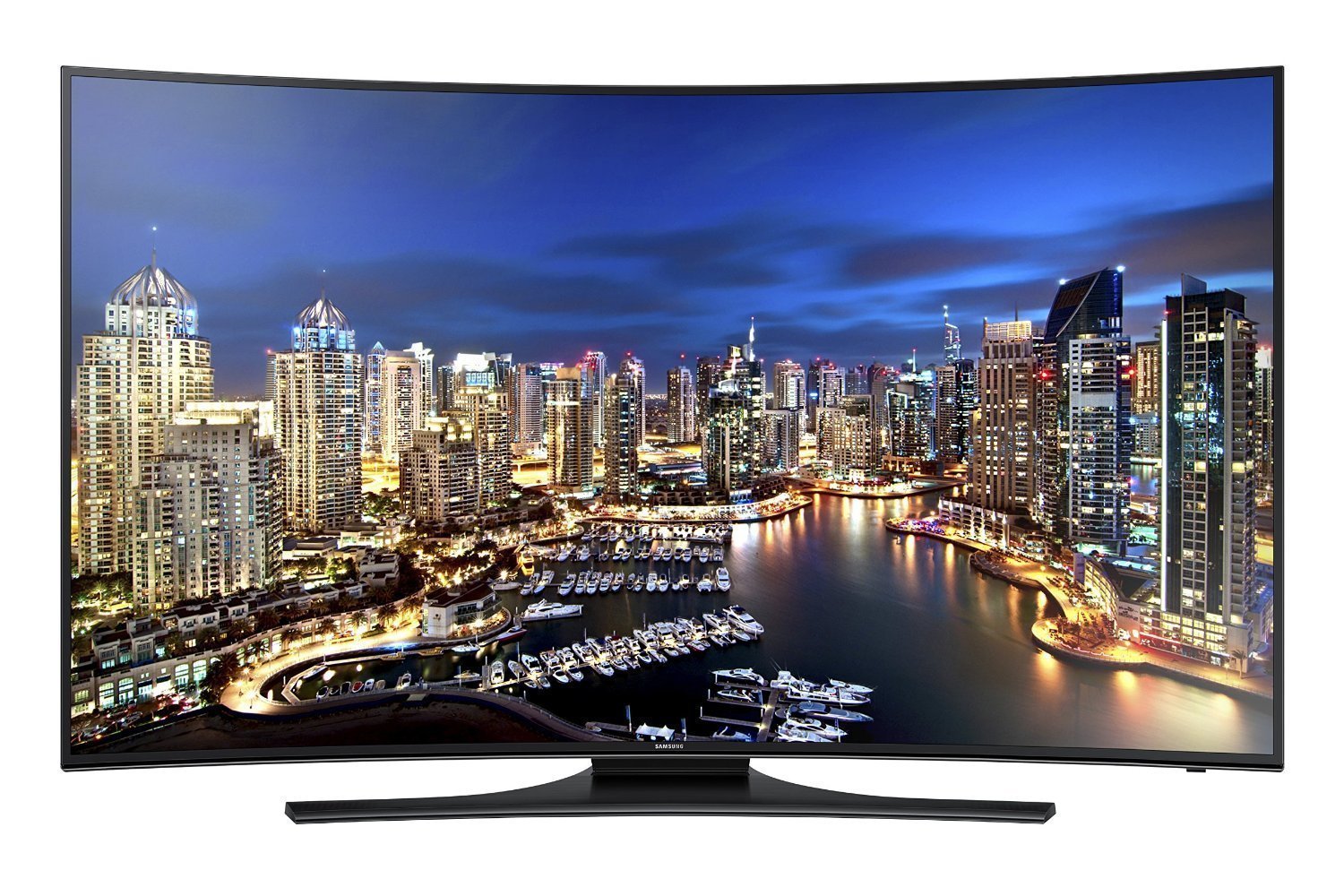 Refresh Rate: 120Hz (Native); Clear Motion Rate 960 (Effective)
Backlight: LED (Edge-Lit w/Local Dimming)
Smart Functionality: Yes – Voice Control
Dimensions (W x H x D): TV without stand: 57.1" x 33.1″ x 5.3", TV with stand: 57.1" x 34.7" x 11.8"
Inputs: 4 HDMI, 3 USB, 1 Component In, 1 Composite In
Accessories Included: Smart Remote Control
4. Sony 55-inch 4K Ultra HD 120Hz 3D Smart LED TV ($2999 $1498)
Refresh Rate: 120Hz (Native)
Backlight: LED (Edge-Lit)
Smart Functionality: Yes – Skype, Twitter, Internet Browser (Opera)
Dimensions (W x H x D): TV without stand: 48.6" x 29.25″ x 2.6", TV with stand: 48.6" x 31" x 11.25"
Inputs: 4 HDMI, 3 USB, MHL
Accessories Included: Remote, 2 3D Glasses, Touchpad Remote Control, IR Blaster, Table Top Stand
5. LG Electronics 65UB9200 65-Inch 4K Ultra HD 120Hz Smart LED TV ($3799.99 $1999.00)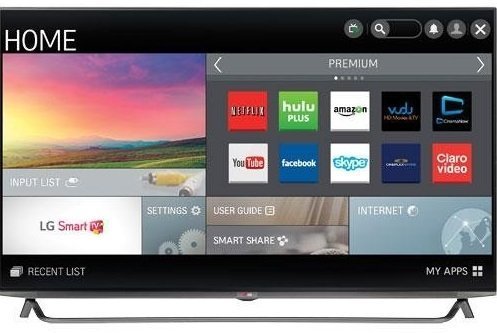 Refresh Rate: 120Hz (Native); Ultra Clarity Index: 1320 (Effective)
Backlight: LED (Edge-Lit w/ Local Dimming)
Smart Functionality: Yes
Black Friday Deals on Apple TV cables
1. Apple TV Power Cord – All Generations ($19.95 $5.79)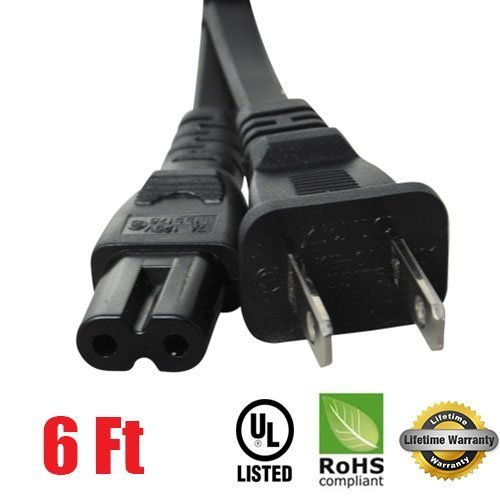 Universal AC Power Cordmounting for Apple TV
Non-polarized with a figure-8, 2-pin socket
Brand New Generic Bulk Package
Fits many portable audio products and other devices
2. AirEnabler Adapter Kit (for Apple AirPlay) ($79.95 $49.95)
Add Apple AirPlay support to any speaker system – including your car, boat, home stereo/receiver or old iPhone/iPod dock. Wirelessly stream music from your iOS device or iTunes (synchronized playback not supported).
Plug and Play – No configuration or computer needed. Setup AirPlay in your car in less than 5 minutes!
Better than Bluetooth – AirPlay is lossless (no audio compression), has better range, no pairing limitations and supports multi-users; anyone can play DJ. Will work seamlessly with your existing Bluetooth hands-free setup (music will pause for incoming/outgoing calls and resume when call ends). Compatible with 3rd party USB DACs to further enhance sound quality (for the audiophiles)
Automatically maintain 4G/LTE connection for GPS (Maps Turn by Turn Nav), Apps (Waze, etc), Email, Siri, iMessage and internet radio streaming such as Pandora, Spotify or iTunes Radio.
3 Different Operating Modes – Standalone Mode (default mode), Wireless Client Mode, Wired Client Mode. Configurable directly from your iPhone using free telnet app and simple menu driven commands. For car use, the AirEnabler will work right out of the box in the default Standalone Mode. For home use, switch to Wireless Client Mode or Wired Client Mode to join AirEnabler to your existing home network.
3. AmazonBasics High-Speed HDMI Cable – 6.5 Feet (2 Meters) Supports Ethernet, 3D, and Audio Return ($7.99 $5.99)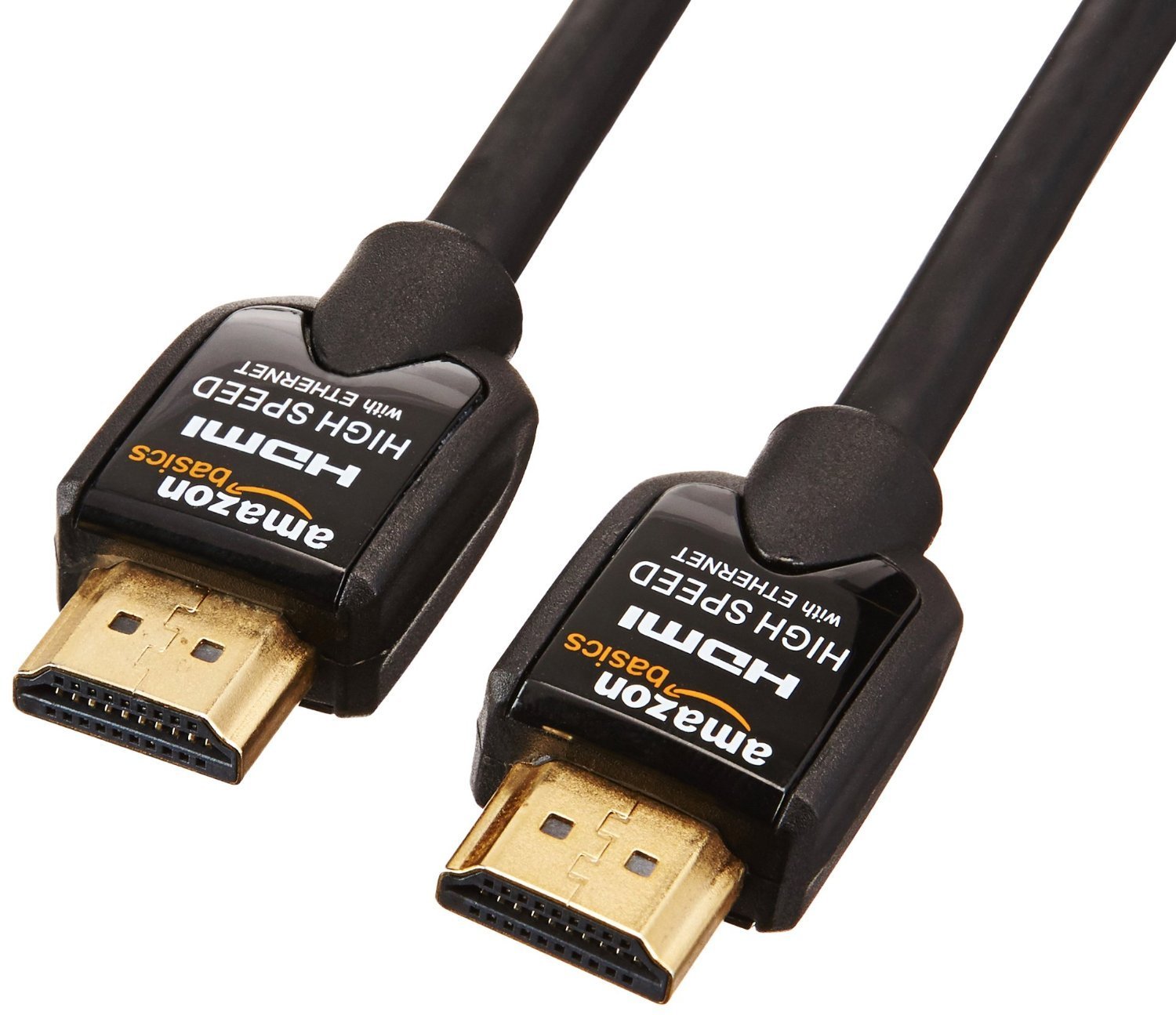 HDMI A Male to A Male Cable
Cable allows you to share an Internet connection among multiple devices without the need for a separate Ethernet cable
Supports Ethernet, 3D, and Audio Return
Meets HDMI 1.4 specification (48 bit/px color depth) and Shielded to defend against interference
Length: 6.5 Feet (2.0 Meters)
Black Friday Deals on other accessories for Apple TV
1.  Yiding Smart Bracket Remote Control Silicone Protective Case Mount For Apple TV ($17.89$9.99)
Potective Case For Apple TV
Apple TV Mounts & Brackets
Protective case for Remote Control
Wall Mount /Smart Bracket For Apple TV
1. AppleCare Protection Plan for Apple TV ($29 $26.80)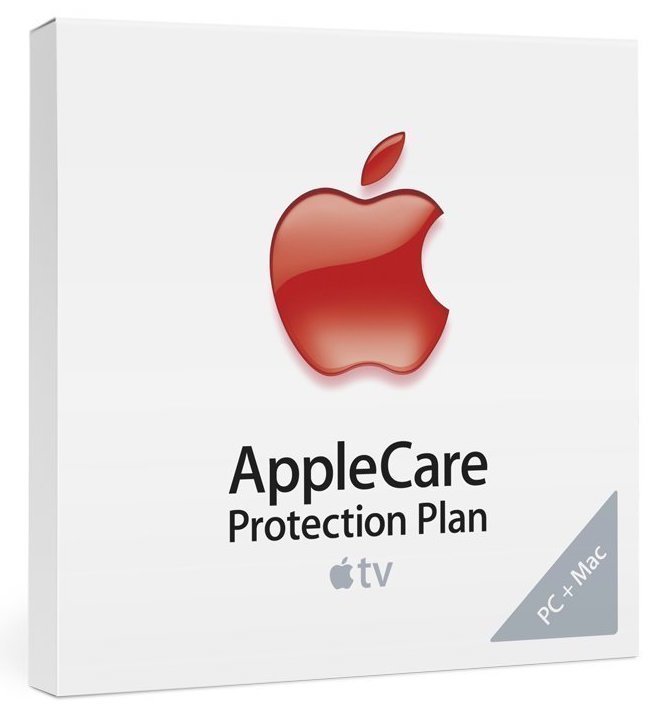 Extends the 1 year warranty of your Apple TV 3 by one more year.
More deals: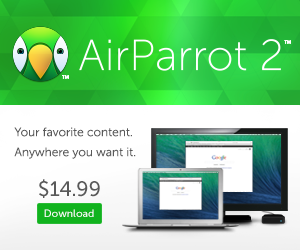 * We've been searching for the best Black Friday deals everywhere–including Black Friday deals other stores are planning. The fact that Amazon is price comparing makes this search much easier on us but to ensure you are getting the best deal possible, we will compare each price with that of other sites. If we find a better deal, we will post it!
Be sure to follow Apple TV Hacks on Twitter, Facebook or Google+ for all the latest Apple TV-related news.