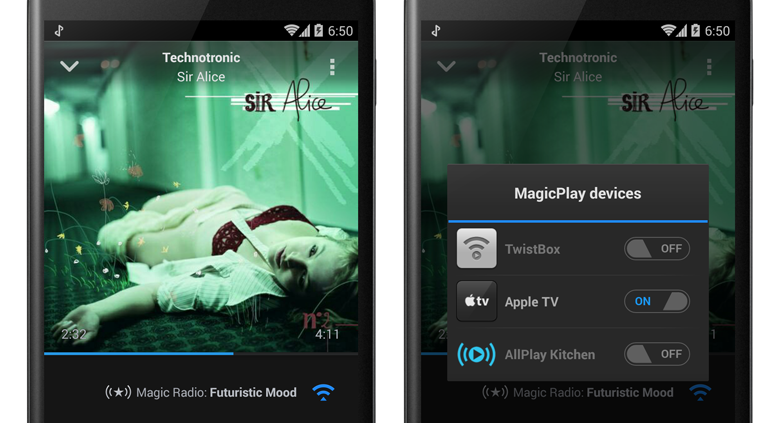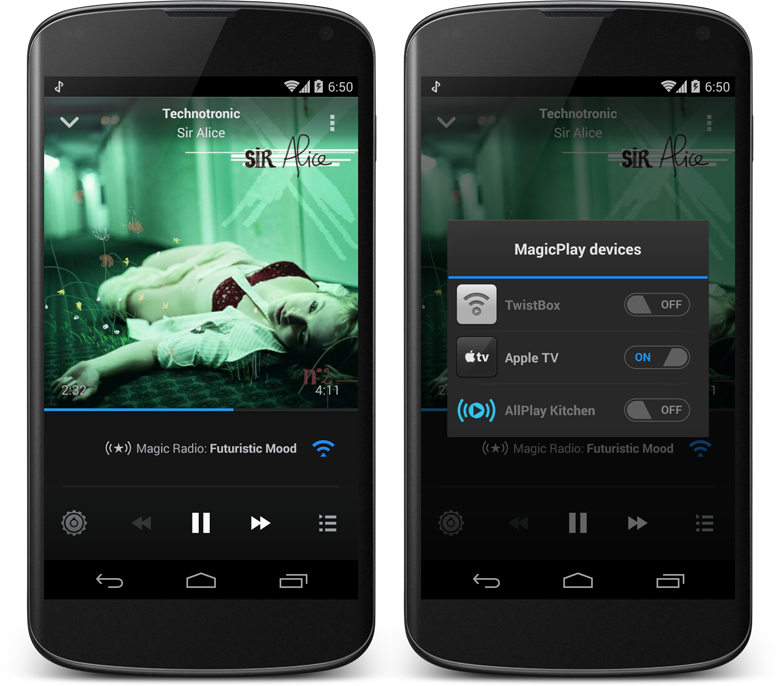 The doubleTwist Music Player has been quite popular on Android, thanks to its music streaming service Magic Radio, which boasts a huge library of songs (about 13 million). The app comes from DoubleTwist, the same guys who brought system wide AirPlay mirroring to all Android devices, via the MagicPlay: AirPlay for Android app. And the latest update to Magic Radio sees the latter feature getting melted into it.
Even with the earlier versions of the app, doubleTwist Music Player has been unique by being the only Android app in its class to support AirPlay streaming right out of the box.  However then, the app could beam only the local songs on your device and not the music from its streaming service. And you can guess, what the latest update does.
You can now choose from Magic Radio's huge catalog and broadcast it directly to your Apple TV or any other AirPlay enabled receivers.
This update also brings support for Qualcomm's AllPlay, despite the brow-raising fact that doubleTwist Music Player hasn't earned the support for Google Cast feature yet.
Our latest doubleTwist Music Player Android update brings something magical: now you can blast your favorite Magic Radio stations on your AirPlay-compatible speakers or stream music through your Apple TV, directly from your Android phone.
In short, if you have an android device incapable of Wi-Fi streaming to your new set of speakers, you can "go ahead, remove your headset, relax and pump up that volume!" thanks to Magic Radio (provided you can spare 9 bucks/month as subscription charges).
Be sure to follow Apple TV Hacks on Twitter, Facebook or Google+ for all the latest Apple TV-related news.