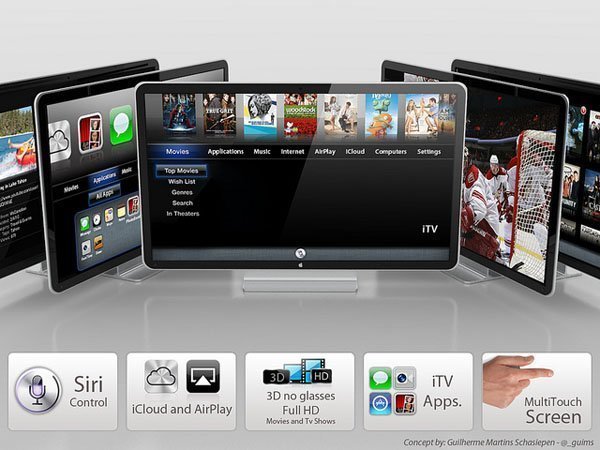 We all know that Apple's HDTV is set to revolutionize the TV industry, but what about the content industry? Would the idea of an Apple TV set with Siri, FaceTime, and Airplay, an iSight Camera, along with the look and feel of an Apple product not be enough for you to want to buy one? I would say yes, as would a few others, I assume. I found myself arguing with a friend about the idea that Apple could not release anything until it got its content partnerships worked out. I, personally, could not disagree more. I would think Apple would be prone to releasing a fantastic television set that revolutionizes the TV hardware/software industry and not even worry about the content right away.
Like everything else they do, they could simply release a product and let the market evolve around them. Let the products popularity drive content agreements, not wait for the market to move first and then release the product! Remember, they can always allow a coax cable to run into the back and immediately have all the content most people are use to.
Well, needless to say, my friend called me crazy. Thankfully, not 24 hours later an article came across my desk regarding Apple analyst Gene Munster of Piper Jaffary via the great folks over at Business Insider. It would appear that Munster, who has some knowledge in this field, says it is a simple question of "when", not "if" this product will be released:
While many believe content will be the key differentiator for the Apple television, we expect at launch Apple may not necessarily revolutionize the content industry. Ultimately we believe that consumers and Apple want unbundled channels and more options including time shifting to watch content, but note that content owners are hesitant to change. Our take is consumers are willing to pay more for each channel as long as their overall bill goes down (i.e. pay more for fewer channels you actually want). The bottom line is that we believe in five years Apple will have a significant hand in changing how people consume content on their TV. We know the end point, unbundled channels and DVR in the cloud. However this will take time (3-5 years.), and while we believe Apple will innovate on its existing TV content offering at the launch of Apple Television, we caution that the initial offering may more closely resemble the current Apple TV content offering (Netflix, iTunes, and eventually Hulu). As mentioned, we expect at launch the interface will allow users a new way to search, interact and record cable content, which will likely give users the feeling of an improved content offering.
Gene Munster goes on to break down what he thinks Apple will do to make this product special:
"Interface. We expect the TV to include Siri and compatibility with third party devices as well as potential integration with content guides, offering consumers improved control which should lead to greater value from their monthly cable subscription. We note that cable companies could charge a fee for consumers to use Apple Televisions ($5-10/month similar to cable box rental fees). Some investors do not believe Apple will be able to gain control of cable interfaces due to advertising on the interface, but we note that the ads are typically house ads and are not significant revenue contributors.

Apps/Games. We expect Apple to ultimately enable the App Store so consumers can play games, listen to music, etc. on their Apple Television set. We believe gaming will be of particular interest given the large base of iOS game developers. We believe games could be controlled by voice, iPhone/iPad and eventually motion capture built into the display,

Design. We believe the Apple television will include many existing Apple styling cues including aluminum casing and reduction of wires. We expect the design of the TV to make it the stand-out center piece of the consumer's living room. We expect the TV to be LCD given the high cost of OLED panels.
Finally, our friendly analyst gives his take on the specs (sizes and prices) we should expect to see when the Apple HDTV finally arrives:
We believe an Apple television could cost between $1500-2000 and is likely to be available in larger screen sizes (42-55″). The reason we are comfortable with that range is based on our thoughts of what an average Internet connected TV set up consists of (50″ Internet connected HDTV, game system, Blu Ray player, cable box, universal remote). We believe a set-up as outlined would cost around $1,650 (TV $1,200, game system $200, Blu Ray $150, universal remote $100). We note that the iPhone  typically carries about a 20% premium to other high- end smartphones, thus a 20% premium to the $1,650 set-up above would suggest a ~$2,000 TV.
So, when will we see this Apple TV set? According to Gene Munster we should expect the release to come somewhere around the first half of 2013.
Be sure to follow us on Facebook, Twitter or Google+ for the latest updates on the rumored Apple TV set.