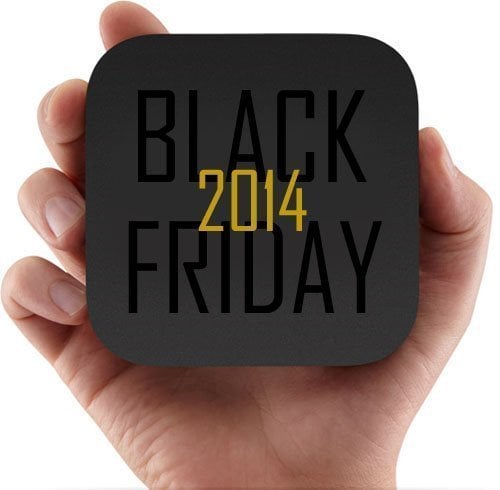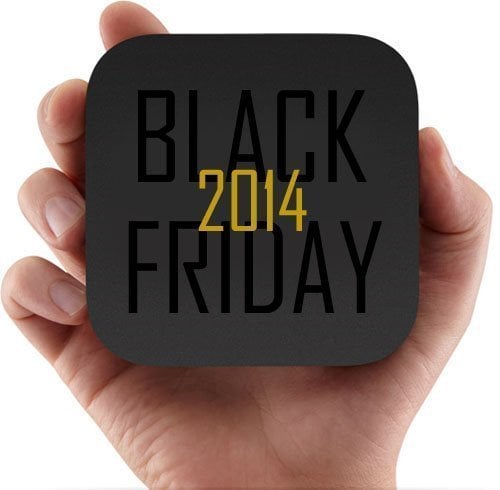 Black Friday is still a week away but online retailers have decided to stretch the action and are already pushing amazing deals every moment. Apple TV Hacks is also joining the fun as we will be bringing the best Apple TV related deals* everyday for the next 7 days.
Black Friday deals on Apple TV mounts
1. TotalMount – APPLE TV Mounting Shelf (Newest Design) ($29.99 $22.08)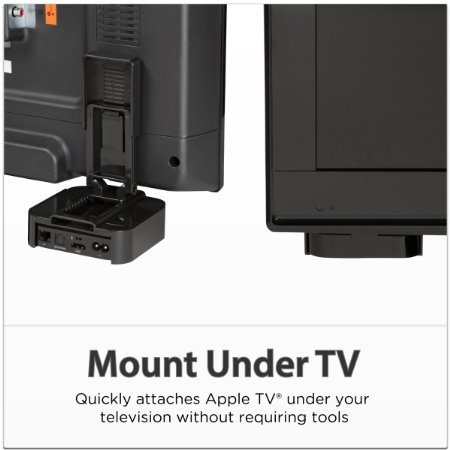 Universal mounting shelf for Apple TV
Easy to attach – no tools necessary
Eliminates the need to tunnel an HDMI cable through your wall
Ideal for wall-mounted televisions (Requires at least 2.5 inches of clearance behind the TV in the mounting area)
2. OLLO Shelf Mount for Apple TV ($39.99 $19.99)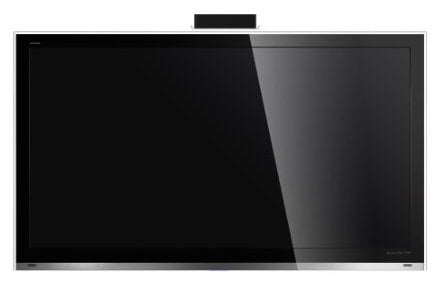 100% ALUMINUM / MATTE FINISH
FITS ALL APPLE TV AND ROKU MODELS
ALLOWS DIRECT IR CONTACT, CABLE MANAGEMENT
MOUNTS TOP OR BOTTOM OF TV
Black Friday deals on AirPlay speakers for Apple TV
1. Philips AD7000W/37 Fidelio SoundAvia Wireless Speaker with AirPlay ($199.99 $59.99)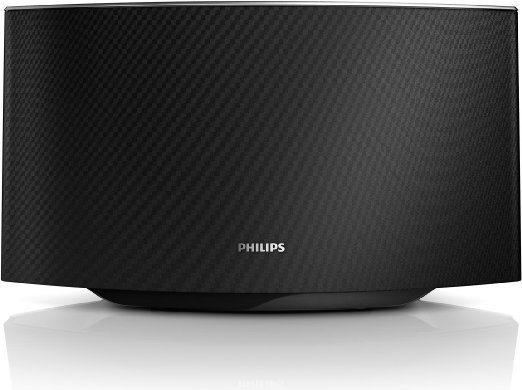 Stream music with AirPlay wireless technology
Play and charge your iPod/iPhone/iPad simultaneously
Dedicated app available on the App Store for more functions
2. iHome iW2 AirPlay Wireless Stereo Speaker System ($199.99 $69.99)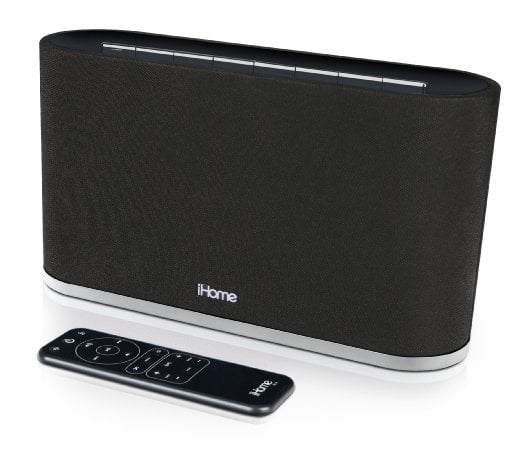 Wirelessly stream music from iTunes, iPad, iPhone and iPod touch via Wi-Fi
Play and charge your iPhone or iPod via USB port and included cable
SRS TruBass sound processing custom tuned to 2 speaker drivers
Easy network configuration with free iHome Connect app; Firmware upgradeable
Ethernet connectivity.
3. Xtrememac Tango Air Airplay Wireless Hi-Fi Speaker Subwoofer ($259.99 $109.99)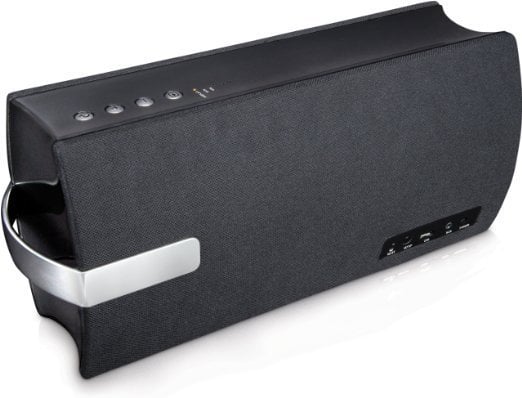 Premium sound configuration includes two tweeters, two full range drivers, one subwoofer and one passive radiator
Rear USB slot charges your iPod, iPhone and iPad
Auxiliary line-in provides flexibility to listen to music on any device that has a headphone jack
Black Friday Deals on Bluetooth keyboards for Apple TV
1. Apple Wireless Keyboard ($69.99 $64.99)

Easy on the eyes. And hands: you' ll see that it takes up far less space. Up to 24 percent less than other full-size keyboards.
The Bluetooth connection. Your Mac works with the Apple Wireless Keyboard through the Bluetooth technology built into both.
One less battery. All the difference:The Apple Wireless Keyboard now requires just two AA batteries, one less than the previous model.
2. Logitech Harmony Smart Keyboard 915-000225 ($149.99 $131.34)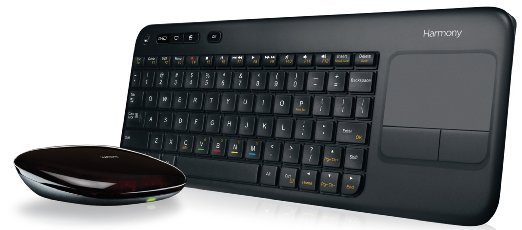 Living room TV keyboard/touchpad: Simplifies text entry/searches on Internet-connected entertainment devices
One-touch Activity control: Press one button, like "Watch A Movie", and the right devices power on and switch to the right settings
Harmony App: Supplements keyboard controls to turns household smartphones and tablets into personal entertainment controllers
Closed-cabinet control: Controls up to 8 devices, even ones hidden behind cabinet doors and walls
Works with over 270,000 devices: Controls cable TV, Apple TV, Roku, Sonos, Amazon Fire TV, Phillips hue, Xbox One, PS3 and TV-connected PC or Mac
3. iPazzPort Bluetooth Mini Wireless Keyboard for Apple TV ($64.78 $19.99)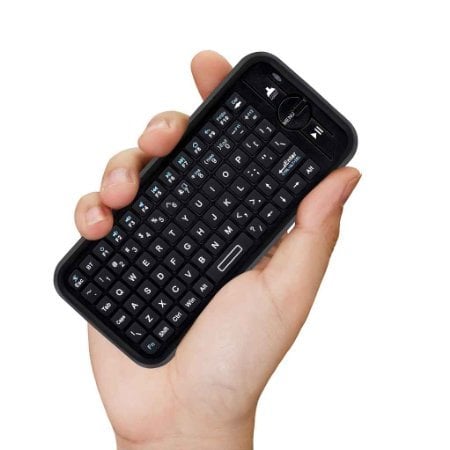 A sleeve for Apple TV Remote,also protect the keyboard from damage.
One of a Kind Silcone Sleeve to Safely Secure your Apple TV Remote Control to the Air Mouse
Bluetooth connectivity via internal Bluetooth with a 33 Ft./10 M range
82 keys, Page up/down, scrolling, 90 degree orientation flip, Multimedia Controls
Good for surfing web on smart tv on bed and occupy little space on coffee desk.
Black Friday Deals on other accessories for Apple TV
1. AppleCare Protection Plan for Apple TV ($29 $26.80)
Extends the 1 year warranty of your Apple TV 3 by one more year.
2. Apple Remote ($49.99 $24.99)
Apple Remote with iPod and iPhone: If you connect your device to the Universal Dock or a compatible home stereo, powered speakers, or TV set with an IR port, the remote lets you experience your songs, slideshows and more from across the room.
Apple Remote with Mac: Control audio volume, play, pause, and control music and videos, or even put your Mac to sleep from anywhere in the room.
The Apple Remote gives you total command of your Mac's music, photos, videos and DVDs via FrontRow—a menu-based, full-screen interface—to make accessing the digital content on your Mac simple.
3. Apple TV Power Cord – All Generations ($19.95 $5.79)
Universal AC Power Cordmounting for Apple TV
Non-polarized with a figure-8, 2-pin socket
Brand New Generic Bulk Package
Fits many portable audio products and other devices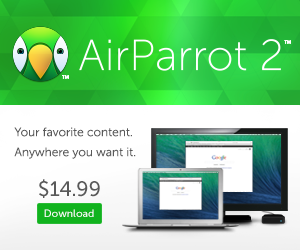 * We've been searching for the best Black Friday deals everywhere–including Black Friday deals other stores are planning. The fact that Amazon is price comparing makes this search much easier on us but to ensure you are getting the best deal possible, we will compare each price with that of other sites. If we find a better deal, we will post it!
Be sure to follow Apple TV Hacks on Twitter, Facebook or Google+ for all the latest Apple TV-related news.