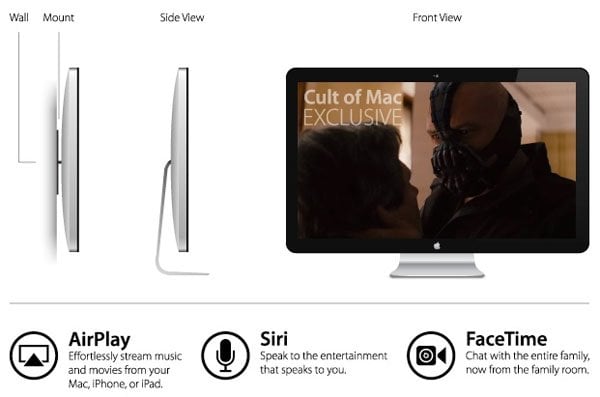 Is Apple's newest HDTV creation set to have Siri, FaceTime or AirPlay? Is Apple's new TV set going to be slick, smooth, and as beautiful as its other products? According to an anonymous source, the answer is yes to all. The team of at Cult Of Mac has released some information given to them by one of their sources. It is important to note that they said:
Our source is well-placed and has provided us with great tips in the past. However, not all of them have panned out, ostensibly due to the fact that our source tends to see products in the prototype or early development stage and Apple doesn't always ultimately choose to release them. We hope this is one of our source's tips about an upcoming Apple product that actually sees market.
Their source claims to have actually seen a fully functioning version of this mystery machine and says that the image above is accurate. The source was quoted as saying,
It resembled an Apple monitor, only much larger.
The source also claims to have witnessed a build in iSight camera installed into the TV allowing full use of FaceTime to make free calls. As if this is not enough it is said that this camera has smart motion technology that allows it to follow you around the room… zoom… and locate your face.
Even more exciting is that these FaceTime calls were, apparently, initialized by our good friend Siri! Though we do not have more information on what functions Siri will be equipped with at the TV's release, it would seem likely that she will be on board!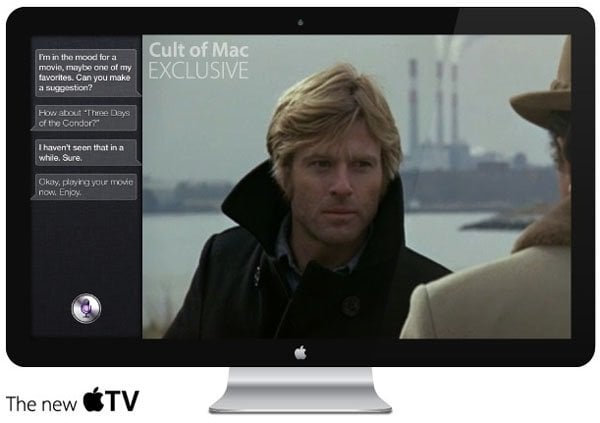 After releasing this information, Cult Of Mac reached out to TV analyst Paul Gagnon, Director of North American TV Research for NPD Display Search:
Gagnon said he didn't have any hard information, but expects Apple to introduce a line of TVs this year. He noted that Apple's Chinese supplier, Foxconn, has invested $1.6 billion in Sharp's TV unit, which can efficiently make large size panels up to 60-inches. Speculating, Gagnon Apple's TVs will likely be pretty conventional in terms of hardware. They will not be anything exotic like OLED or 4K resolution. There will likely be two to four models ranging from 40-inches to 60-inches. They will be standard 1920 x 1080p resolution and cost between $1,000 to $2,000 or slightly higher. When might they ship? "Our best guess is 2013," Gagnon said.
According to Canaccord Genuity analyst Michael Walkley, Apple will launch a 50-plus inch LCD-TV by the end of the year. However, JP Morgan analyst Mark Moskowitz claims Apple TV set is unlikely to arrive in 2012.
Source: Cult of Mac
[Mockup exclusively for Cult of Mac by Dan Draper Design]
umOuch (Andrew Brasher)
You may also want to read:
Apple seeking streaming content partners for Apple television. Hello EPIX!
Rumor: Apple working on a revolutionary, Kinect-like video game console
Yet Another Patent Hints at Apple Preparing a Standalone HDTV