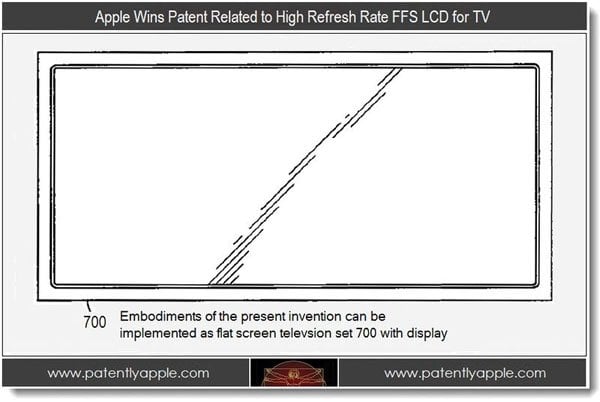 What's comes after the new 1080p Apple TV 3? A recent revelation from Patently Apple details the technology that Apple may be preparing for use in a full-fledged Apple-branded HDTV. This new patent, published by the U.S. Patent and Trademark Office, reveals advancements in the technology Apple currently uses in in its series of iMac computers. Our friends at Patently Apple go on to explain:
The technology is an off-shoot of IPS called S-IPS. It's a technology that provides superior performance,  and color gamut with high luminosity. IPS technology is currently being used in Apple's iMac – which stems from this patent… Embodiments of Apple's granted patent and invention provide for a FFS TFT LCD with a high refresh rate without limiting the aperture of individual pixels. More specifically, embodiments of the invention provide for the use of common bus lines to reduce the effective resistance of the common electrode and to therefore allow for higher refresh rates of the display.
Essentially, this patent speaks to an expansion of a high refresh rate LCD technology known as FFS, or fringe field switching.  This is encouraging information for two reasons. Firstly, FSS technologies have typically been unable to function on large displays… limiting its functionality to iMac, or smaller, displays. Fortunately for us there were multiple mentions of this new advancement being usable in a TV.  The guys over at Patently Apple made mention of  one of the more interesting revelations made in this filing:
The present invention can be implemented as flat screen television set 700 with display 701… Embodiments of the invention may allow the above-referenced devices to provide a clear and bright display with a relatively high resolution, high refresh rate and a wide viewing angle.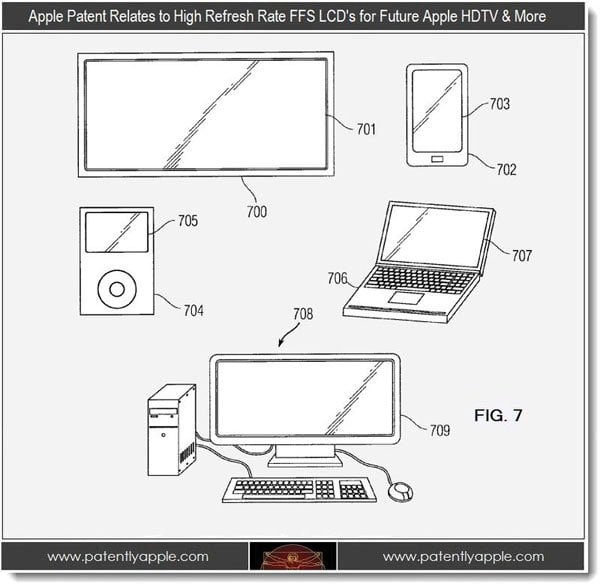 So, what does all this mean? Well for those of us here at Apple TV Hacks… it means it seems like it is okay to start getting excited. We of course LOVE our Apple TV Boxes but look forward to what Apple may have in-store for us next.
Back in January Globe and Mail reported that Canada's largest telecommunications companies – Rogers and Bell – were in talks with Apple to become Canadian launch partners for its Apple HDTV. Another source said Rogers and Bell already had the product in their labs.
umOuch (Andrew Brasher)
You may also want to read:
Apple patent reveals advanced TV remote
XBMC 11.0 Eden for Apple TV – Review
AirParrot adds 1080p support for the Apple TV 3
The new 1080p Apple TV 3 proves to be a tough cookie to crack