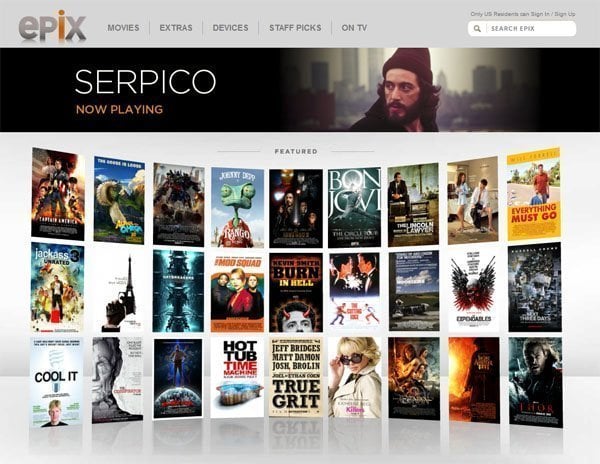 It would seem that Apple is looking to EPIX in hopes of creating a content partnership allowing Apple to stream movies on both their set top boxes, and the up and coming Apple television. EPIX, for those of you hiding under a rock, is a streaming content provider created by Lions Gate Entertainment Corp, MGM, and Viacom's Paramount Pictures. According to the folks over at REUTERS:
Apple Inc began talks earlier this year to stream films owned by EPIX […] on devices including a long-anticipated TV, according to two people with knowledge of the negotiations. One of the sources told Reuters that any discussions would apply to its set-top box and also to upcoming devices that stream content. Talks with EPIX are in the preliminary stages and no agreement is considered near, the source said.
If you are a regular visitor here at Apple TV Hacks, it is no surprise to hear that Apple is making moves towards its Apple Television Development. It is interesting, however, to note that they are going after EPIX. According to REUTERS, EPIX is in the final stages of an agreement set with Netflix back in 2010. The arrangement leaves Netflix paying an estimated $200 million per year for exclusive rights to stream EPIX's content to the U.S. market. If Apple follows through, successfully, this agreement would bolster the Apple TV into a an ever growing market of streaming content devices.
But wait, I have some magic to share! Are you finding yourself not wanting to wait for this to go through, or fail? Well, fear not… umOuch has a tip for you! Famed XBMC developer bluecop has a great add-on that is available today that allows access to EPIX on your Apple TV. OH the magic of XBMC.
Download bluecop XBMC repo
https://code.google.com/p/bluecop-xbmc-repo/
And here is how to install it on your Apple TV 2: How to install XBMC add-ons and plugins on Apple TV
Enjoy!
umOuch (Andrew Brasher)
You may also want to read:
Analyst: Apple-branded television to be released this fall
Giveaway: Win a copy of AirServer – AirPlay receiver for Mac and iOS
FireCore: Work is underway on Apple TV 3 jailbreak and Apple TV 2 5.0 untethered jailbreak