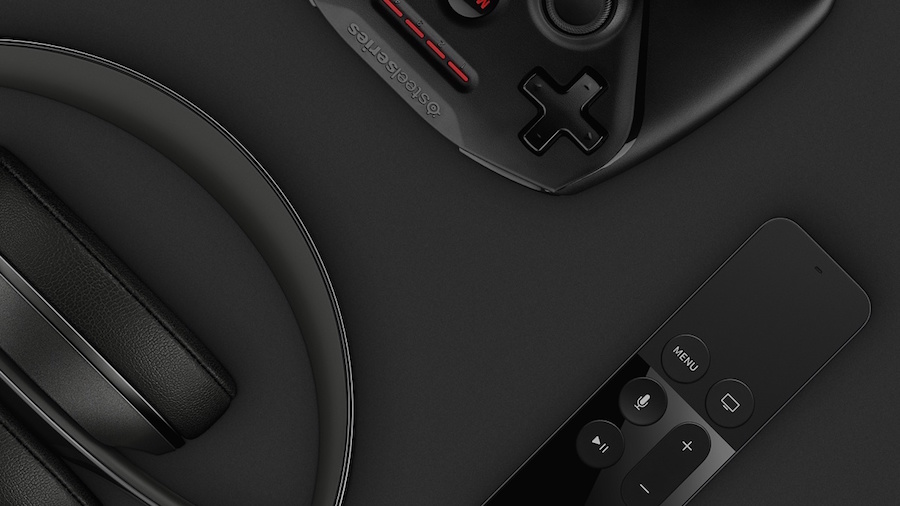 The Apple TV is great as it is, but if you seek to exhaust all its capabilities then you need to find more accessories. To this end, we have compiled a list of some of the best, must have accessories that will help you spice up and add more functions to your Apple TV.
Apple TV skins/stickers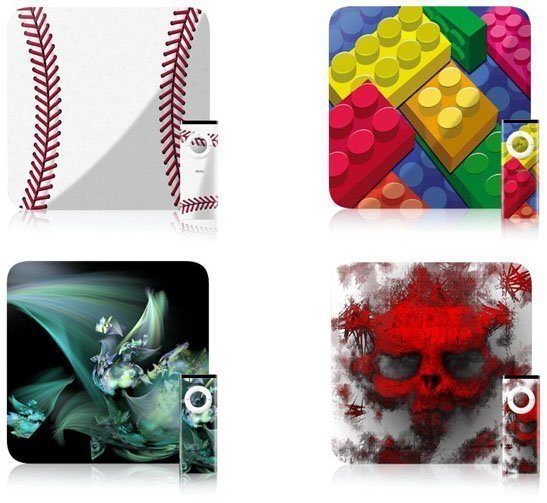 My Gift's stickers are custom cut to fit the Apple TV 1, perfectly covering the upper surface. The skins are durable, easy to apply and remove. The skin kit also includes a matching remote control decal sticker.
The skin kit costs $14.99 at Amazon, saving you $5.00.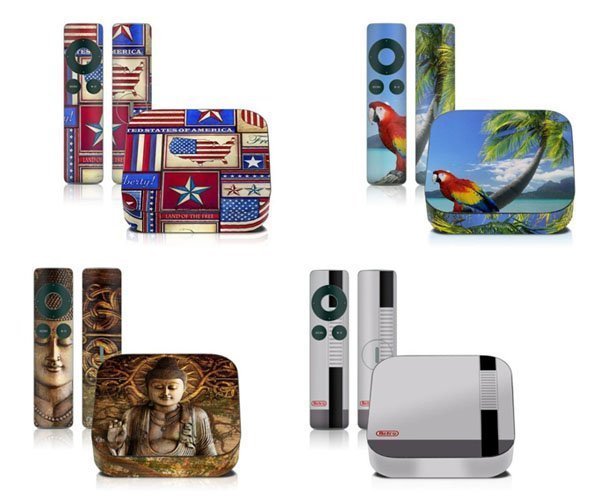 The skins easily attaches to your Apple TV and you can as well simply peel it off thanks to its use of non-permanent adhesive. The kit is made in the U.S. and it includes a matching remote control decal sticker.
Get if now from Amazon for $14.99 (25% off).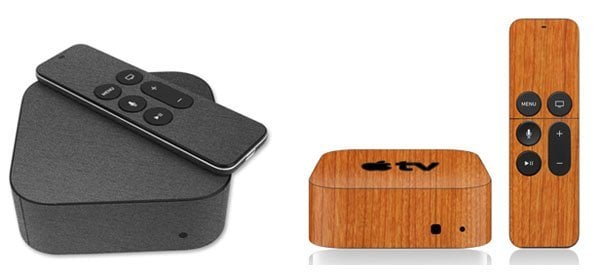 Both iCarbons and Skinomi offer a wide selection of skins for the new Apple TV.
All iCarbons skins are currently sold at $14.99 (25% off). All the skins by Skinomi are on sale for $12.95 (35% off).
To completely protect your Apple TV 4 from dust and other estrenal impurities you need a high-quality skin like the IQ Shield LiQuidSkin. Unlike some skins that only cover the top side of the Apple TV, the IQ Shield is a full body kit. It is also a clear skin that keeps the original black surface of the Apple TV visible. A matching clear skin for your remote is included.
Save $4.00 by buying it from Amazon for $15.95.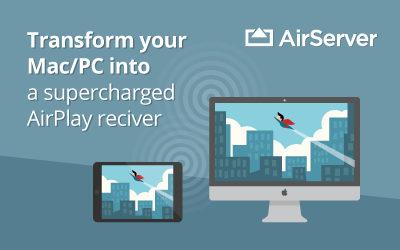 Apple TV mounts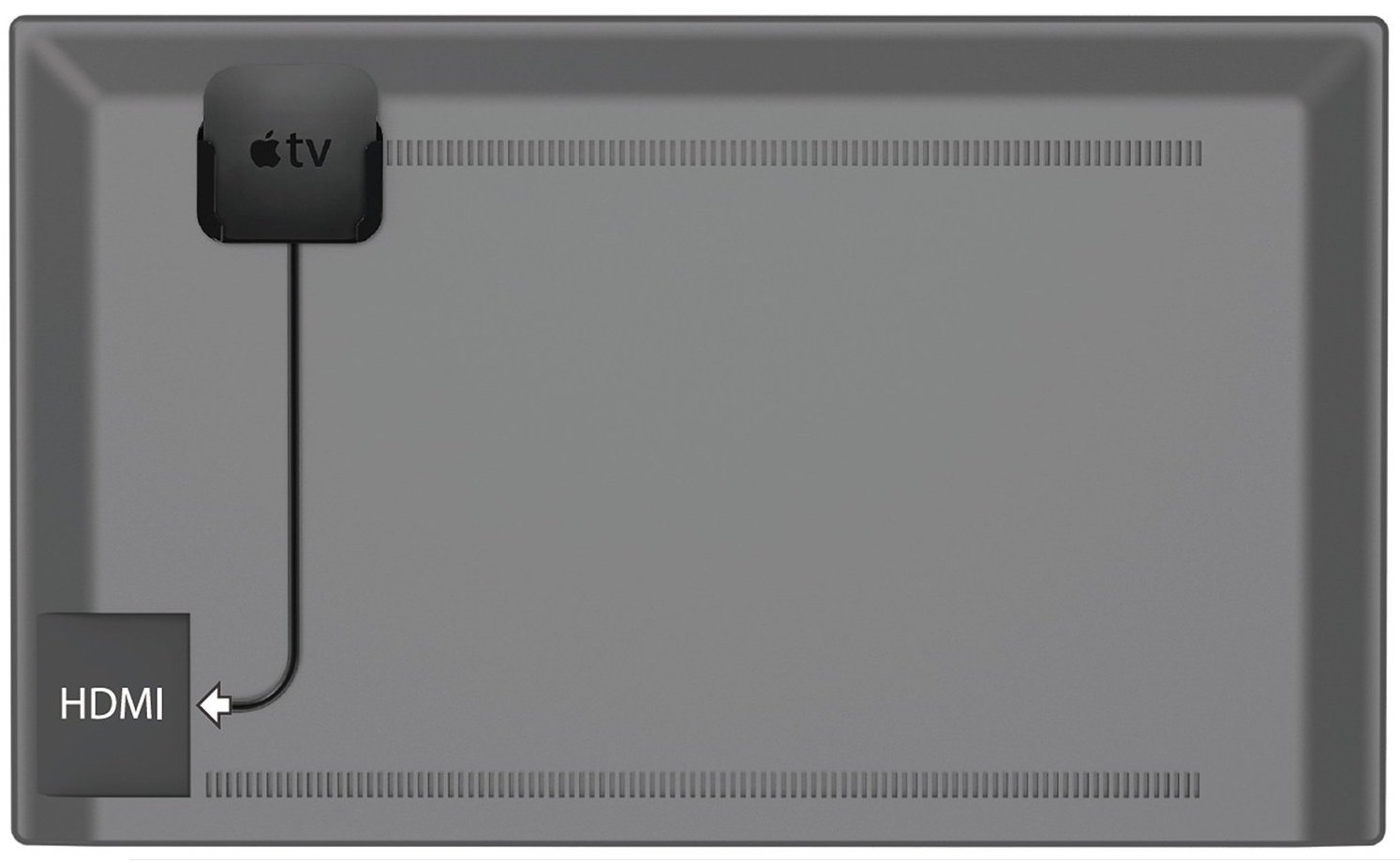 Attaches Apple TV to the back of your television using a special adhesive

Designed for the new Apple TV (Apple TV 4)

Perfect for TVs that are mounted to a wall
Get in now for just $19.95 (33% off).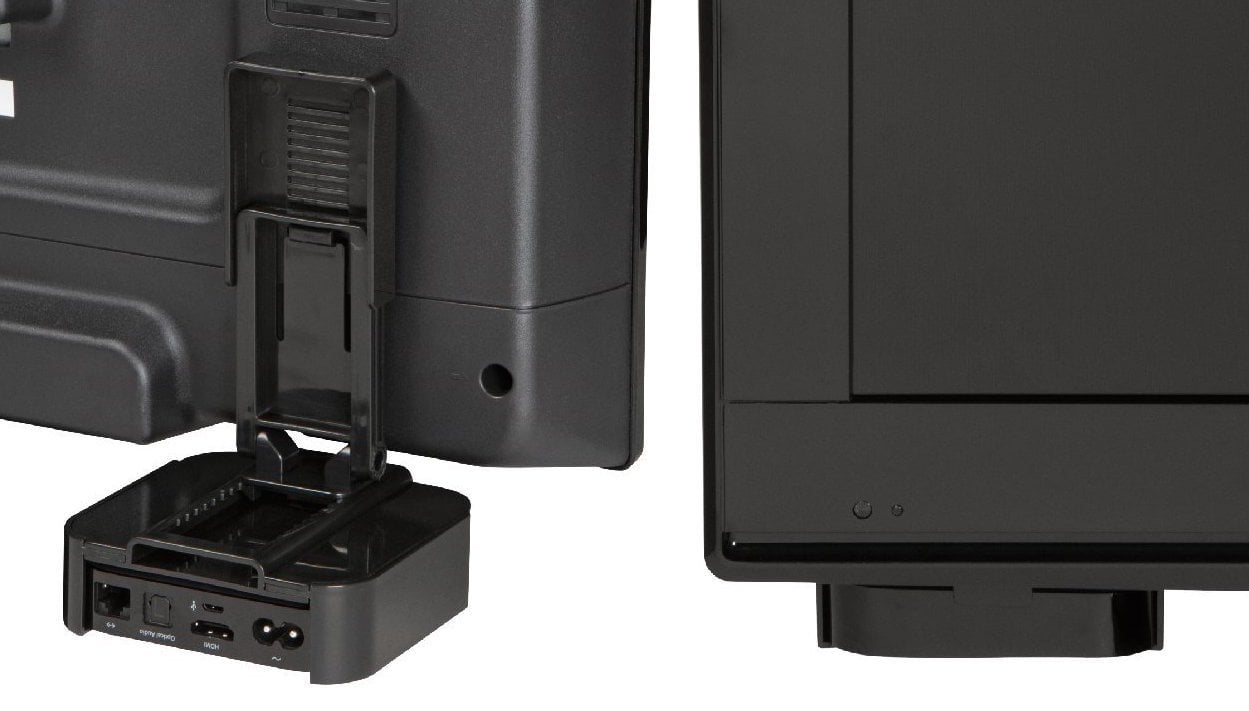 Easy to attach – no tools necessary

Eliminates the need to tunnel an HDMI cable through your wall

Ideal for wall-mounted televisions (Requires at least 2.5 inches of clearance behind the TV in the mounting area)

Compatible with Apple TV 2nd and 3rd generation
Get it now for $18.10 (40% off).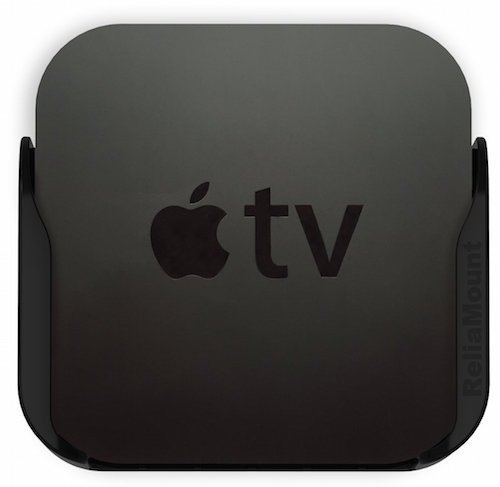 Designed for the new Apple TV (also compatible with Apple TV 2/3)

Attaches Apple TV to the back of your television using a special adhesive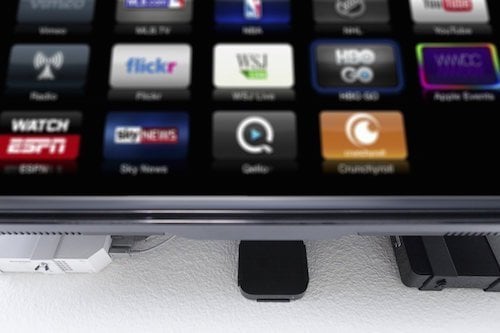 Strong, Stable. Cold-rolled heavy-gauge Steel. Black matte powder coat protects component from scratches.

Innovative Design = Perfect Fit. Full access to ports and connectors.

Quick and easy to install. Includes drywall screws and anchors rated for 25 lbs each.

Compatible with Apple TV 4th Generation
Get it now for just $17.99 (28% off).
HDMI cables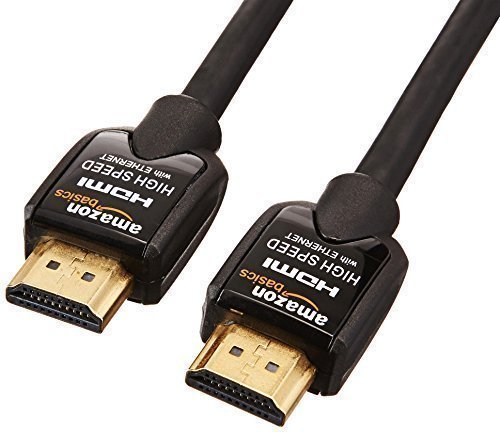 HDMI A Male to A Male Cable: Supports Ethernet, 3D, 4K video and Audio Return Channel (ARC)

Allows to share an Internet connection among multiple devices without the need for a separate Ethernet cable

Meets HDMI 1.4 specification (48 bit/px color depth)

Cable Length: 3 feet (0.9 meters). Also available: 6.5 feet, 9.8 feet, 15 feet
Get it now for just $4.82 (5% off).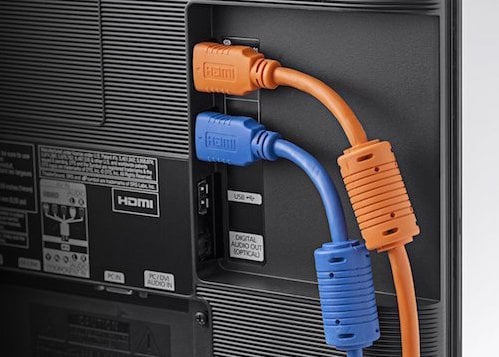 Extra-short HDMI cord perfect for Apple TVs attached to the back of the television

Supports Ethernet, 3D, 4K and Audio Return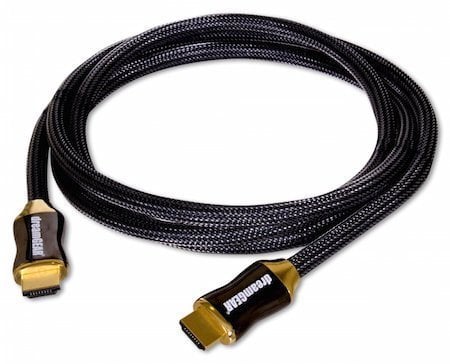 Features cutting-edge next generation technology designed to provide the best audio and video quality available

Built-in bi-directional data channel supporting 100Mb/s Ethernet connectivity

1.4 technology

Max resolution: 4096 X 2160

Supports full 1080p and 3D technology
Bluetooth headphones for Apple TV 4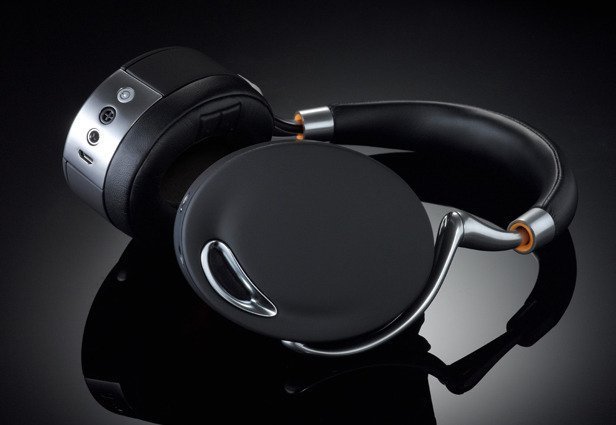 The Parrot Zik 2.0 high-quality headphones features a smart touch panel together with stunning sound with 32 bits processing. You should also expect clear sounds thanks to the adaptive noise cancelling technology. It is available in different colors to fit your style.
Get it now for $247.49 and save $152.50.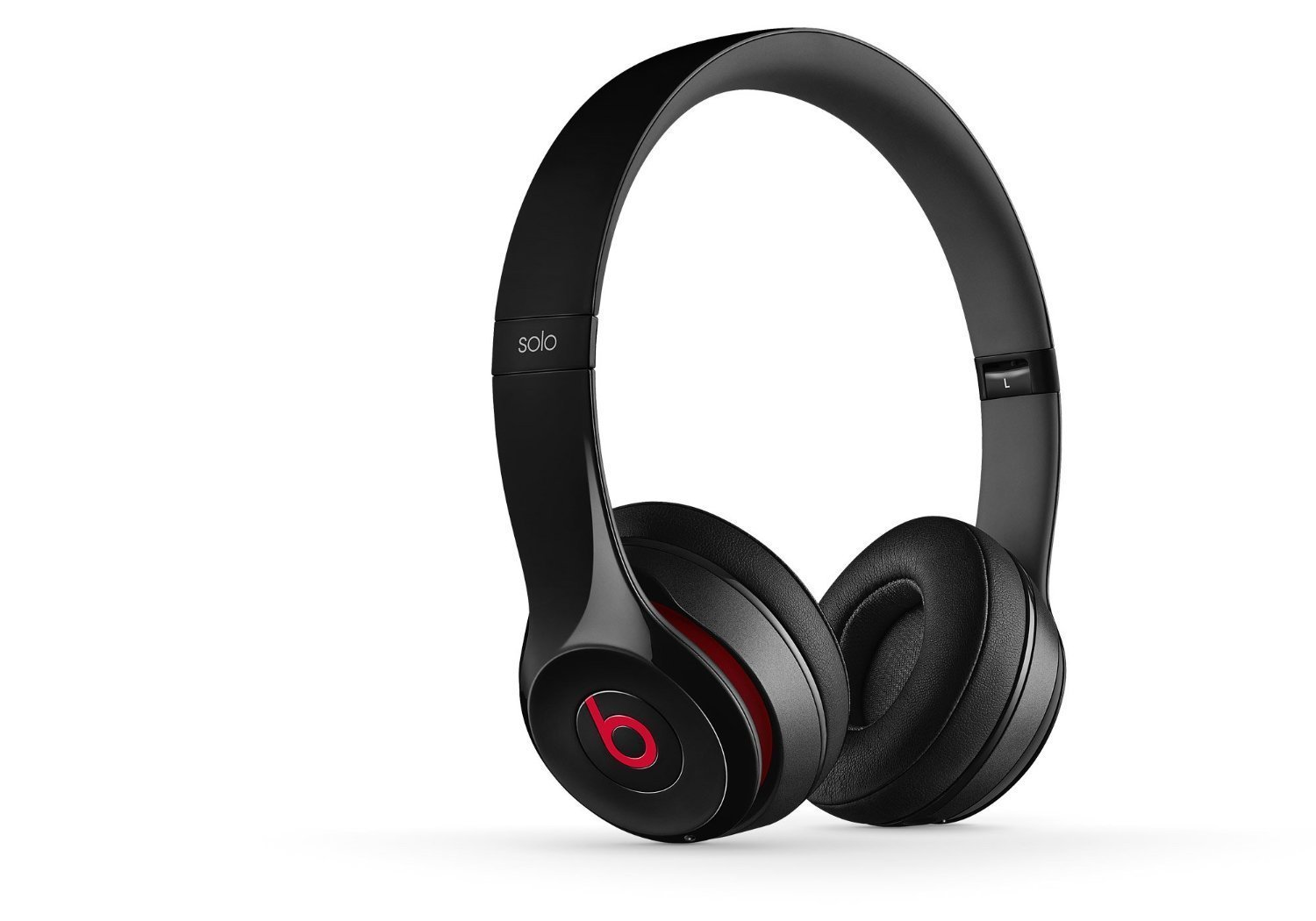 If you are a Beats fan then you should get the Solo2 Bluetooth Headphones. You can expect clear quality sound for movies, music and TV shows. The headphone has an okay battery that lasts up to 12 hours long with the illuminated LED providing a clear indication of your battery level. The soft cups are a natural fit and designed to block outside noise. The headphone also features a built-in mic for all your hands-free needs.
Get it now for $219.99 and save $79.96.
You can be unplugged but still connected with the Jabra REVO Wireless Headphone. The REVO gives you the freedom and power of movement together with clear, high-quality sound that doesn't skip a beat. The headphones also features Turntable Touch controls that allow for one-touch music play, stop or pause. You can as well use the headphones for all your hands-free needs. The REVO is designed to be used and abused. It also easily folds for storage.
Buy it now for $114.95 and save $85.04.
If you like some extra bass with your music then you should get the Sony MDRXB950BT/B Extra Bass Bluetooth Headset. This headphones features 40mm drivers for wide frequency response and a built-in mic for all your hands-free needs. It also has a rechargeable battery that lasts up to 20 hours when fully charged.
Get in for $128.00 and save $71.99.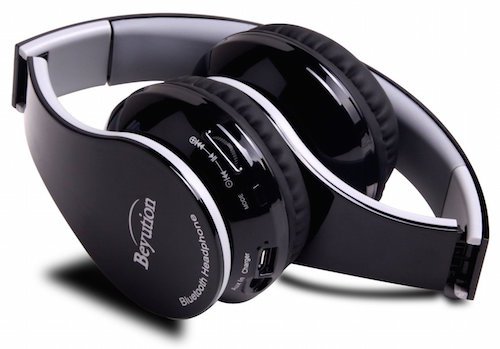 The Beyution V4.1 is a sleek-looking headphones, featuring a rechargeable battery that withstands up to 8 hours of talk or audio playback and noise reduction technology for crisp, clear sounds. The built-in microphone allows for phone communication. It is available in a variety of colors.
Get it now for just $23.99 and save $65.01.
AirPlay speakers for Apple TV 2nd, 3rd and 4th gen.

Zeppelin Wireless is the same iconic design of the original Zeppelin, but features dramatically improved acoustics and functionality.

All-new drive units featuring the latest audiophile technologies: 2 double dome tweeters, two midrange drivers with FST technology and a 6.5″ subwoofer for deep bass to be played at an impressive volume.

Air Play, Bluetooth aptX and Spotify Connect.

Supported by Bowers & Wilkins' free Control app for easy setup.

Comes with a 2-year limited warranty (only when purchased from an authorized dealer).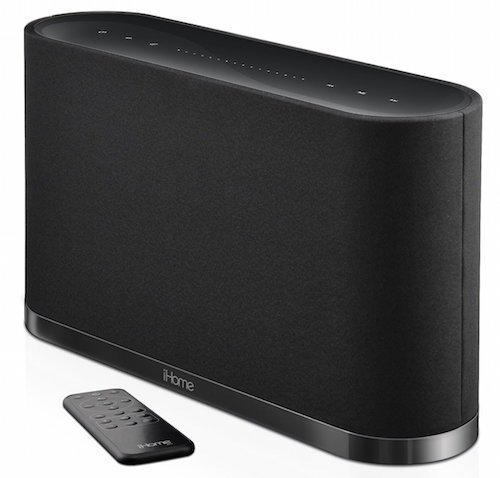 Easy network configuration with free iHome Connect app; firmware upgradeable

Bongiovi Acoustics DPS sound processing custom tuned to 4 speaker drivers

Sleek backlit touch-sensitive Capacitive Touch control panel

Internal rechargeable Lithium-ion battery; remote control, charging base and recessed handle for convenient portability
Get it for just $49.95 (83% off).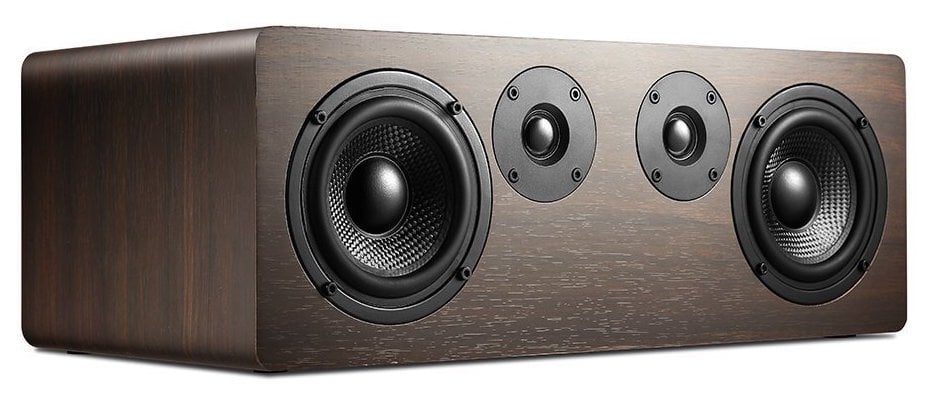 The Hame Dreamsound is a one of a kind third-party speaker that supports BDPlay, QPlay, AirPlay and DLNA making it perfect for Apple TV users. The high-end speaker is made of wood and offers high-quality, crystal clear sound.
The speaker is available at Amazon for just $139.99 (38% off)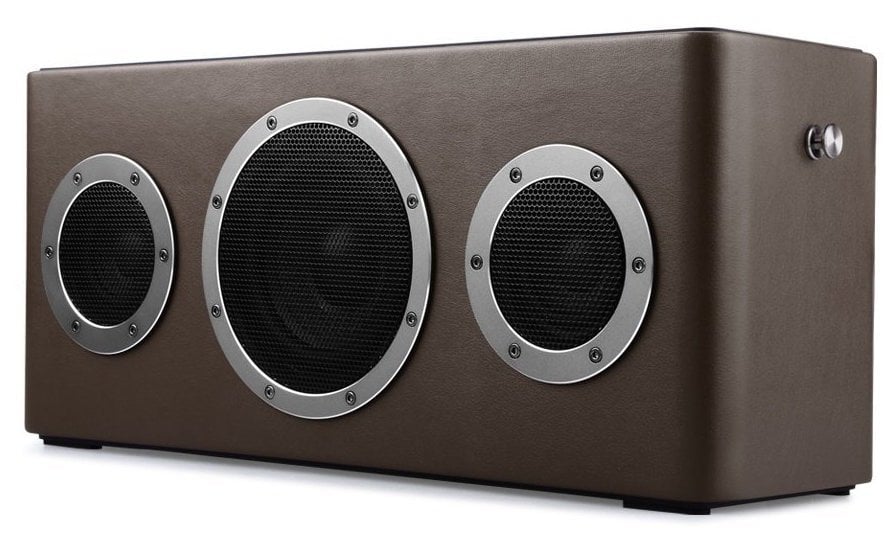 The GGMM M4 is a state-of-the-art leather wireless digital speaker that allows you to directly control your music using the GGMM music app that is available on the App Store. The speaker features a powerful built-in battery, withstanding up to 8 hours of playtime.
The M4 normally costs $399.99, but you can get it now for $199.99 from Amazon.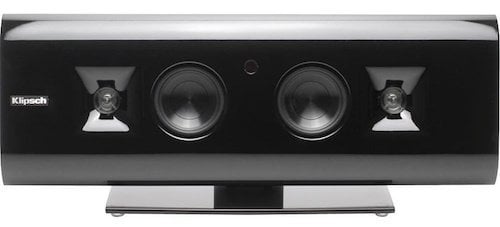 The Klipsch G-17  features a stunning appearance that complements a variety of settings and it also delivers high-quality sound that the brand is known for. Never settling for "average" the G-17 is actually one of the best AirPlay speakers in terms of sound, style and technology.
It costs $285.00 at Amazon (regular price: $549.00)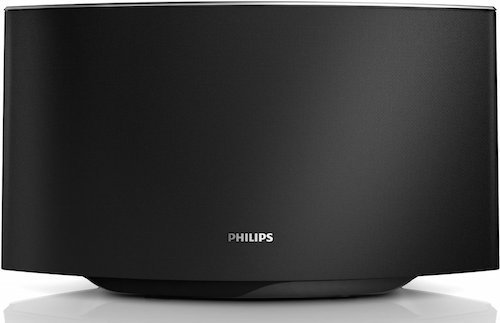 The Philips AD7000W/37 Wireless Speaker with AirPlay is a worthwhile third-party AirPlay speaker for homes that demand premium sound. This speaker is compatible with Apple TV and a variety of Apple products. Expect high-quality sound from the renowned brand.
Buy the speaker now from Amazon for $86.99 and save $133.00!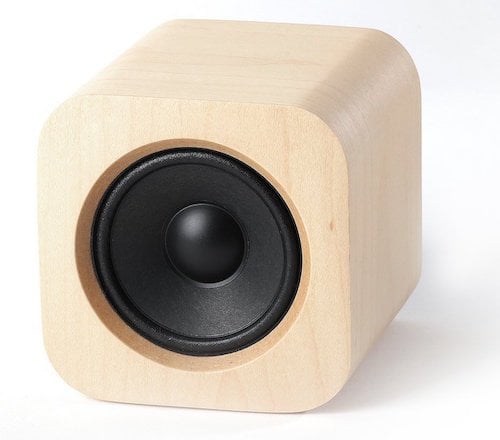 The Sugr Cube Compact Speaker looks more like your ordinary Bluetootth speaker, but it's not. This Sugr product adopts a Northern European minimalism design, so you won't see a screw or push button on it. The speaker is made of natural wood from the North American region, and you can be sure each cube is special and unique in its own way. It also wirelessly streams music and supports Apple AirPlay and Spotify Connect. The speaker can also store up to 500 songs on its 4GB built-in flash memory. The rechargeable battery can withstand up to 24 hours of playtime.
Get it now from Amazon for $229.00 (35% off).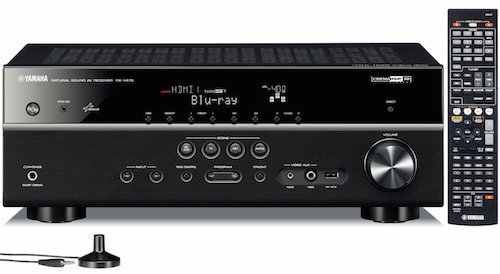 5-channel powerful surround sound 115W per Channel (8 ohms, 1 kHz, 0.9 % THD, 1 ch driven (80W per Channel (8 ohms, 20 Hz-20 kHz, 0.09 % THD, 2 ch driven

Dolby Digital Plus and DTS-HD High Resolution Audio

Burr-Brown 192 kHz/24-bit DACs for all channels
Get it now for$399.95 and save $50.00.
Bluetooth keyboards for Apple TV 2 & 3

This is an Apple product so you don't have to worry about quality or compatibility. The Apple Wireless Keyboard MC184LL/B is sleek and completely cable free, allowing you to freely move with your keyboard. The keyboard also features crisp, highly-responsive keys. Its compact design will not only save you space, but also allows it to comfortably fit in small spaces. The Apple keyboard automatically turns off when you are not using it and instantly goes back on when you start typing.
Get this highly-efficient Bluetooth keyboard for $49.00 (refurbished) or $62.99 (new).
The iPazzPort is a small, but fully functional Bluetooth keyboard. The board features 82 keys, including the scrolling and page up/down functions. You can type on the keyboard or flip it over and use it as a remote for your TV.
Buy it now for $19.99 from Amazon and save $10.00.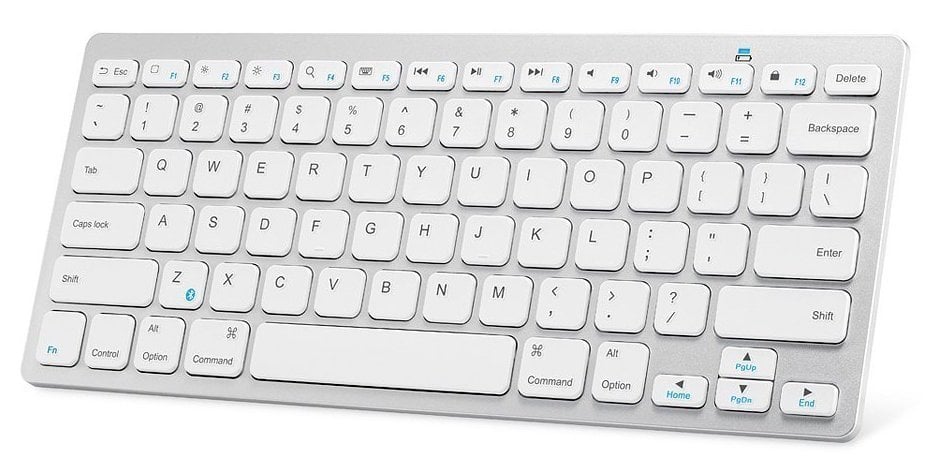 This is a lightweight and compact keyboard that is a third smaller than most traditional keyboards. The Anker is not only Bluetooth compatible, but it also has comfortable keys that allows for fast typing. It also saves on power, with two AAA battering lasting over 3 months, assuming you only use it for two hours per day.
Buy it from Amazon for $15.99 and save 10 bucks!

If you have been looking for a cable-free, Bluetooth keyboard then you should consider the AmazonBasics keyboard. This keyboard pairs with a variety of Apple devices, including Apple TV 2 and 3. The keyboard has all the functions that you have come to expect in high-quality, modern keyboards.
Get it now from Amazon for just $25.73 (14% off).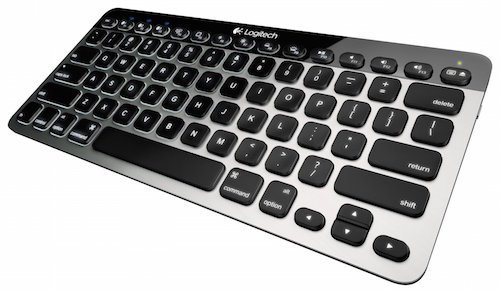 The K811 keyboard by Logitech is another well crafted keyboard that features Logitech's Easy-Switch technology. Instantly toggle between typing on your Apple TV, iPhone or Mac with a single press. The well lit keyboard allows you to easily type, even in the dark.
This slim and compact keyboard is quite highly priced, probably because of its use of state-of-the-art technology, going now for $74.00 at Amazon, saving you $15.99.
The iKross is a fully-functional wireless keyboard that pairs with Apple TV 2 and 3, together with a whole long list of devices. This is also a light, ultra-portable and flexible keyboard that can easily be rolled up for storage. It also uses silicone keys that are easy to clean and spill resistant.
If this is what you have been looking for in a keyboard then buy it now from Amazon for $14.99 and save $25.00!
Bluetooth speakers for Apple TV 4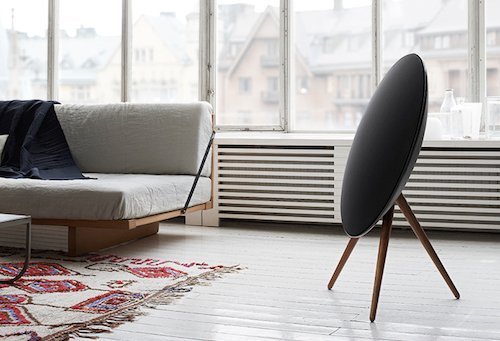 Bang & Olufsen Signature Sound

An incredible 480 watts of powerful sound

Connect wirelessly via Bluetooth, AirPlay, DLNA

Award-winning design

Future proof with automatic software updates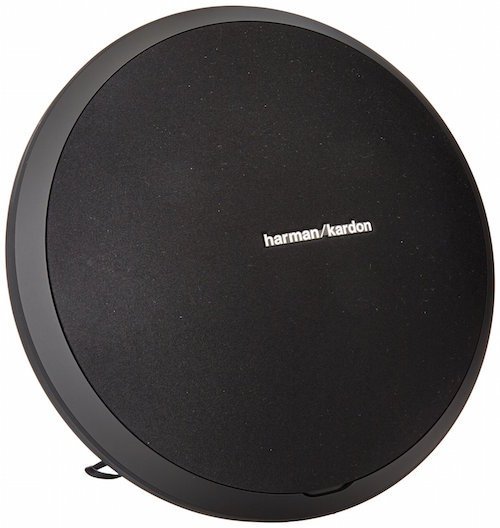 The Harman Kardon Wireless Speaker is premium speaker with amazing audio performance and deep bass. The speaker allows you to take the gift of great sound with you wherever you go. The speaker features four dual passive radiators that deliver rich, dynamic audio. You can connect this speaker to any Bluetooth enabled device.
Get it now from Amazon for $139.95 and save about $260.04.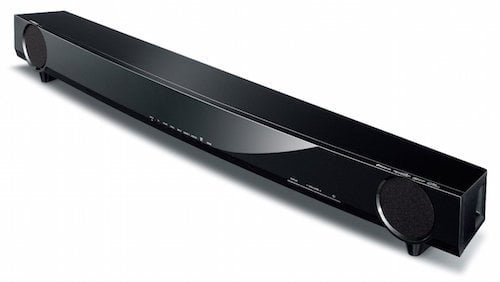 The Yamaha ATS-1030-R Sound Bar has Bluetooth compatibility, operation from an app and wireless convenience. All this and more in a one-body unit with built-in subwoofer that offers high sound quality and exhilarating surround sound.
Get in now for just $139.99 (53% off).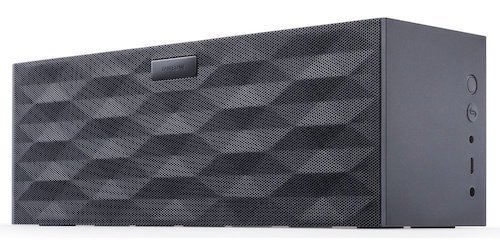 When you feel like unplugging, sharing music with your friends or you just need to move the speaker around the house then you need to get yourself the Jawbone BIG JAMBOX Wireless Bluetooth Speaker. This speaker has a powerful battery that lasts up to 15 hours even with active, continuous play. This speaker is small and compact so you can put it in your bag and off you go.
The speaker normally costs $299.99, but you can buy it now from Amazon for $159.99.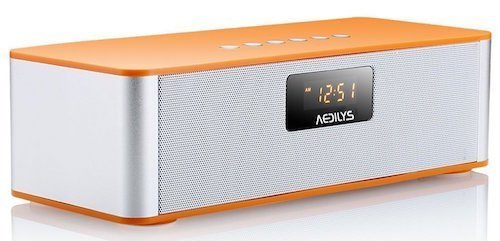 The AEDILYS Bluetooth speaker is an all in one 2.1 channel sound system with 3D surround sound. The speaker has a long lasting battery that can withstand up to 8 hours of playtime.
Since it is a high-quality, extremely well-built speaker, it costs $199.99, but you can buy it now for $43.99 from Amazon.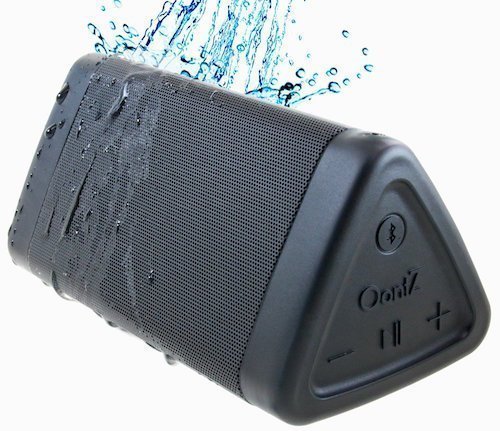 The OontZ Angle 3 Bluetooth Portable Speaker is specifically engineered and designed to deliver the critical features you're looking for in a portable speaker. The speaker features 2 precision acoustic drivers that deliver 10 watts of enhanced bass and excellent, crystal clear stereo sound. The speaker is also splashproof, rainproof, waterproof, dustproof, and sandproof, making it the perfect solution for your bathroom.
It normally costs $99.99, but you can get it now from Amazon for $27.99.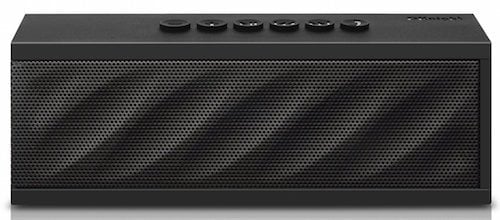 The DKnightMagicBox II Ultra Portable Bluetooth speaker is a high-quality speaker that offers high-quality sound using the latest Bluetooth 4.0 tech. The speaker features 2 powerful 40mm acoustic drivers for crystal clear sound.  Its powerful built-in battery will provide you with up to 10-12 hours of playtime.
Get it now for just $32.99 and save $97.00.
TV sets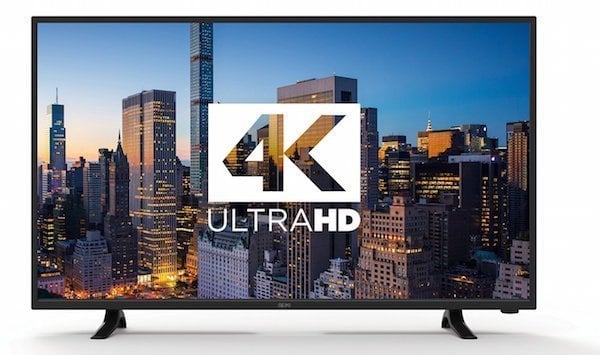 Remember how exciting the HD TV was the first time it was introduced? Multiply its clarity 4X and you'll understand the Seiki SE42UMS Ultra HD TV. With over 8 million pixels per image, this TV provides stunning clarity and colors that by far surpass any picture quality that you know of. This TV features high-speed HDMI and HDCP 2.2 together with 60Hz refresh rate.
The 42-inch costs just $329.99, saving you $570.00!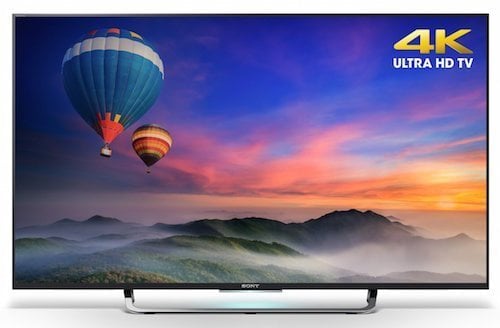 Join the 4K revolution with the Sony XBR49X830C that boasts 4X more clarity and detail than HD TVs. Everything you watch from movies to TV shows are up-scaled for 4K Ultra HD viewing. Even 4K streaming is enhanced to maximize picture quality.
It is available in 43 and 49-Inches with the latter going for $855.35 at Amazon, saving you $744.64!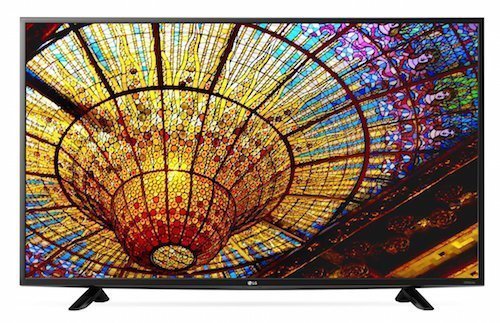 Life is Good (LG) has once again created a state-of-the-art TV – the 49UF6400. This TV is designed to be obviously simple to operate, and yet, it still delivers consistent color at virtually all angles thanks to the use of the IPS 4K tech. TruMotions 120Hz reduces blur, producing high-quality pictures.
This TV is available in 43 and 49-Inches, with the 49-Inch selling at $597.99, which is $802.00 less than the original price!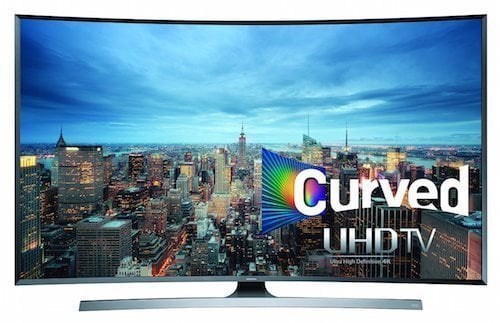 Get drawn into the action with the immersive UN50JU7500 Samsung TV. This TV puts all your Smart TV needs and your favorite content at your fingertips. Using the 4K UHD tech, expect to enjoy images 4X the detail and crispiness of Full HD. Whether you want a 40-inch or a 78-Inch, or anything in between, Samsung has you covered.
The popular 50-Inch TV costs $1,397.99 at Amazon and this is $302.00 less the original price.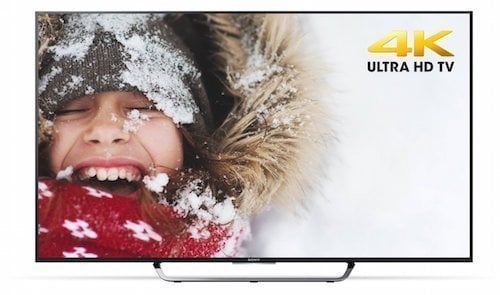 The Sony XBR55X850C is 4X clear compared to HD TVs and also boasts expanded colors. Everything in this TV is enhanced to deliver the best picture quality that you have never seen before. Sony takes another step forward improving color accuracy and clarity of HD and 4K video in the X850C.
Available in 55, 65 and 75-Inches, the 55-Inch, perfect for home use costs $1,298.00 at Amazon, so you get to save $901.99.
The Samsung UN48JS9000 Curved Ultra HD TV lets you enjoy a home theater experience like never before. The TV delivers brighter pictures and up to 64X better color expression than the normal HD and UHD TVs. All these functions are powered by the revolutionary Nano-crystal technology. Enjoy dynamic contrast, bolder images and play your favorite content using the Samsung UN48JS9000.
This TV is available in 48, 55, and 65-Inches, with the 48-Inch going for $2,297.99 at Amazon, saving you $1,202.00!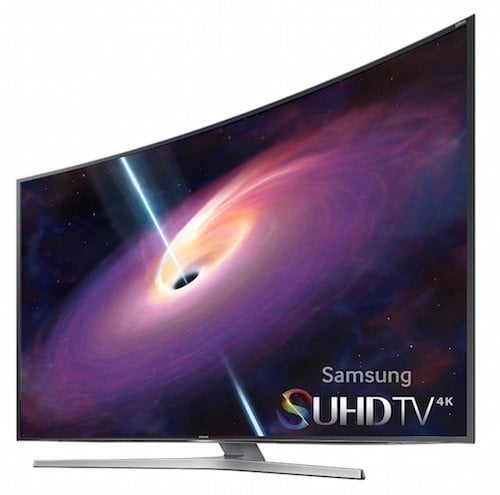 The 78-Inch Samsung JS9100 features 4K UHD resolution together with Nano-crystal color technology that provides a greater sense of depth and up to 64X the color of a HD or UHD TV. This immersive, curved screen also features Smart View 2.0 that allows you to watch mobile videos on TV or vice-versa and with Motion Rate 240 you should expect exceptional moving picture resolution.
The 78-Inch TV costs $8,997.99 at Amazon and you get to save $1,002.00.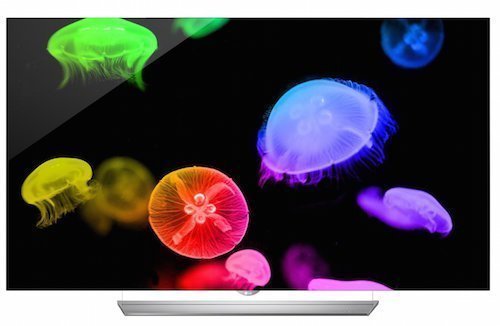 Finally, we have the EF9500 Smart OLED TV by LG. This TV features a wide viewing angle, perfect blacks, intense color and OLED technology that allows the TVs design to be ultra-thin and light. The TV also has 8.3 million pixels per image, which is 4X the resolution of Full HD TVs. Even with all the new and exciting functions, this smart TV is simple and fun to use.
Buy the 65-Inch now from Amazon for $4,997.99 and save $1,002.00.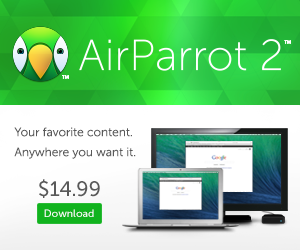 Most of the Black Friday and Cyber Monday deals are still there: 
Be sure to follow Apple TV Hacks on Twitter, Facebook or Google+ for all the latest Apple TV-related news.