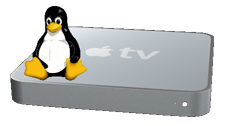 Scott Davilla of the atv-bootloader project has informed me that a new bootloader for Apple TV to boot Linux is now available. With this version, kernel patches to the EFI are no longer required. Also, atv-bootloader can now boot Linux from any mass storage device (including external USB device).
For more information on this, go to atv-bootloader site here.
Actually, Scott wrote to me a couple of weeks back. I just didn't have a chance to update the site until now. Sorry, Scott.