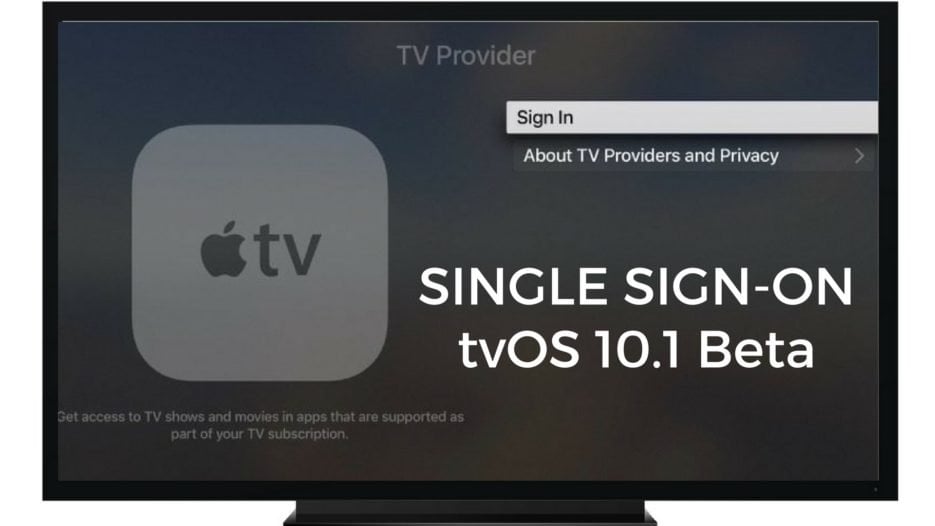 After what seems to be a really long time, Apple has finally and quietly enabled the Single Sign-on feature on the latest tvOS 10.1 and iOS 10.2 betas.
Single Sign-on is one of the most important features of tvOS 10, but it wasn't available with the software update. Apple did not give a specific release date for the feature, but stated that it would be available before the end of this year.
Apple released the tvOS 10.1 beta to registered developers recently. At first, we didn't notice anything new, but hidden somewhere in Settings, there it was. The Single Sign-on feature finally available.
Single Sign-on
With the Single Sign-on feature on tvOS 10, users can sign-in to a pay-TV provider and it'll automatically sign them in to all other apps associated with the provider. No need to enter your credentials every time you want to watch something.
This is very useful, as it saves a lot of time, and you can just ask Siri to directly start streaming a show without having to sign-in first. Here's Apple's description of the feature;
For the first time, customers in the US will have a simplified way of enjoying pay-TV video channels by using single sign-on. Starting this fall, users only have to sign in once on Apple TV to enjoy immediate access to their favorite video channels that are included as part of their pay-TV subscription.
Once a user is signed into one network app, any other app on Apple TV from participating pay-TV providers will automatically log the user into all other supported apps requiring authentication.

During the single sign-on process, customers can view a page of all the authenticated apps that a pay-TV provider offers to more easily discover, download and enjoy all of their favorite video channels.

Any network-TV app can take advantage of this technology to enable single sign-on and simplify the process for their viewers.

Single sign-on will be available on both Apple TV and iOS.
As of now, tvOS 10.1 and iOS 10.2 beta users can enjoy the Single Sign-on feature, but not to its fullest. The feature currently only supports cable services such as DISH, GVTC Communications, Sling TV, and HotWire.
The feature will also find all the apps that are compatible with the pay-TV credentials you have. You can then download those and access them whenever.
To enable the Single Sign-on feature on the Apple TV, launch the Settings app, then head to Accounts. Over here, you'll find and option called TV Provider. Use your pay-TV credentials to Sign-in over here and voila!
All the apps and channels linked to that will be automatically signed in and ready to view. This along with the upcoming TV App should make watch watching your favorite channels, sports and shows a much better experience.
Availability
Like we mentioned earlier, you'll have to be a developer to be able to try out the Single Sign-on feature. The latest tvOS 10.1 beta has the feature enabled. Therefore, the final version of this software will make the feature available for all.
The feature is still limited to only select cable TV or Pay TV providers, but more should be available in the near future.
Have you tried the feature on your Apple TV 4 yet? Let us know what you think of it.