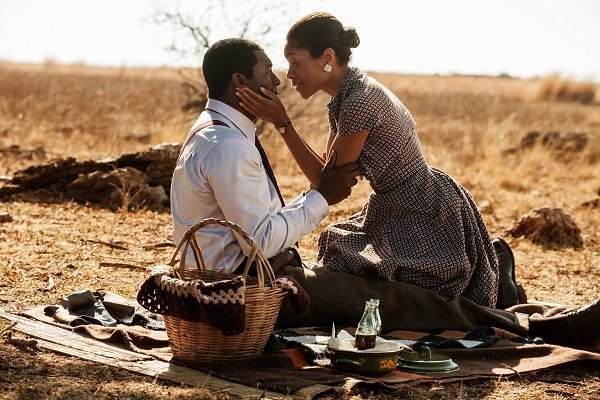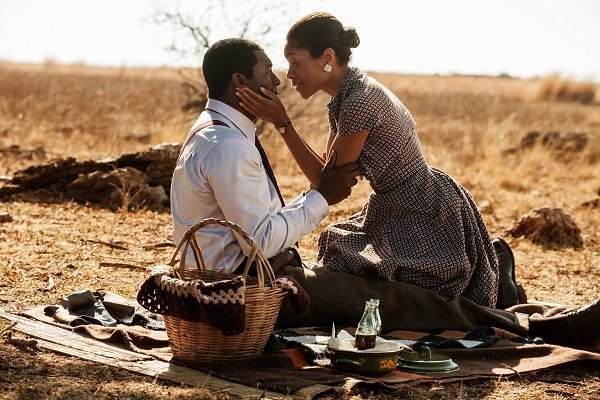 The dreary winter doldrums are hanging on tight around here so now more than ever, we may all be in desperate need of some Apple TV warmth and comfort. And if the bitter cold has you stuck inside this weekend we certainly hope our weekly Pix Picks deliver all the toasty heat you need to recharge in front of your electronic fireplace.
If you've somehow managed to miss this all-time classic then I envy you because this week Netflix is offering one of legendary Director Stanley Kubrick's finest of his many fine, groundbreaking moviemaking accomplishments, 1964's "Dr. Strangelove (or How I Learned to Stop Worrying and Love the Bomb)". right here for your mind blowing pleasure.  If you happened to be born after 1980 and didn't realize they made movies before then, where do we begin to describe the Bronx Native's work of sly genius? Well, it's primarily a very dark farce (with George C. Scott in a rare comic role as a gung-ho, hawk General Buck Turgidson and World Class chameleon Peter Sellers gut-bustlingly funny in 3 very different roles) set in a disturbingly realistic world of Cold War era politics that's thrown into utter chaos by one very loose screw (a frighteningly believable Sterling Hayden as General Jack D. Ripper). Kubrick pulls out all the stops (the War Room scenes alone are a feast for the eyes even as you fall apart laughing) and leads us merrily down the path to nuclear annihilation with a wicked glee and an absolute abandon that only he can frame. Sellers' comic chops were never sharper and the whole film takes you on a wild ride straight to bomber pilot Slim Pickens' final wild ride. YEEEEE-HAAAAAW!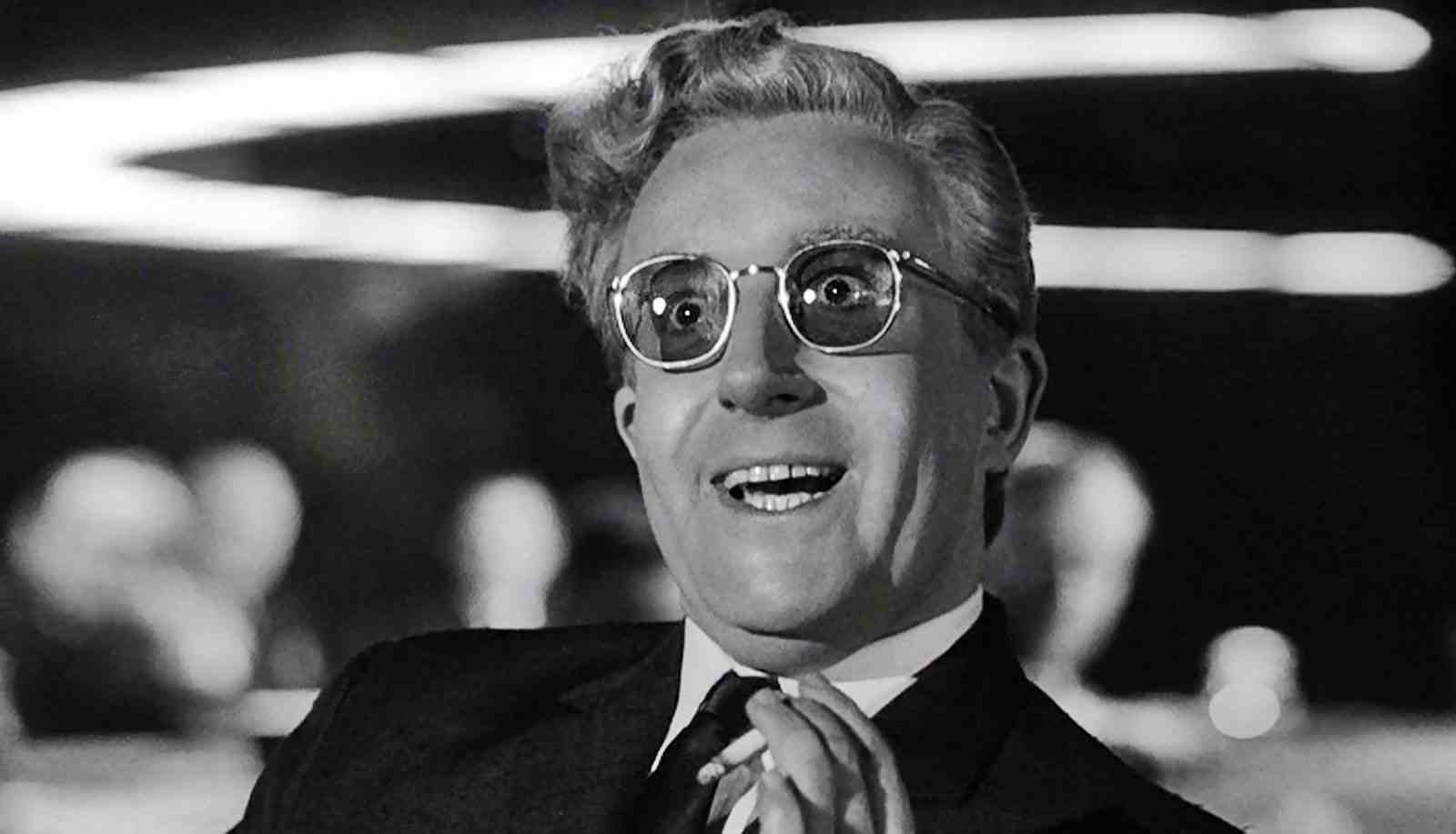 Buy "Dr. Strangelove (or How I Learned to Stop Worrying and Love the Bomb)" on DVD from Amazon.
Can you handle that crazy little thing called Love in all its wondrous forms? Then load up 2013's, "Blue is the Warmest Color", from Director Abdel Kechiche and available for the first time this week on Netflix. This controversial film lovingly depicts the ravages of young amour between its protagonists, Lea Seydoux and Adele Exarchopoulos, in all their gritty, sensuous, searing, maddening glory. This is a raw coming-of-age film that doesn't shy away from the fluidity of female sexuality or its magnetic power to enrapture. And at just under 3 hours running time, that's a lot of rapture.  WARNING: This film depicts scenes of explicit sexuality and is strictly FOR ADULTS ONLY. You lucky, lucky dogs!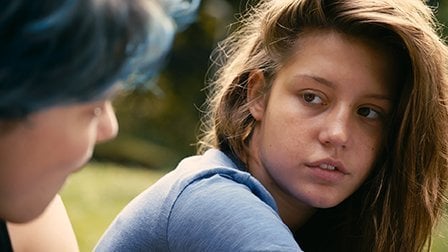 Buy "Blue is the Warmest Color" on DVD from Amazon.
And now for something completely different…Feeling as giddy as a 10 year-old hopped up on Coca-Cola and candy bars? Well, are you ready to at least laugh like one? Then check the balls out comedy that broke the mold, 1980's irresistible "Airplane!". Sold to the studios as a "disaster flick" parody, the Zucker Brothers (Dave and Jerry) and Director Jim Abrahams took the raw anarchic spirit of a 70's "Mad" magazine, crammed it into their cameras then blasted it to crazy life all over your screen. Mere words simply cannot begin to describe the non-stop barrage of goofball hilarity that's shamelessly machine-gunned at the audience with not a moment of cease fire on the all-out comic assault. There's just so many great performances from the committed cast of comic cliff divers that there's just too much to mention so just turn ON, tune IN…then just laugh your damn ass off! "Surely you can't be serious?"  "I'm completely serious…and don't call me Shirley."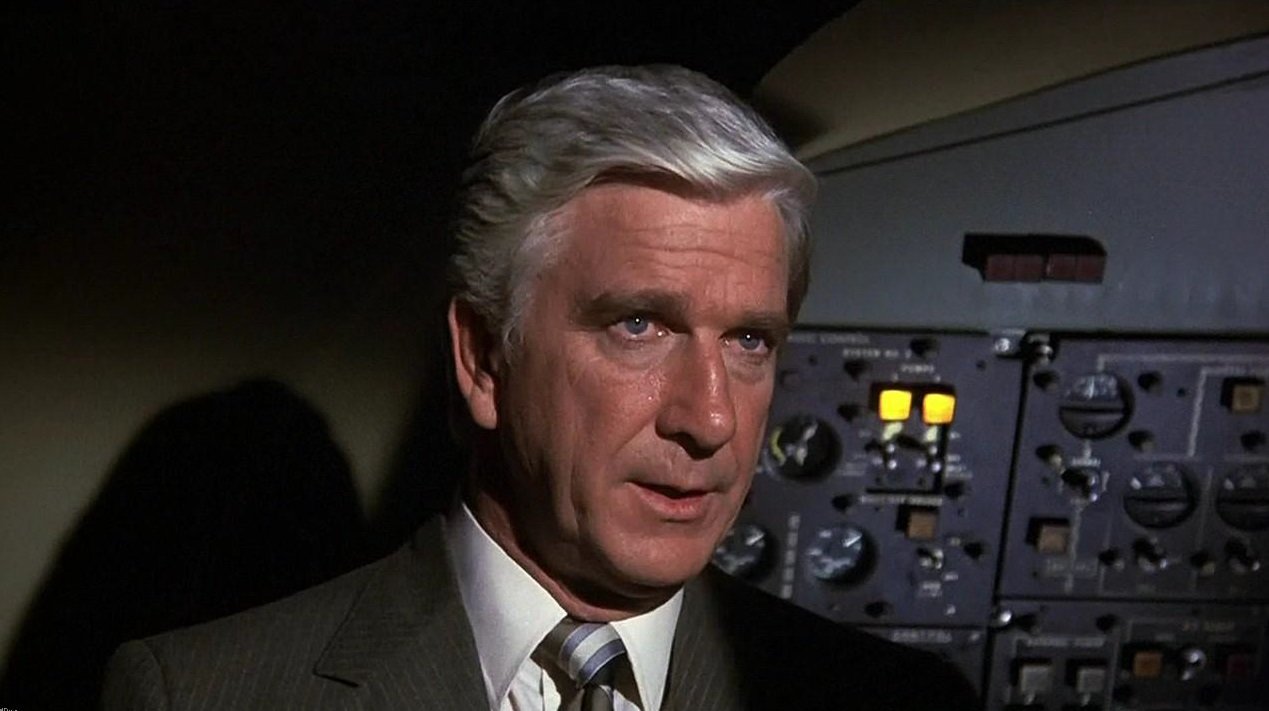 Buy "Airplane!" on DVD from Amazon.
Available this week for the first time on Hulu is the criminally overlooked 1995 noir from Writer/Director Carl Franklin, "Devil in a Blue Dress". Denzel Washington stars as "Easy" Rawlins, a fledging Private Eye in post WWII Los Angeles hired to find an innocent femme who has somehow disappeared into the shadows and whose enigmatic motives and dangerous company turn out to be more fatale than at first expected. Based on the best-selling book (and series) from author Walter Mosley, the stellar cast (Tom Sizemore, Jennifer Beals, Don Cheadle and Maury Chaykin) bring Mosley's prose and vivid characters to canny, crackling life as a reluctant Easy gets unwittingly and unwillingly drawn into a taut mystery until he's backed into a corner and is forced to come out fighting. Like all great noirs, it's all about One Man wrestling with a world of corruption while trying to walk his own line with Director Franklin and his riveting cast of characters nailing it down from start to finish.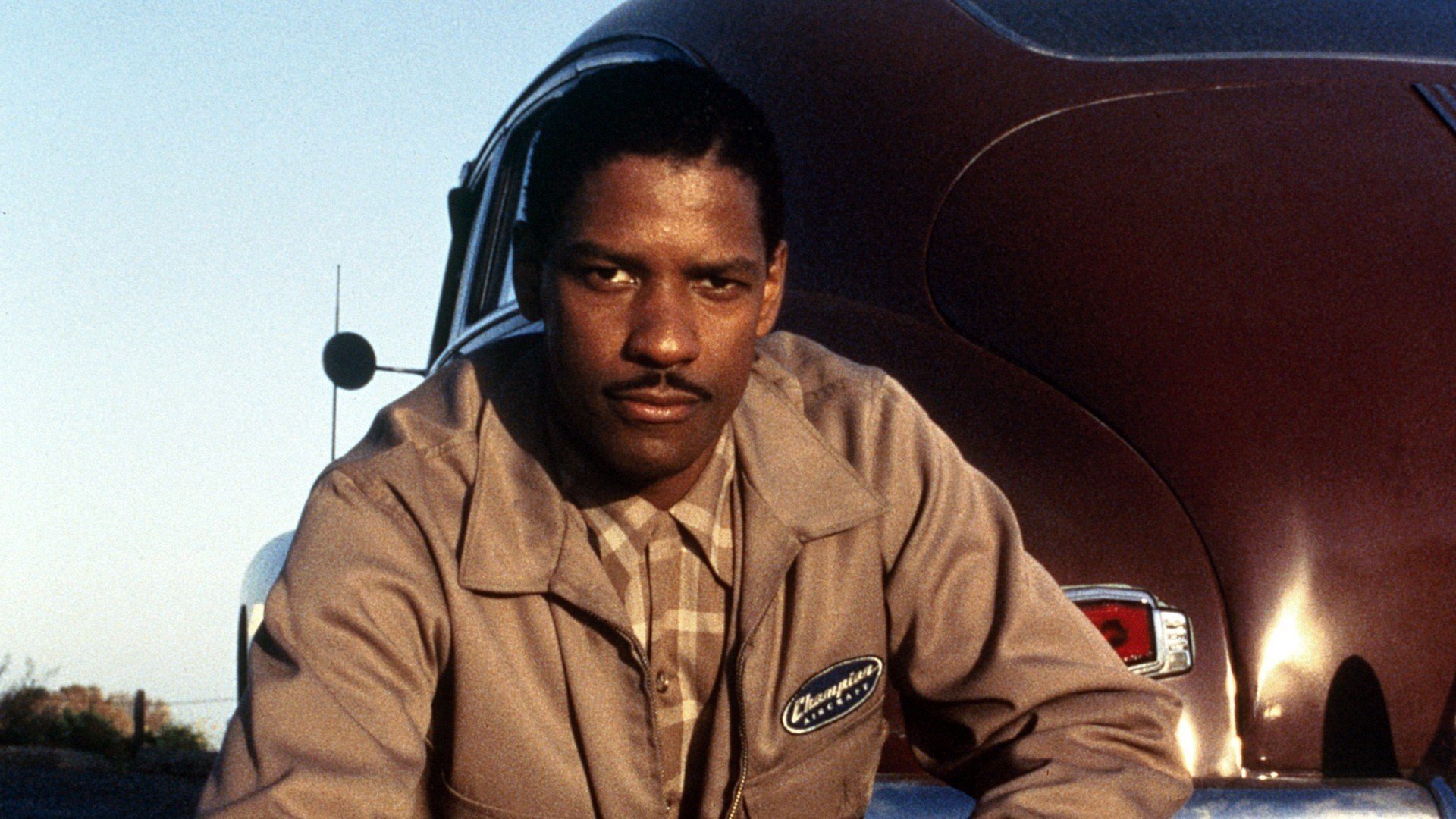 Buy "Devil in a Blue Dress" on DVD from Amazon.
One for the Adults– This one may be a little too close to home for some (right now) but no one can accuse Writer/Director Woody Allen of attempting to mask his personal peccadilloes in 1992's, "Husbands and Wives". Woody and then-inamorata (ouch) Mia Farrow play a Manhattan couple whose marriage is thrown for a loop when their best friend's marriage, Sydney Polack and the always electric Judy Davis, suddenly and rapidly unravels down the road to divorce. It is a comedy and you will laugh but…it's gonna feel a bit uncomfortable now, isn't it? But try not to think too much and instead just enjoy the sparkling script along with the nervy emotion on display as things spin out of control for Woody's regularly very under control, upper crusty social climbers of his beloved Manhattan jungle.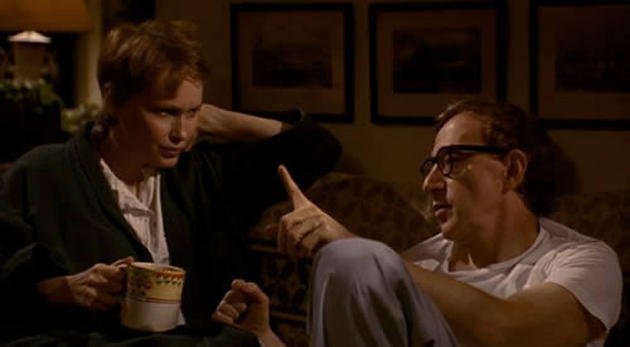 Buy "Husbands and Wives" on DVD from Amazon.
Yes, Liam Neeson is certainly the flavor-of-the-month action hero of late (for good or ill…discuss) but if you feel like setting your Apple TV back to 1995 then check a truly rousing adventure from Director Michael Caton-Jones with Liam as the title character of Scotland's, "Rob Roy". The forever gorgeous Jessica Lange is his lady love, Tim Roth his hated enemy and John Hurt is the Big Baddie in this Robin Hood-like tale of an honest man forced to fight as an outlaw who discovers he may just be good at it after all. Set in the 1700's, don't be deterred by the period trappings as the flick boldly stands up as a fantastic action film in its own right as well as  featuring some of the most exciting swordfights (remember them?) you're likely to ever find anywhere. A slam-bang tale of Scotland that'll have you root, root, rooting for the Home Team!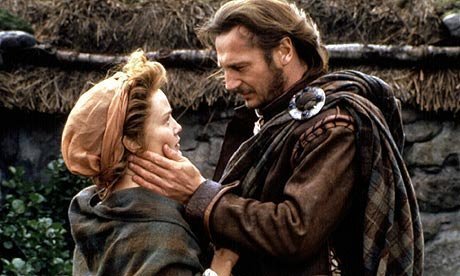 Buy "Rob Roy" on DVD from Amazon.
It's a bit late for Oscar night but iTunes is ripe with Winners this week including one from the Coen Brothers (Best Director), 2007's Best Motion Picture and one of our personal faves, "No Country for Old Men" Based on Cormac McCarthy's novel, the Coen boys grab this ball of rich source material and take off! Yes, Tommy Lee Jones is dead perfect as one of the men from the title but he's surrounded by a stunning cast that tears the lid off these characters then serves them up raw and real. Where do we start? Josh Brolin is steely perfection as a Good Man who makes one crucial misjudgment that sets the wheels of this heart hammering plot into motion and brother…the wheels start spinning fast! Javier Bardem (Best Supporting Actor) is unforgettable as a nightmare force of fate with a too-clever-for-his-own-good Woody Harrelson, a properly slimy Stephen Root and a heartbreaking Kelly McDonald as just three of the obstacles in his path. Watch for the earthy, urgent and deeply moving Barry Corbin cameo (as a philosophically minded Uncle Ellis) near the end as Sheriff Ed Tom struggles mightily to figure out his place in his disturbing, brave new world. NCfOM is as perfect as movies get…and it gets better every time.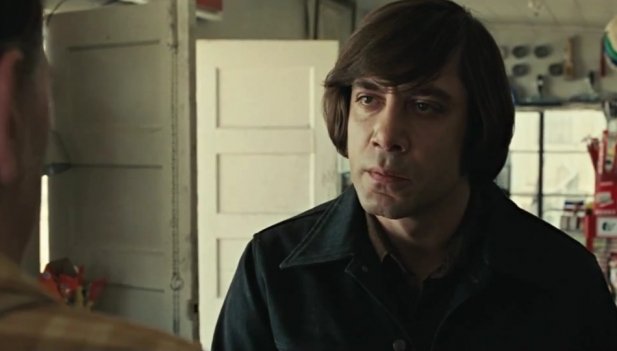 Buy "No Country for Old Men" on DVD from Amazon.
Also available this week is 2013's, "Nebraska", from Director Alexander Payne with the always rock solid Bruce Dern as a possibly dementia addled old man on a quixotic, cross-country quest for gold at the end of his long life's rainbow. Will Forte flexes his dramatic chops as the dutiful Son coming along for the ride and fresh, fiery octogenarian newcomer June Squib is sizzling as the Wife who has long since tired of saving the men in her life from their foolishness. A subtle American portrait painted in shades of lustrous grey that we all recognize even as we struggle to see the light.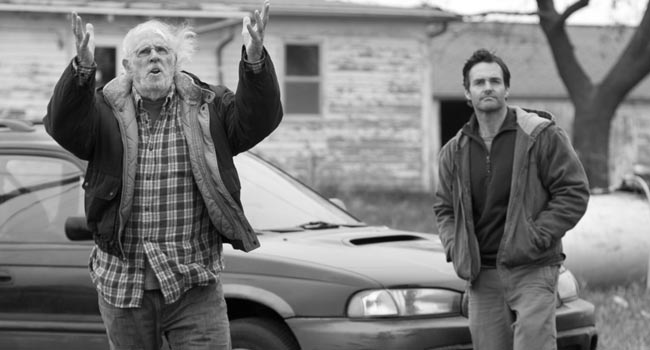 Buy "Nebraska" on DVD from Amazon.
And, yes, the Big Winner is here for your viewing edification if you're ready to take on this tale of human brutality and social evil. The Academy Award Best Motion Picture of 2013, based on the 1853 memoir of Solomon Northup, "12 Years a Slave", from Director Steve McQueen is available for download. History doesn't get much darker than Northup's recounting of his horrific kidnapping and subsequent enslavement and McQueen's beautiful visuals eerily add to the pain and terror involved in the degradation and deprivation of actor Chiwetel Ejiofor as he's hurled down a dehumanizing rabbit hole of despair. Benedict Cumberbatch is insidiously revolting as a casually "kind" slave owner before Michael Fassbender's committed performance as a passionately corrupted slaver hammers home the horror even further in just one of the stops along Northup's trail of tears. This won't be the easiest film to watch but McQueen and Ejiofor make Northup's terrible journey echo in your heart and, especially, your human soul.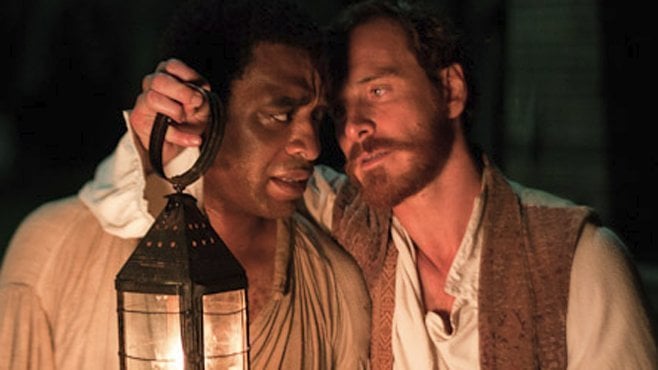 Buy "12 Years a Slave" on DVD from Amazon.
That's all for this week folks. And hey…where is Spring anyway?