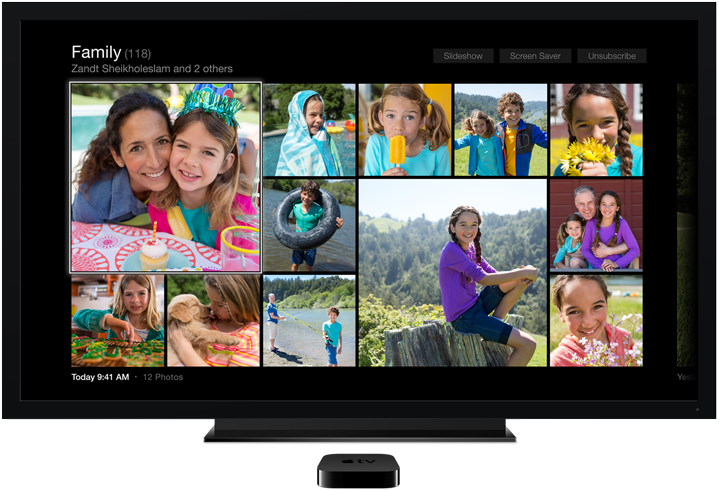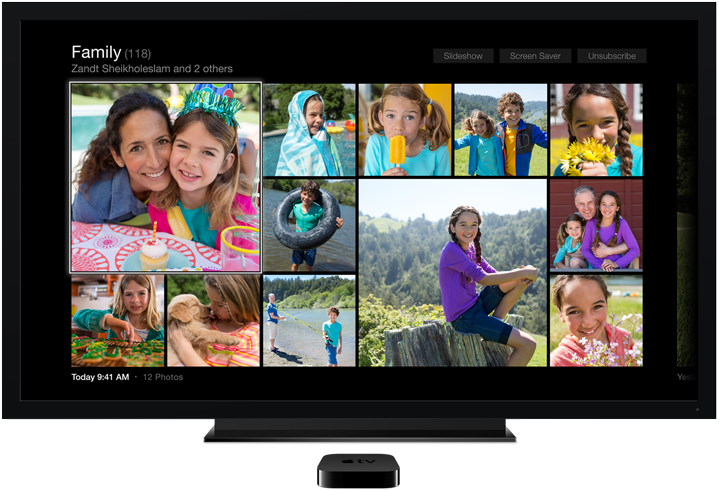 Though released along with iOS 8, the 7.0 update for Apple TV is essentially just catching up with what iOS 7 offered on iPhones and iPads. Apart from the flat design, the new iCloud Photo Sharing feature is a perfect exhibit.
Not sure if you guys have ever used it, but in the Share sheet in iOS 7 Photos app, there is an iCloud option which can be used to share photos, videos or albums with friends and family. Up until now, the other guy could see the shared media only on an iOS device or a Mac/PC.
With the 7.0 update, Apple TV has also picked up this feature.
Your photos and videos – As seen on TV
With iCloud Photo Sharing, invitations to view your photos and videos can be sent to friends and family who also have Apple TV, so they can share in the fun. And uploading the photos and videos from a summer vacation or any other event is as easy as doing nothing at all.
So if your parents don't have any iDevice, but have an Apple TV 3 at home, you can send an invite to them. This notification can be opened to view your college photos or baby videos on the big screen.
Talking about videos, you will now be able to watch your iMovie projects on Apple TV without the need of syncing or sending them to iTunes. This is a really cool feature, especially if you're making a casual or personal video. iCloud Photo Sharing combined with the new peer-to-peer AirPlay, will let you show off your creations anywhere, with just a tap.
Read more on the Apple TV 7.0 update.
Be sure to follow Apple TV Hacks on Twitter, Facebook or Google+ for all the latest Apple TV-related news.