Apple announced yesterday at WWDC that Mountain Lion, a new version of Mac OS X that has been unveiled back in February, will be available in July for $19.99.  Mountain Lion introduces more than 200 features including the all new Messages app, Notification Center, Facebook integration, Dictation, Game Center, Gatekeeper and Power Nap. But the coolest feature of Mountain Lion is undoubtedly AirPlay Mirroring that lets you wirelessly send an up-to-1080p stream of what's on your Mac to an HDTV using Apple TV 2  or Apple TV 3 or send audio to a receiver or speakers that use AirPlay.
With AirPlay Mirroring built into Mac OS, you will be able to stream whatever is on your desktop – webpages, photos, videos,  presentation – directly to your HDTV, with only one click on an AirPlay icon on the OS X menu bar.
Mountain Lion automatically detects an Apple TV when it's on the same network and AirPlay icon simply appears in the menu bar. Mirroring sends up-to 1080p video stream with stereo audio. All information sent using AirPlay Mirroring uses encryption.
If you are dying to give AirPlay Mirroring a try and you don't feel like waiting until July, you can check out AirParrot, an app that can bring AirPlay Mirroring to your Mac and Windows PC right now.
Game Center
Now that Mountain Lion also includes Game Center, and thanks to AirPlay Mirroring, your Mac becomes a game console! Apple showed  a very impressive demo yesterday of an iPad and a new MacBook Pro (yes, Game Center for Mac is cross-compatible with iOS) playing CSR Racing head-to-head, with the Mac streaming to a TV with little to no lag.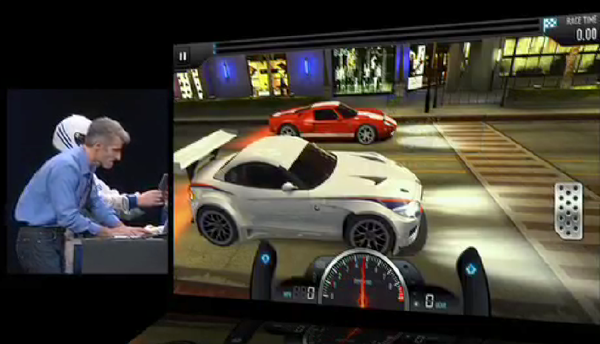 PCMAG's Edward Mendelson believes AirPlay Mirroring built into Mac OS X could be another evidence that the Cupertino-based company will unveil its own television soon: "Apple of course didn't say anything about the much-rumored Apple-branded television, but I somehow doubt that AirPlay Mirroring got into OS X only because Apple wanted to sell a few set-top boxes," he said.