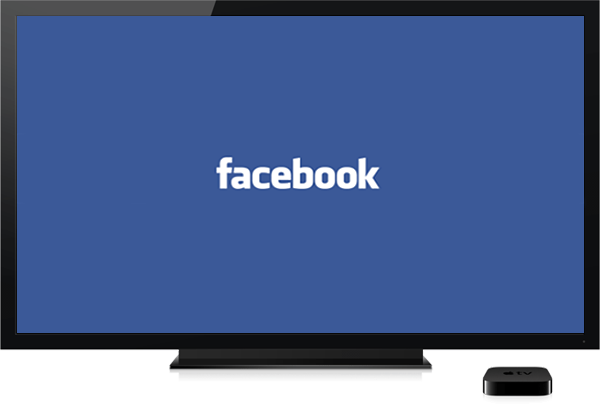 Tim Cook's interview at D10 conference and BGR's report that Apple may introduce Apple TV SDK at WWDC 2012 led TechCrunch's Josh Constine to believe Facebook will soon come to the Apple TV. Constine argues that our friends' high-resolution photos and videos would look "great blown up" on a big screen and that "Facebook TV could be a more natural place for display ads." He also thinks Facebook app could be a selling point for Apple's new TV hardware (whatever it will be: an updated set-top box or a standalone Apple TV set):
Facebook's got the world's biggest archive of photos, with 250 million posted each day, and allows for high-resolution uploads that'd look great blown up on a big screen. Imagine the photos from your news feed turned into a slideshow on your Apple television. Or the videos shared by friends streamed back-to-back. Even simple text status updates and their comments shown full-screen could be a pleasant laid-back experience. It could update reverse chronologically in real-time so you could leave it on to always see the latest content.

And while Facebook is struggling to make money on small mobile screens, Facebook TV could be a more natural place for display ads. Advertisers have been demanding a bigger, flashier ad formats that Facebook TV could host. We're so used to watching commercials on TV that a glossy still ad every 10 minutes or 10 photos, or the occasional fifteen-second pre-roll might not seem out of place.
BGR reported on Friday that Apple will introduce an Apple TV SDK and Apple TV App Store at WWDC 2012.
Apple will kick off WWDC with its keynote presentation today at 10 a.m. PST. Be sure to follow us on Facebook, Twitter or Google+ for the latest updates on WWDC 2012.
[source: TechCrunch]