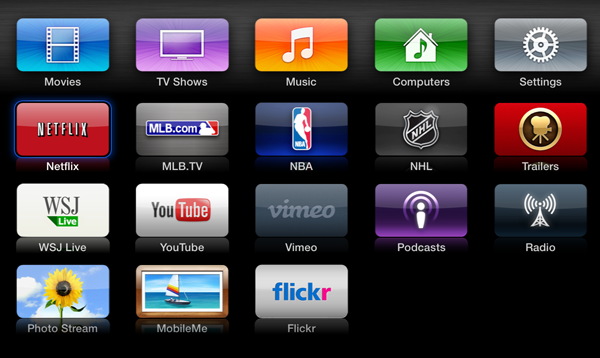 According to BGR, Apple is planning to unveil a brand new version of the Apple TV operating system next week at WWDC. A "trusted source" has told BGR that the new OS will be much more feature-complete than the current Apple TV OS and that it's apparently the one that the long rumored Apple TV set will run.
The new Apple TV operating system is supposed to make use of the new  "control out" API:
We've heard Apple is actively trying to court manufacturers to use a new "control out" API in order for third-party manufacturers to make accessories that are compatible with the new Apple TV OS and the upcoming "iTV." It's said that by using the API, it will be possible to control any connected components all from the Apple remote (and the Apple remote iOS app as well, we're assuming). The control out API is said to work with all aspects of various popular components, even allowing control over things like program guides on a cable operators' set top boxes and other hardware components.
BGR's source believes Apple won't actually show its physical TV at WWDC, "but it's certainly possible."
Apple will kick off WWDC with its keynote presentation at 10 a.m. PST on June 11TH .
China Business News reported on Monday that Foxconn has already started a pilot production of the new Apple "smart TV". According to Canaccord Genuity analyst Michael Walkley, Apple will launch a 50-plus inch LCD-TV by the end of the year. However, JP Morgan analyst Mark Moskowitz claims Apple TV set is unlikely to arrive in 2012.
Back in January Globe and Mail reported that Canada's largest telecommunications companies – Rogers and Bell – were in talks with Apple to become Canadian launch partners for its Apple HDTV. Another source said Rogers and Bell already had the product in their labs.
Be sure to follow us on Facebook, Twitter or Google+ for the latest updates on the rumored Apple TV set.