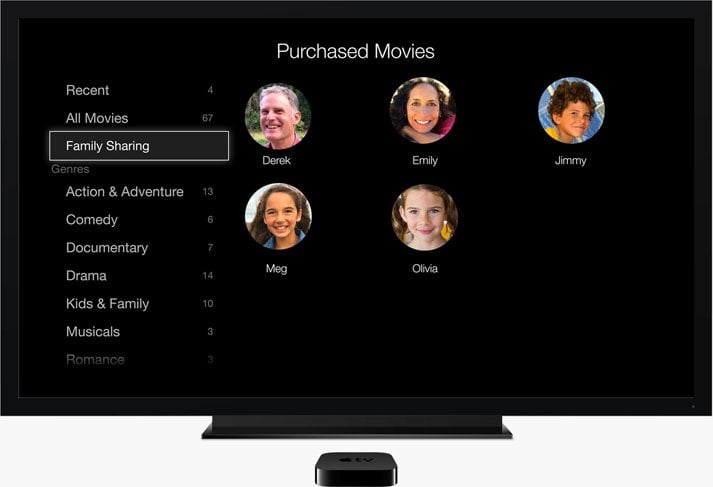 Family Sharing is probably one of the few awesome features on iOS 8, which are mostly directed towards users and not developers. Unsurprisingly, the Apple TV 7.0 update, being the biggest one yet for Apple's set-top box, brings the feature to Apple TV 3 too.
Family Sharing comprises of two main features.
The first is the ability to link up to six family members to one account, so that everyone can share the same credit card and download all the purchases the family makes. On Apple TV, you can now access all the purchases (movies, tv shows, music, etc.) made by others in your Family Sharing group, even if they were made on iPhone or iPad.
Because all your purchases are stored in iCloud, whenever one person buys a movie or TV show, everyone in your family can enjoy it on Apple TV or whichever device they're using.
The second part of Family Sharing provides for children below 13 years of age the possibility to have their own iTunes account. But every purchase they try to make on Apple TV will have to be approved by a parent before it is completed (Ask to buy feature). That ought to prevent lawsuits like this one in the future.
How to enable Family Sharing for Apple TV?
Unfortunately, there isn't a way to set up Family Sharing directly from the Apple TV. The screen just shows a notification to read more about it from the Apple website. So you'll have to set it up from an iOS 8 device, and then access it on Apple TV.
Just go to your iPhone or iPad Settings -> Choose iCloud -> You'll find a "Family" tab on top -> Go in there and choose "Add Family Member".
An invitation will be sent to the person. If the recipient is sitting next to you, you can let him enter his password on your iPhone to accept it or else he can accept it from his own device. From this screen, you can create an iTunes account for your child and also set another family member as the parent who can approve the purchases your child makes.
Now go into your Apple TV Settings and make sure you are logged in with the same account which is included in the Family Sharing group. There isn't much left to do here. Go into your Movies channel and choose the Purchased tab. You'll find a Family Sharing option here, which will show all the accounts in the group (image on the top). You can select someone and access all his purchases.
Read more on the Apple TV 7.0 update and Family Sharing.
Be sure to follow Apple TV Hacks on Twitter, Facebook or Google+ for all the latest Apple TV-related news.