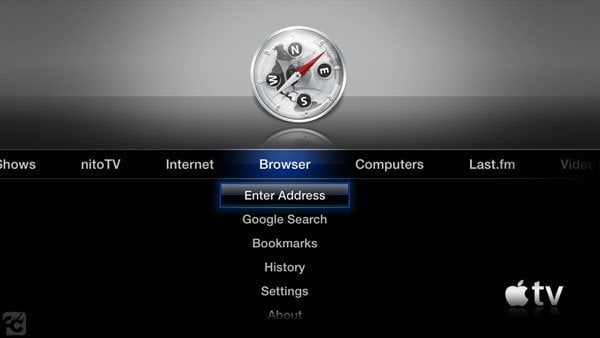 aTV Flash (black) Beta4 for Apple TV 2 has just been released. According to Firecore, in terms of features, this is the most substantial release since Beta1 first became available in early December 2010. The latest version of aTV Flash features an 'alpha preview' version of a brand new Media Player that has been under development for the past few months. This player enables the playback of non-iTunes media (streamed from a network source) on the Apple TV with no special software or transcoding required.
What's new in Beta4?
General
Added 'alpha preview' version of new Media Player
Added native Weather and RSS apps (will appear under Internet menu when installed)
Added support for Remote HD iPhone/iPad app
Added option to restart 'Lowtide' via Maintenance menu
Added support for AppleTV 4.2.1 (iOS 4.3)
Couch Surfer Pro
Added Google search suggestions to Search menu (iOS 4.3+ only)
Added ability to delete bookmarks
Improved animations, HTML5 and CSS3 support
Improve iPhone/iPad Remote app navigation
Improved text box handling
Resolved issues related to Facebook and similar sites
Many other performance improvements
What can I do with the new Media Player?
What's included in this version
Support for many non-iTunes media file types (MKV, AVI, MP4, etc…)
Native VIDEO_TS (VOB) file playback (with menus)
AFP network streaming (Mac, TimeCapsule, AirPort Extreme, etc…)
Automated cover art/metadata fetching
Basic subtitle support for VOB files
5.1 AAC audio
Watched, unwatched and partially watched markers (includes resume support)
Volume control (up/down arrows during playback)
Firecore is still working on:
Better support for HD video files
SMB network streaming
5.1 sound
Chapter controls
Video playlists
Subtitles (.srt)
Alternative file browsing options
Photo slideshows
Improved memory management
Countless other bug fixes and performance improvements
A brief demo of the Media Player in action can be seen here.
You may also want to read:
Win a copy of Remote HD
How to Watch Hulu on Apple TV 2
How to jailbreak Apple TV 2 with greenpois0n rc6