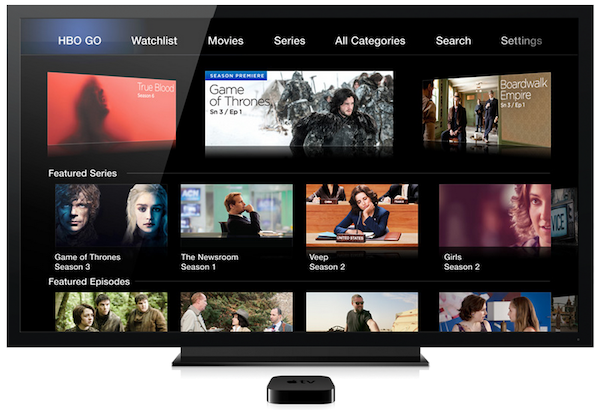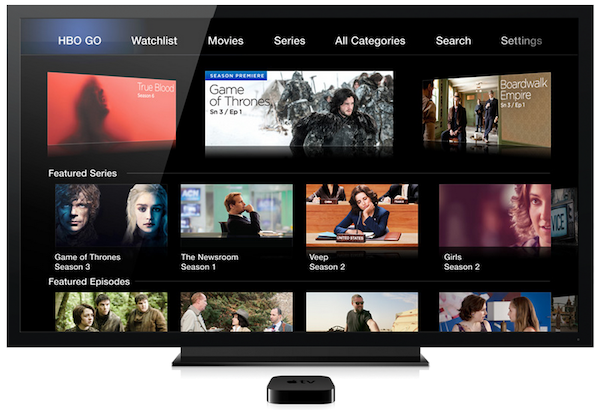 Apple has just released a big update to the second and third generation Apple TV. Apple TV software version 5.3 adds HBO GO and WatchESPN, which are now available directly on our little black boxes. In addition, three new content providers are also available today on Apple TV including Sky News, Crunchyroll and Qello offering live news, sports and current TV programming.
HBO GO users get unlimited access to their favorite HBO shows, including HBO original programming, hit movies, sports, documentaries, comedy specials and more. This includes full seasons of the best of HBO, plus bonus features and special behind-the-scenes extras. HBO GO on Apple TV requires a subscription to HBO through participating television providers.

WatchESPN on Apple TV delivers a one-stop video destination for sports fans with live access to ESPN, ESPN2, ESPNU, ESPN3 and ESPN Buzzer Beater/Goal Line to those who receive ESPN's networks as part of their video subscription from affiliated providers. Popular sports and fan-favorite shows include college football and basketball, Monday Night Football, MLB, NBA, major golf tournaments, all four Grand Slam tennis events, SportsCenter, PTI and more. Additionally, curated on-demand video featuring the most recent and relevant content—including highlights and news clips from ESPN.com as well as short-form segments from programs such as E:60, Outside The Lines, SC Featured, Sport Science and others—will be accessible through WatchESPN for the first time via Apple TV to all users.

Sky News on Apple TV delivers a live 24/7 news feed to users in the US, UK and Ireland, including breaking news and headlines from business, politics, entertainment and more. In addition to the live feed, users can catch up on specific stories at any time via the extensive on-demand news library.
As always: if you are on jailbroken ATV2, stay away from this update for now if you don't want to lose your jailbreak.
The latest jailbreakable Apple TV software version is 5.2 (untethered) or 5.2.1 (tethered).
Be sure to follow us on Facebook, Twitter or Google+ to be first to know when the jailbreak for Apple TV 5.3 comes out.
Here are the direct download links: