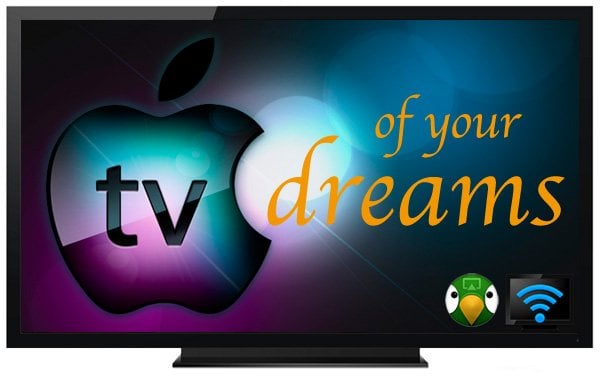 A few weeks ago, in collaboration with Squirrels (maker of AirParrot and Reflector) and Beamer, we started a contest inviting you to share with us (and the rest of the world) your vision of a perfect Apple TV – the Apple TV of your dreams. The participation was amazing (thanks!), we got tons of submissions and a lot of great ideas. Here is a short résumé:
Almost all of you think of a new Apple TV as a standalone TV set that features:
a big, 3D, ultra HD display (Retina?)
a built-in Kinect-like camera (FaceTime/Skype calls, gaming, face recognition)
Siri
App Store (yes, you want apps!!!)
social network integration
DVR functionality
All the above features seem to be a MUST for the future Apple HDTV.
Other ideas we liked:
NFC
push notifications
multiuser personalized profiles
gesture interaction with social media
a full TV experience available everywhere (on the go!)
wireless charging (in the fuuuuuture)
Interestingly, a lot of you want your TV to become… a phone.
Though these are all great ideas, we think we are still missing something here, a truly revolutionary, game-changing, killer future that could reinvent a TV and it seems that we will have to leave it to Apple to figure out what it is.
Here are some of your ideas:
Sean O'Neill
My vision for the perfect Apple TV would require one simple interface addition: voice.  A few simple words should be all it takes to communicate with your TV, across all devices and services.
Examples:
"Hi TV. Change channel, CNN."
"Hi TV. Netflix, House of Cards. Episode 2."
"Hi TV. Search TV, Next Daily Show, New Episodes."A minor hardware challenge would be including a small microphone in the remote, which would transmit voice commands to the box.An alternate approach to voice control would be to simply hold the current center button for a few seconds, which would trigger a high-gain microphone on the Apple TV itself. An animated speech waveform could be displayed on the TV to entertain the user & confirm actuation.Another interesting twist on this would be to provide multi-service search results, as Roku has done with the latest version of their Roku 3 player. e.g. "Hi TV. Iron Man 2. Anywhere." might return a list of results on screen that list comparative pricing spanning multiple services, so users can select the best offering.
Another "killer" feature would be Push Notifications. Users can register their favorite programs (via an Apple TV app, for instance, that could resemble a supercharged Remote app) using their Apple ID. They could then be notified about various events: when a favorite show is about to be broadcast, when a podcast they've subscribed to has a new episode, or when a movie they're watching becomes available on Netflix, Amazon VOD, Vudu, etc. On acknowledging the notification, users could either select the content for immediate viewing, "Add to Queue", or Record, depending upon the source.
G J P R Verasdonck
My Apple TV should be:
any "computer" from which I can access the content from anywhere in the world (if I am on holidays in "Timbuktu" I do not want my screen to say that I am not authorized to view my content due to geographic restrictions)
suitable for views on the go (e.g. iPad/iPhone) or at home (e.g. large screen)
be "low-key interactive": if I like the holiday program on Fiji Islands, I want to be able to look at booking options or in reverse: if i consider a holiday to the Inca ruins I want to be able to look for a travel program on the region I am interested in and see booking possibilities
my TV should also be my phone; I like to see the people I'm talking with.
Mark Villapando
Deals with all the premium channels for their on demand content
Access to the NFL Network, or better yet, RedZone
Deals with more sports networks to make pay subscription apps (to combat Internet piracy through illegal streaming sites)
Easy ability to share viewed programs through social networks
A VNC-like app to access the screens of computers on the network (from TV)
Make iOS hackable again to allow programs like Plex, XBMC, or Media Player to stream local media (wishful thinking)
Alejandro Timpanaro
A laser pointer (Wii-style)
Google Chrome browser
Google maps
Access to Google Drive and other cloud services
A download manager like Jdownloader.
Backup config of the Apple TV in iCloud
Nicholas Chan
Every single broadcast gets relayed to the billion-dollar data center for recording. This includes news broadcasts, morning/late night talk shows, etc. Everything gets recorded. A user with an Apple TV can then jump back in time to a specific hour to watch his/her favorite program from any channel, streaming directly from the data center. User does not have to worry about local storage. Program list can be sorted and presented in many ways. Programs can stream to iPhone/iPad/Macs. Premium channels are available to those that are paying for it currently.
The Archive: for stuff that predates the Apple TV (stuff that didn't get recorded at the data center), becomes available for on-demand streaming. Basically – Netflix. Score some deals Mr. Cook!
Three ways to control the TV: 1) everyone has their phones with them, make that the remote (people would buy iPod touches dedicated for this). Very similar to the current Apple TV's iOS remote. 2) if the phone isn't in the room, use Siri, an obvious choice. 3) if all else fails, a multitouch display directly on a TV. Tap on screen to bring up a menu. Swipe to switch channels. Third party apps can utilize this. Apps can be educational and ask children to select things on screen, etc…(classrooms desperately need this feature available).
Killer GPU for competition against consoles
iSight -> direct all phone/FaceTime calls to the TV rather than your phone if your identity is detected in the room
Mike Bowen
I'd like to see the TV have full touchscreen compatibility (you can't play Angry Birds without a touchscreen)
PIP of course that would support watching TV while checking apps
Built in 4g & LTE support so you can actually make and receive phone calls from the TV set itself
Adrian Büsselmann
I dream of gesturing from my couch to control the Apple TV. No more searching for the small controller. Apple TV could get a "Kinect" plugin to realize this
Even a virtual keyboard can be shown on the TV and the Apple TV would see my gesture and get the right input
Eric Dykstra
A monthly iTunes subscription (be able to watch everything on iTunes for a monthly cost; the cost would be high, $150+ per month)
Control interface for cable and satellite (run the Cable signal through Apple TV, and change channels with ATV)
Eric Olson
The Apple TV should be able to mirror to another apple TVs and support a "party-mode" where all apple TVs on the local network display and control the same media
Open the "remote" IP port for 3rd party display of meta-data & control. This will make it easy to integrate an Apple TV into high & mid-range entertainment systems
Rik Moedt
The Genius function that Apple uses to show you things you might like is going to be integrated. It will offer you playlist with things you might like to watch. In the playlist live television, on demand video and internet content can all be combined.
And the winners are:
1. Maria Panagi – for the brilliant idea of using simple gestures to interact with social media:
The Apple TV of my dreams would have highly developed gesture recognition, that would be used not only for playing games (bringing all the Wii feauteres) but the whole controlling of the TV would be based on gestures.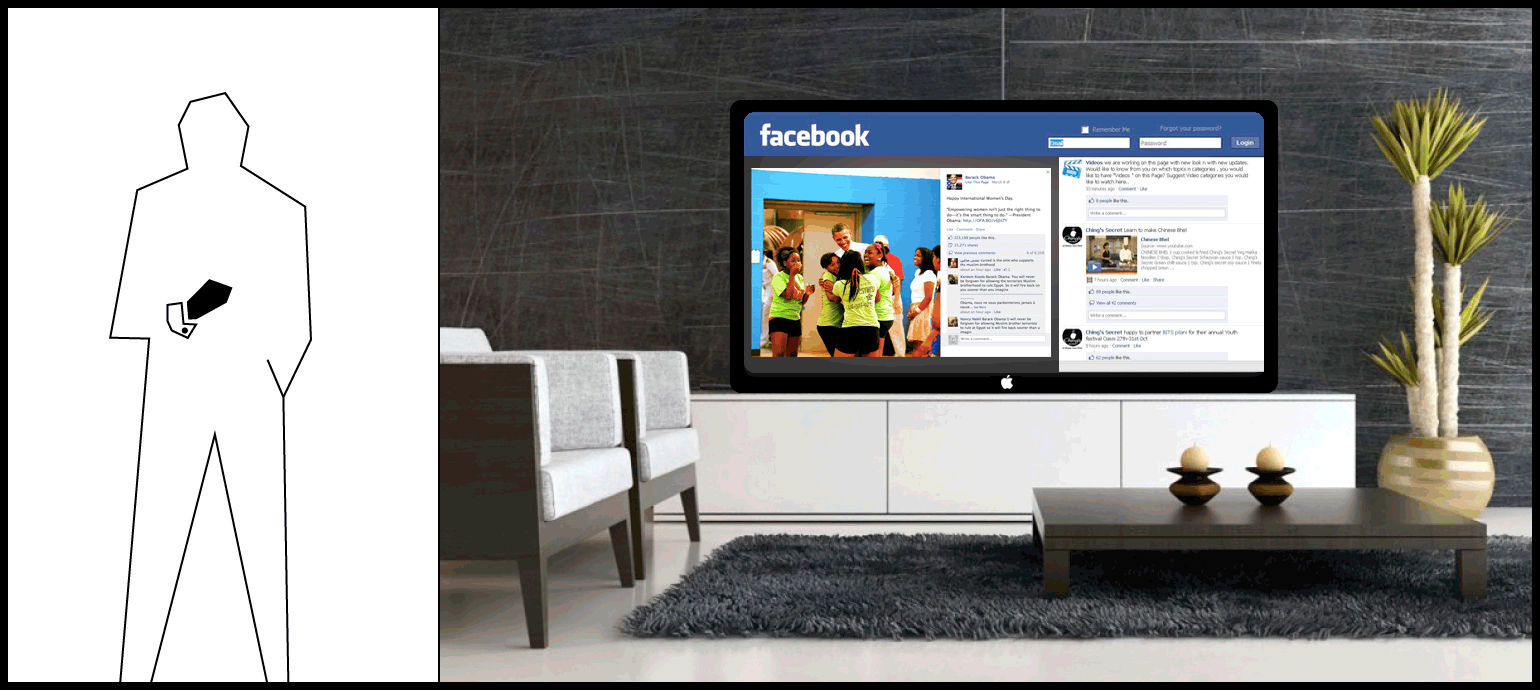 When it comes to social media, the gesture recognition would be highly integrated with the biggest social media platforms. On the above picture there is an example of Facbook ´Like`- the gesture of thumb-up would be recognized and would make it possible to give a like only using a gesture. Other gestures would be recognized as "share" and reading the news feed would be possible with a hand swing.
On the below picture there is an example of how the gesture control system could work with Apple TV menu. I believe that the main menu should have only 6 icons, so that it can be easily navigated with gestures (it would recognize moves: left top, right top, center top, left down, right down, center down). One hand swing would  bring another screen with the next set of 6 icons.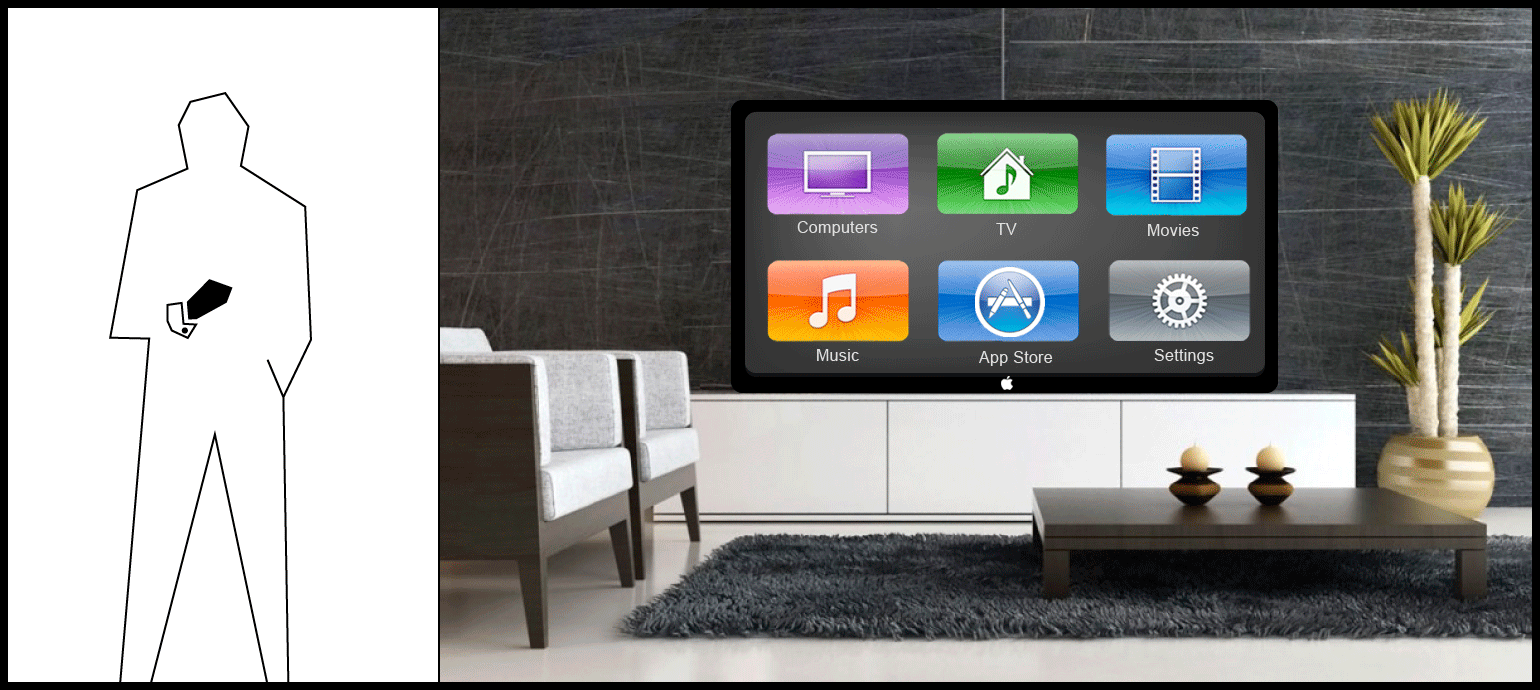 Prize: iPad mini
2. Cristhian Flores – for an idea of a fingerprint (on the remote)/face detection to recognize users and update the TV with their personalized profiles (channels, apps, movies, music, etc.)
Other ideas of Cristhian:
Led notification for personal mail, Skype calls, or iMessage
A built in mic on the touch remote to allow the user to communicate with TV without making too much noise around
NFC chip, to allow smartphones and tablets to transfer information with a tap on the TV's stand. When tapped to a laptop will also transfer information.
All Corning Gorilla Glass with plasma like refresh rate 600HZ
Has built in set-top box, way to activate is to call Apple and with their deal with Direct TV/Dish will transmit signal to the television to allow channel viewing
Special coating on the television that activates when people (in a meeting) are trying to show their products can write on the screen with a stylus. This information is saved on the flash and can be transmitted to devices via NFC.
Quad-core processor to allow heavy intensive applications to run, the visual would match the graphics of the Playstation 3
4GB RAM: allows applications to run at ease, also streaming any content while also doing iWork (multitasking.) It would allow either side-by-side or Top-bottom screen to be able to run two applications.
Prize: iPad mini
Runner-up: Leo Hellberg – for a futuristic idea of The Plug (wireless power) and professionally designed Apple-style graphic (below.)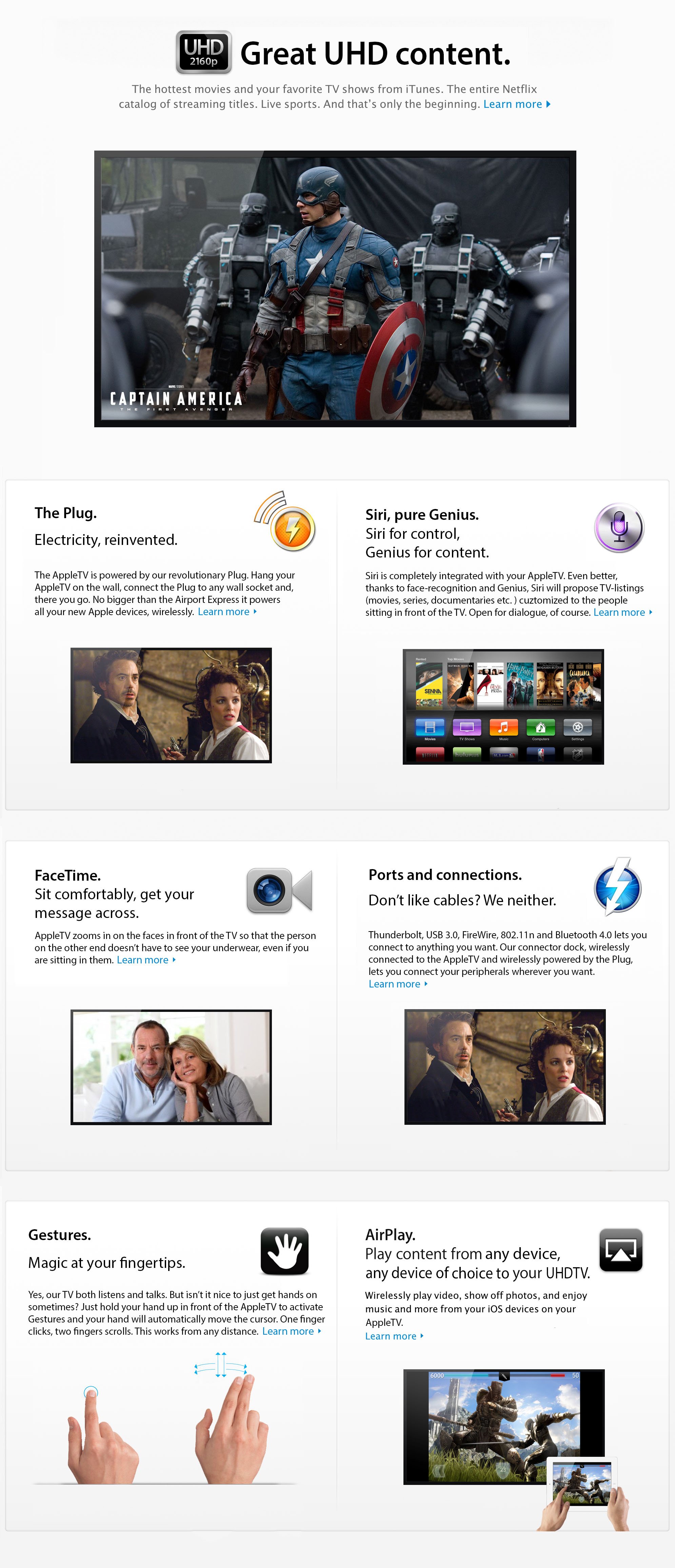 Prize: free copies of AirParrot, Reflector and Beamer.
Big thanks to all for participation! Stay tuned for more contest and giveaways!
The contest was sponsored by Squirrels (maker of AirParrot and Reflector) and Beamer.