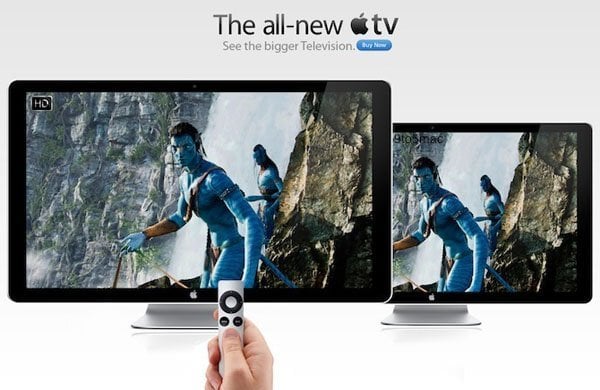 The fact that Steve Jobs has no trust in set-top box as a device that could revolutionize the TV market makes many people think Apple may decide to build televisions. Well, that may be a reality soon as DailyTech reports that Apple "is teaming up with a major OEM to sell iOS-powered, Apple-branded displays."
According to the former Apple executive who anonymously spoke to DailyTech, Apple plans to bundle Apple TV and iTunes inside physical television sets. The source claims that Apple is teaming up with a major supplier (Samsung?) to provide the physical televisions, which will be rebranded as Apple television sets. The source believed a fall launch was in order, but the product could launch as late as next year.
According to the former Apple executive, the company plans to "blow Netflix and all those other guys away". "You'll go into an Apple retail store and be able to walk out with a TV," the source said.
Shortly before Apple has released the second generation Apple TV in September last year, Jobs participated in the D8 conference, where he said that the Cupertino firm had no idea on how to succeed in the television market. Although the Apple TV 2 has sold very well (probably over 2 million units so far), it's hard to call Steve's "hobby" device a revolutionary product.
Apple has been rumored to be working on its own TV set numerous times in the past. According to Piper Jaffray analyst Gene Munster's note Apple will release an HDTV "in the next two to four years."
In February, Apple has posted a new job position looking for people to work on next-generation power supply technology that will power – among others – the TVs.
In addition, according to the other job listing, Apple has been researching OLED technologies and is looking to implement this technology into future products.