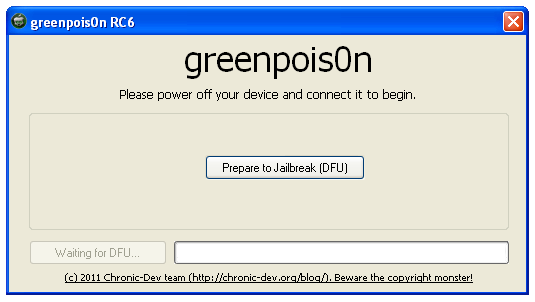 We've been waiting for this jailbreak since November, but it's finally here: Chronic Dev Team, with great contributions from nitoTV, has released greenpois0n RC6 that allows you to perform an untethered jailbreak on your Apple TV 2 running iOS 4.2.1. It's available for both Mac and Windows and can be grabbed from here.
Note: make sure you restore to fresh 4.2.1 before running greenpois0n rc6.
Let us know in the comments if you have any issues. A detailed how-to tutorial will be posted soon. Here is the step-by-step tutorial on how to jailbreak your Apple TV 2 with greenpois0n rc6.
You may also want to read:
How to jailbreak Apple TV 2 with greenpois0n rc6
Patchstick.ca to Release Installer for Apple TV 2
How to install XBMC on Apple TV 2
How to jailbreak Apple TV 2 on iOS 4.2.1 with Seas0nPass