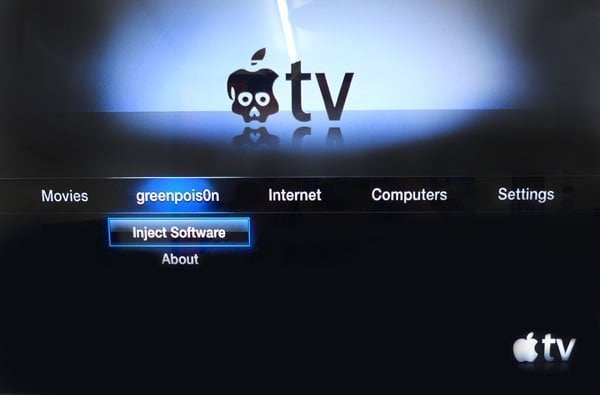 Greenpois0n RC6 has finally been released by the fantastic Chronic Dev Team. This magical piece of software jailbreaks your Apple TV 2 on iOS 4.2.1 (Apple TV 4.1.1) in a flash. And this is untethered jailbreak, meaning you don't have to connect your atv2 to your mac/pc every time you need to reboot it.
Here is the step-by-step tutorial on how to jailbreak your Apple TV 2 using greenpois0n rc6.
Step 1: Download greenpois0n rc6 for Mac or Windows.
Step 2: Run it and select "Yes" when asked if you're jailbreaking an Apple TV.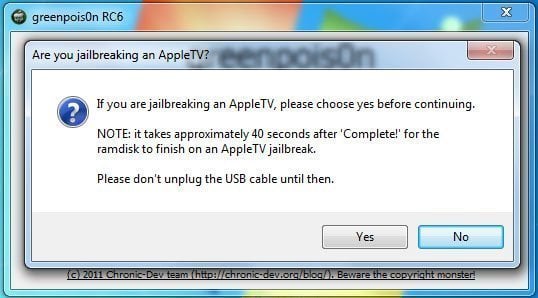 Step 3: Click "Prepare to Jailbreak (DFU)".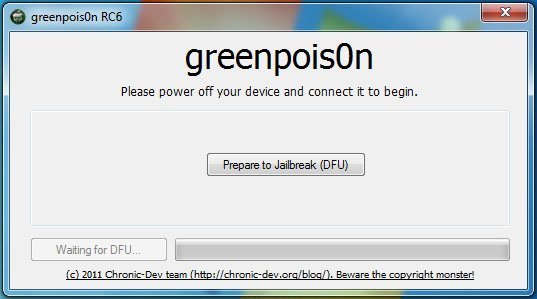 Step 4: Follow the onscreen instructions to enter DFU mode.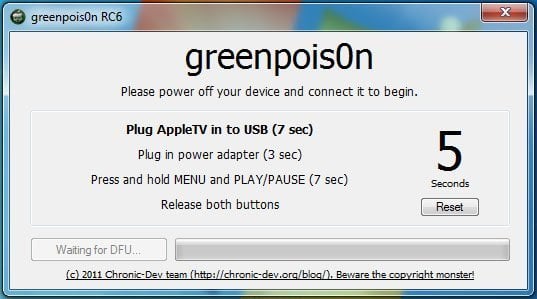 Many people report having problems entering DFU mode when following GP instructions; here is the alternative method that worked for me (after 3rd or 4th try):
–          Plug USB end power cables into atv before you even run GP.
–          When the program asks you to follow the instructions to enter DFU mode just hold down MENU and PLAY/PAUSE buttons for 17 seconds (7+3+7) (7 second should be enough but it's better not to release the buttons earlier)
–          Release both buttons when the program says that.
You can find other alternative methods as well, one of them will work for sure.
Step 5: Click "Jailbreak!". Greenpois0n will now begin jailbreaking your atv. It should not take more than a few minutes to complete.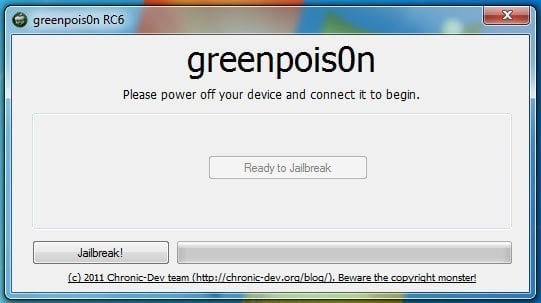 Step 6: Your Apple TV is now jailbroken.
Note: do not unplug atv for at least 40 seconds to a minute after the "Jailbreak complete!" button appears (greenpois0n may be still finishing the process on your device).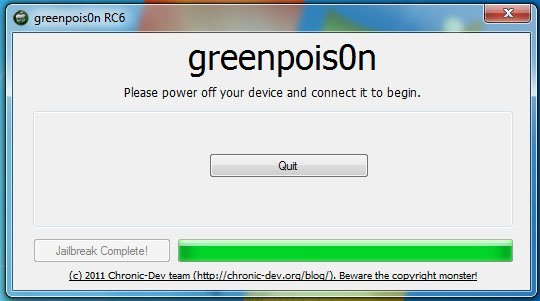 Step 7: Unplug USB cable, connect the device to your TV, navigate to "greenpois0n", select "Inject Software" and install Cydia package.
Step 8: After the installation is complete press MENU button to reboot.
Step 9: nitoTV will appear instead of "greenpois0n" heading. You can now install third-party software and plugins, such as XBMC, Exposed, Overflow, BTStack, Weather, etc. (NitoTV->Install Software).
Many users report having WiFi issues after jailbreaking. If it's your case, you can try to fix it by restarting Lowtide (NitoTV->Settings)
(note: greenpois0n commands and onscreen notifications vary between mac and pc versions)
You may also want to read
How to install XBMC on Apple TV 2
How to jailbreak Apple TV 2 on iOS 4.2.1 with Seas0nPass
AirFlick Streams Non-iTunes Data to Apple TV 2 (video)