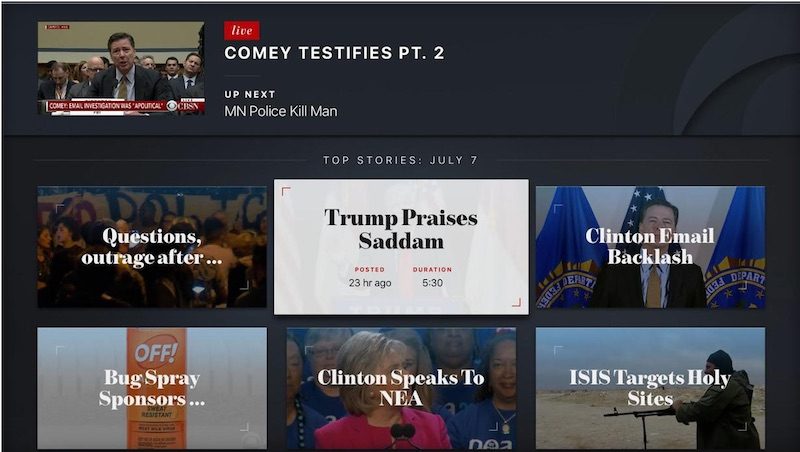 CBS has released an official CBS News app for the Apple TV which has been designed from ground up for tvOS. The app also features Siri support on Apple TV 4th generation.
Unlike the standard CBS app, the new app is designed with livestreams and breaking news in mind. The app doesn't require any subscription as it is ad supported. It will stream all its content from the CBSN feed so you remain up to date with the latest news.
The app supports Siri on the 4th generation Apple TV, and allows you to launch the app using a voice command. Tell Siri 'Watch CBS News' and the app will be launched in full screen mode. The app will not ask for any authentication to view the livestream and other stories.
When streaming live news, users can also browse for related videos and other playlists curated by CBSN. They can also bookmark their favorite videos and subscribe to various topics.
Christy Tanner, senior vice president and general manager of CBS News Digital stated;
Our Apple TV app represents the future of how viewers will consume and interact with video. We are taking advantage of the platform's cutting-edge, interactive technology to offer a customizable experience.
According to CBSN, Apple TV users on average use the CBS app for about 96 minutes each session. Apple TV is the most used connected device to view their app.
Using the new CBS News app, you can also follow the Republican and Democratic National Conventions. Apple TV users will get wall-to-wall coverage of the entire event, both from inside and outside the halls. Other livestreams and breaking news videos are available from 9 AM to 12 AM.
The new CBS News app is available for free from the tvOS App Store and is only compatible with the latest 4th generation Apple TV.