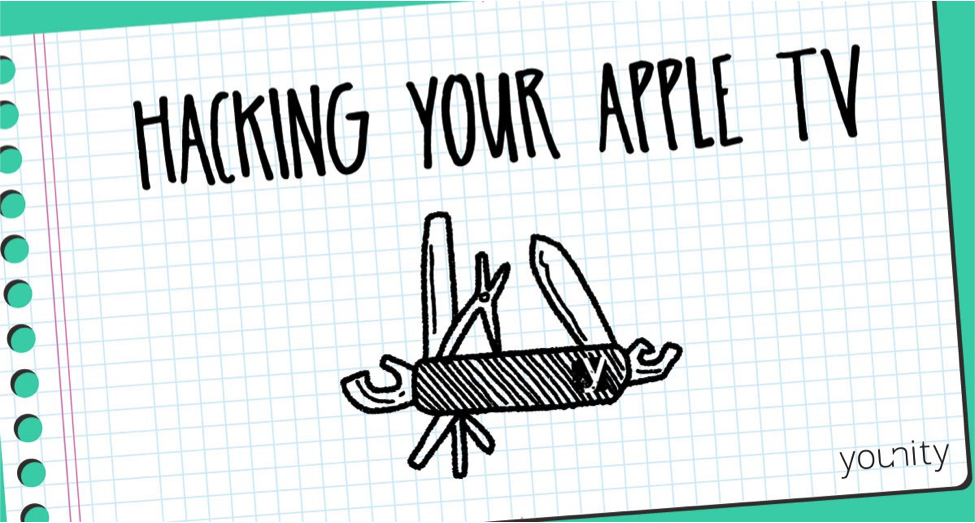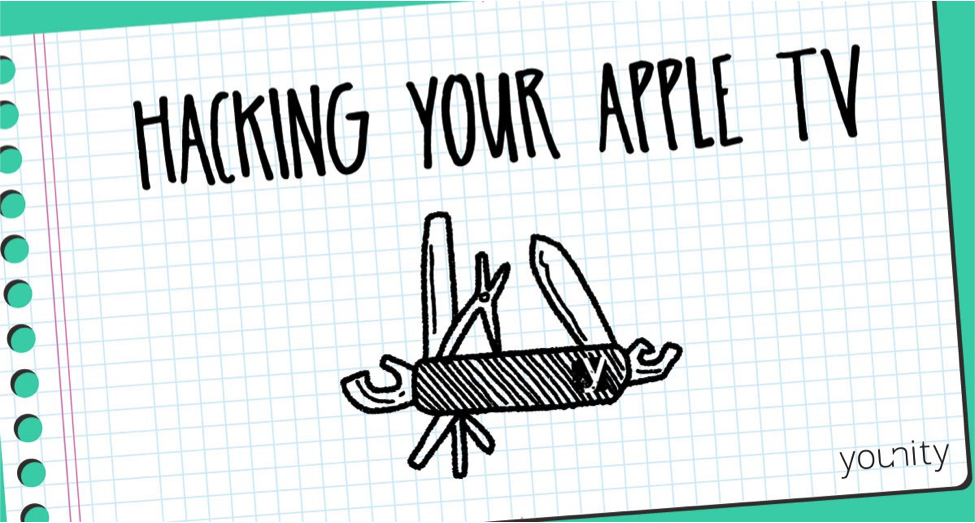 The Apple TV is a pretty awesome little device. The supremely portable hardware enables us to stream content from our computer, or from several pre-installed channels like Netflix, directly to our TV/stereo/home theater. For about the price of a month's worth of Starbucks lattes, you can easily watch all your favorite content on the big screen.
While that's cool and all, no product is without its frustrations. With limitations ranging from connecting to one computer at a time to the requirement to use Apple's iTunes, Apple TV is no exception. In a series of posts, we'll describe how one free application can offer a variety of ways you can side-step many limitations and make your Apple TV even better.
younity is a simple service that connects your devices together, so they can access each other's content. Have a computer or two at home, but want to access files stored on them via your iPhone or iPad? younity does that. Easily. And for free.

You may be thinking, "hey, can't I sync my phone to each computer to get some of my
stuff?" Yep, you can do that. Just find that trusty cable, plug it in, launch iTunes, find the content (wait, is it on my desktop computer or laptop computer?) then get iTunes to fit it on the phone. Whoops, out of storage. Sorry – you're out of luck.
Then there's that guy next to me telling me to just put all my stuff in the cloud. Only after I upload 1.2TB of files (which takes about 3 months) and shell out between $100-200/year, do I then realize that it can't read my iTunes catalog, nor my photo albums in Lightroom, nor stream my HD video (it's got my docs covered though!). Weak.
Alternatively, you can install younity on your computer and your mobile devices and just access all your stuff via your iPhone or iPad as if it were stored locally. No storage? No problem – younity streams content by default (don't fret, you can download files if you know you'll be offline). Better yet, install it on several computers and it will unify all your music, photos and video onto your smartphone or tablet.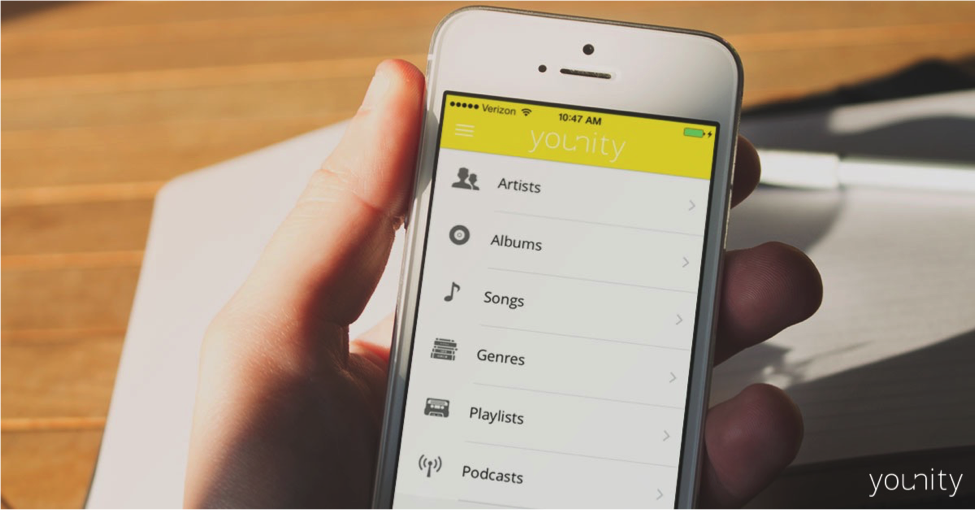 Have a giant music collection stored on a bunch of hard drives from college? No worries, younity creates your own private version of Apple Music and streams your music (even your playlists) right to your phone (without destroying the library you worked so hard on creating). Want to access your massive video library, ranging from your GoPro to your movie collection? Easy-peasy, younity turns your computer into a private Netflix.
Ever wish you could access all those photos and photo albums (you know, the photos you really care about and not the 739 photos of your dinner or dog or whatever you shoot with your phone) no matter where you are in the world? Yup, younity lets you have all those too. All as if they were on your phone, via one simple app.
If you want to get all technical, younity actually creates your own cloud by building one out of your computers (like your laptop and your desktop). So that cool cloud thing can be yours, but also free and private (nothing gets uploaded or stored online). While you do have to keep your computers on to access their content (similar to Plex), by not storing your files online the service can remain free.
By now you're thinking, "get to the Swiss Army-like features this thing has for my Apple TV." We're getting there! Ever wish you could connect all the computers in your house to your Apple TV  at once? Hate using iTunes, but love your Apple TV ? Wish you could play content stored on your computer when you are at (using their Apple TV)? Ever wish you could take the Apple TV on vacation  with you to use, even though all your stuff is stored back on the home computer?
Stay tuned- over the next month we're giving you four new tricks on how to hack your Apple TV with younity.
Click here to learn more about younity.
We're giving away FIVE brand new Apple TV 4s! Check out all our upcoming tips on hacking your Apple TV with younity to enter to win. Enter below for your first chance!
a Rafflecopter giveaway

younity is a simple easy and free app that enables your computer to work like a home media server, giving you access to all your media files on your computer from your iPhone or iPad.