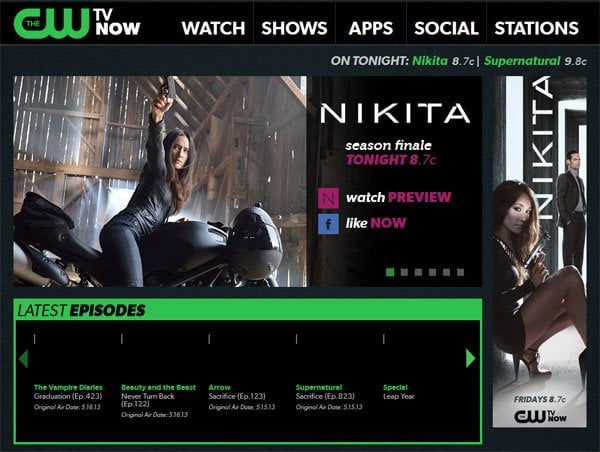 MacRumors reports that the CW network has struck a deal with Apple to bring its TV Now application to the Apple TV. Speaking from New York at the company's annual Upfront Presentation yesterday, CW president Mark Pedowitz said the network's content, which is currently accessible on Microsoft's Windows 8 and Xbox 360, will also become available on Apple TV.
According to the CW, the app will function the same way the company's mobile and Xbox apps function. The Xbox app offers free full streaming of episodes on the CW network but with limited advertising. It also comes with extra content like cast extras and previews. The company confirmed to MacRumors that Apple TV's app will certainly be located on the home screen of Apple TV and offer full episodes of primetime shows like "The Vampire Diaries", "Arrow", and "The Carrie Diaries".
"It's a dedicated CW app that will work like our Xbox and mobile and tablet apps – no cable authentication required, full episodes of our shows available next day after air, ad-supported."
This deal seals the first of Apple's app partnerships with television networks. Apple TV has been offering apps and digital content from Hulu and Netflix, but not from television networks. Even before this, though, CW content has been available for sale at the iTunes store.
The CW network is a joint venture between Warner Brothers Entertainment and CBS, one of the largest broadcast networks in the U.S. The partnership does not shed light on Apple's intentions, though there are speculations it could be part of a larger initiative to have more apps on Apple TV.
The exact date for the release was not given but according to the CW, it will be launched in the coming weeks.