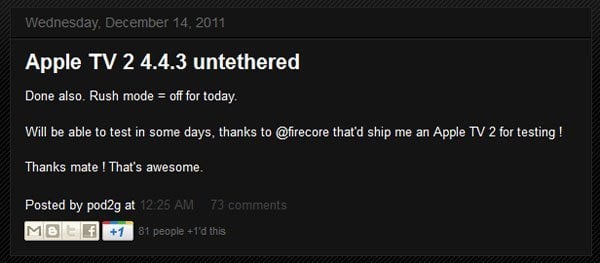 iOS hacker and Chronic Dev-Team member Pod2g has announced an untethered jailbreak for Apple TV 2 running 4.4.3. He didn't give any ETA but he said he will be able to test it in some days (it appears that FireCore'd ship him an Apple TV 2 for testing), so everyone is expecting the jailbreak will be released very soon. We will keep you updated.
So far, the only way to jailbreak Apple TV 2 running 4.4.3 is a tethered jailbreak provided by FireCore's Seas0nPass.
Earlier this week Pod2g announced the untethered jailbreak for iPhone 4, iPhone 3GS, iPad 1, iPod 3G and 4G running iOS 5.0.1.
You may also want to read:
How to Jailbreak Apple TV 4.4.3 with Seas0nPass – Tethered
Apple updates Apple TV 2 to version 4.4.3 (9A4051)
How to install aTV Flash (black) 1.0 on Apple TV 2
Apple TV 3 or Apple TV set?