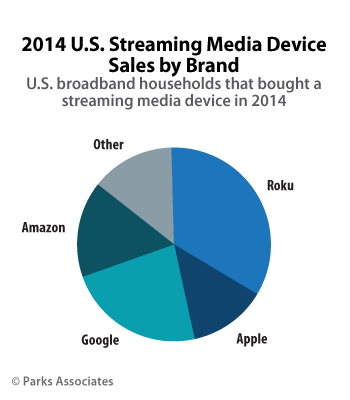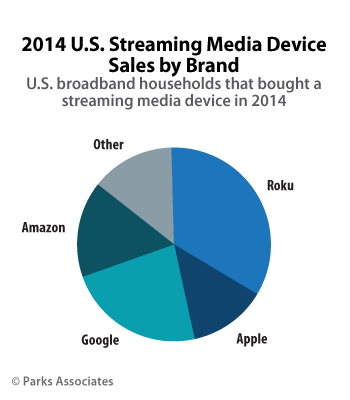 Roku, Chromecast, Amazon Fire TV and Apple TV dominate streaming media device market in the U.S. with 86% of sales, according to a new report by Parks Associates. The analysts believe that "this market concentration will force new entrants to develop unique solutions in order to have an impact in this expanding ecosystem" and we're sure we're going to see such a "unique solution" on Sept. 9th.
"Roku continues to lead streaming media device sales in the U.S. with 34% of units sold in 2014. Google is second with 23%, and new entrant Amazon overtook Apple for third place," said Barbara Kraus, Director of Research, Parks Associates.
The Streaming Media Device Landscape reports that nearly 20% of U.S. broadband households own at least one streaming media player, such as a Roku 3, Amazon Fire TV, or Apple TV. Eight percent own at least one streaming stick, such as a Google Chromecast, Amazon Fire TV Stick, or Roku's HDMI Streaming Stick, while 2% own both form factors.
Roku devices are the most used among U.S. broadband households that own a streaming media device at 37%, followed by Google Chromecast at 19%, Apple TV at 17%, and Amazon Fire TV devices at 14%
The report estimates that 86 million streaming media devices will be sold globally in 2019.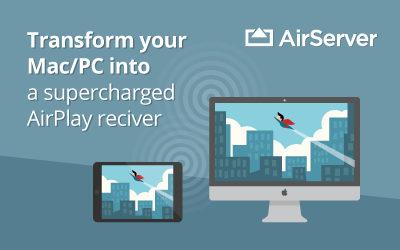 Be sure to follow Apple TV Hacks on Twitter, Facebook or Google+ for all the latest Apple TV-related news.