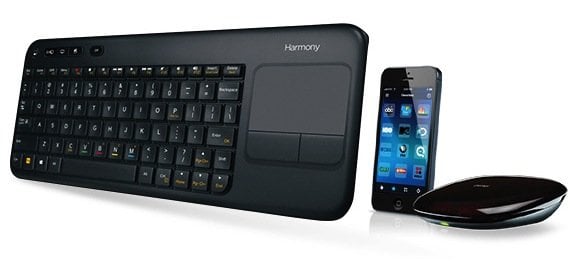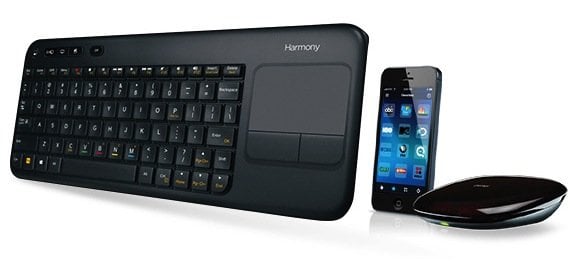 We've always loved the wonderful keyboards from Logitech and also their Harmony series remotes for media players and consoles. Now, the giant peripheral maker is fusing these two categories in a new product and the resulting alloy is what is called the Logitech Harmony Smart Keyboard. It is said to be specifically designed for the Apple TV and "similar living room devices", but with support for over 225000 devices from 5000+ brands and the ability to work even within closed cabinets, Logitech expects the Harmony Smart Keyboard to be a one-remote solution for all your living room needs.
This universal controller box comes packed with the Harmony Smart Keyboard itself, the Harmony hub, two USB receivers, an IR blaster and a USB extender. The free Harmony app for iOS or Android is also available.

Using the app and the keyboard, you can setup each of your devices including PC, Mac, Apple TV, Roku, Xbox or PS3 separately and even assign custom buttons for favourites. Easily navigate with the arrow keys or the touchpad, search using the keyboard and assign device-specific one-touch actions as shortcuts. You can keep the hub within a cabinet and use the included mini sensor outside, to control IR activities while other actions dependent on WiFi and Bluetooth aren't affected by any obstructions.
However, the lack of backlight has been widely discussed as a major drawback of the device and from the video above, it is evident that the intital setup is a major pain. Also despite support of innumerable devices, we cannot pair more than 8 devices to it at a time. That sounds kind of funny but most home users fortunately won't exceed that. Check the compatibilty of your device at this link.
The Logitech Harmony Smart Keyboard can be pre-ordered now on the official website for $150, to be delivered later this month. Before ordering, you might want to checkout CNET's in-depth review of the same.
From first looks, it does seem to be a compelling buy for multiple console owners as it's destined to put an end to juggling countless remotes and the text entry on virtual on-screen keyboards.
Not convinced by this one? Check out our list of the best Bluetooth keyboards for the Apple TV.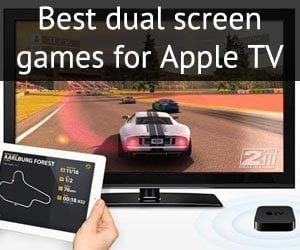 Be sure to follow Apple TV Hacks on Facebook, Twitter and Google+ for all the latest Apple TV-related news.