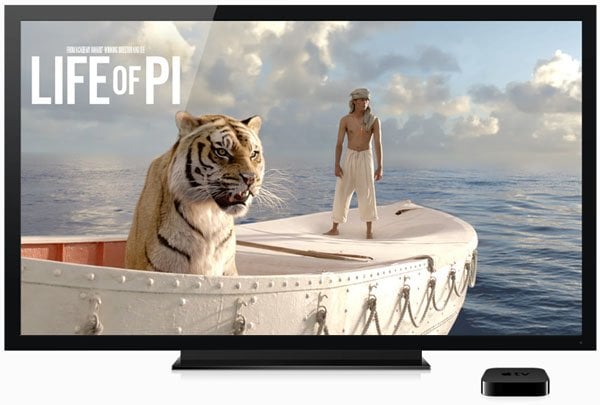 Welcome fellow online viewers & Apple TV fans to the inaugural run of your Weekend Flix Picks with some TV for Free thrown in the cyber-bargain! If you happen to find yourself hunkered down for this coming Fri-Sunday cycle with down time on your hands then you might as well check out the best of what our wide world of Internetainment has to offer while you turn on your Apple TV, turn off your brain, recharge your batteries and give the couch a solid workout.
In like Flynn? Then let's get right to this Week's Top Choices for the movie services available on the Apple TV. It breaks down like this:
First up for our cyber-savvy amigos is the current most popular streaming service in the States, Netflix.  Now the only complaint you're going to have with Netflix is that you've just got too many choices but never fear…we are here.  And this week we say lock in on these selections and you won't go wrong-
Must-see movies are unfortunately a step slow on Netflix this week so we suggest starting with some Original Netflix TV programming– "Top of the Lake".  One season (7 episodes, 50 mins each) of a new Drama/Thriller from New Zealand's Oscar winning director Jane Campion.  This one is very heavy on the drama but blends a distinct Kiwi flavor to the typical western TV police procedural stew.  TOTL also contains some truly wicked twists and turns with a rhythm all its own.  The violence and blood is minimal but this is cop drama is most definitely not for kids!
Netflix is also launching "Hemlock Grove" this week, another Original TV series from Eli Roth, the director of "Hostel" and other hyper-violent, Hollywood horror/torture films.  We haven't sampled it yet but it looks like the suspense/mystery series is going to get all werewolfey with no shortage of gore and undoubtedly plenty of Rothian splatter.  We're not big Roth fans but the series has femme fatale Famke Jansen in the middle of the action…so we're in!
One intriguing pick in the movie section might be 2011's "The Awakening" starring Rebecca Hall as a turn-of-the-century physic phenomenon debunker tackling a mystery at an English boarding school.  This horror/mystery sort of slid past the mainstream in '11 but might be worth a watch if you're in the mood for classy chills, subtle thrills or a little bit of beautiful 'Becca in the bathtub.
Want to go Old School?  Why not try one of Harrison Ford's best, 1985's "Witness".  Tough guy, Philly detective Ford goes to Amish Land to straighten shit out and meets Kelly McGillis and Alexander Gudonov on his way to finding the Bad Guys.  A real 80's gem back from when Ford was almost young.
Got a stay-at-home date with a pretty girl?  Then how about going even Old Schooler with the iconic beauty Audrey Hepburn being romanced by All-American Gregory Peck in 1953's classic romance "Roman Holiday".  Audrey's stunning, Peck is solid, love is in the air and Rome looks grand.  We're in the mood for love.
And this week's Alternative Pick– Korean Director Joon-ho Bong's 2006 mad, monster mash-up, "The Host".  This one has it all.  An out-of-control chemical waste monster against an equally out-of-control and hilariously touching S. Korean family who aren't about to go down without a fight.  Bong pulls out all the stops with a rollicking roller-caster ride that may not win any awards but Man…this is one hell of an entertaining ride!
Now what's happening over at everyone's second choice for freebies?  Yes, Hulu may not have the market muscle of Netflix but we're locked in and we got you covered anyway. Hulu's new releases are also on the vanilla side this week so here's our recommendations for movies that will satisfy-
Let's start with 2004's Indie jewel, the little-seen, under-appreciated, low-budget, Sci-fi masterpiece "Primer".  If you're into time-travel flicks then tune in and set your head to spin because you're going for whirl!  This intelligent tale adds a fresh take to the crusty time-travel genre with a serious, surprisingly intense and realistic drama that will satisfy the inner-science geek in all of you.
If you're still in serious mode then how about a real world documentary?  If you're prepared to be shaken then sample 2012's "The Land of Hope", a movie following Japanese families after the 2011 triple catastrophe that slammed the NE coast near Tokyo.  Keep tissue paper handy and prepare to cry before you witness a true story of human resilience in the face of utter devastation.
And on the lighter side…take a break and laugh your adult ass off with director Kevin Smith's modern comedy classic, 1997's "Chasing Amy".  This one never gets old even if Smith's movies sometimes do but you'll love seeing a young Ben Affleck deal with some hilariously twisted and very adult relationship problems as he stumbles around true love.  And yes, Jay and Silent Bob are all over this one.
Network TV's smoking hot new show "Hannibal" is available for streaming this week and if you're a major Mads Mickelson fan (like we are) then we seriously suggest you check out this stylish update to the tales of everybody's favorite serial killing psychiatrist.  Creepy murders and cool characters are everywhere and the show's stunning visuals are absolutely cinematic.
If you prefer to laugh then scope out "The New Girl".  An entertainingly light-hearted and fun half-hour ensemble comedy from NBC (the people who brought you the inexplicably popular "Friends") with cutie-pie Zooey Deschanel as the lead sweetheart.
"The Carrie Diaries" are also available this week for you girls who still haven't satisfied your SATC addiction.  Carrie Bradshaw's in High School now!
Our Alternative Pick of the Week– Kaneto Shindo's 1964, "Onibaba".  Straight from the Criterion Collection this raw, pulse-pounding, supersexy tale of hard times in Feudal Japan is always listed in the Horror section but we think it's more of a harsh, naturalistic fable of human survival and human hunger for all that is life.  Brilliant!
Extra Added Bonus– Hulu has without a doubt got the best offering of upcoming Movie Trailers that we've seen anywhere so take a moment to check out everything that's coming soon to a theater near you!  Be warned- this one is like time quicksand my cyber-friends…once you step in you just keep sinking deeper.
And last but certainly not least, iTunes.  Remember that everybody's favorite choice for cheap and easy music downloads also offers a slew of movie choices for your viewing pleasure so let's take a peek at this week.
Movies are a hot choice for your iTunes weekend and this week offers some of the hottest-
2012's "Silver Linings Playbook" is currently available for download and if you're in the mood for some Oscar-nominated Jennifer Laurence to go along with your Comedy/Drama then this is the pick.  Big stars, big laughs, big drama, Bradley Cooper and a feel-good ending should work for just about anyone in your vicinity.
If you've got an itch for a little bit of the good, old ultra-violence with a thirst for revenge then we say shoot for Tarantino's 2012 wild Western ride, "Django Unchained", and scratch like a dog!  It'll remind you of most every other Tarantino flick you've ever seen only more so.  And with the added spice of Academy Award Winner Christoph Waltz in the mix, you'll be glad you did.
Got a few extra hours to invest in some quality HBO original programming?  Sample some episodes of America's top water-cooler show, "Mad Men".  Please be advised- Once you start watching you just might get hooked on the grimy games of the NYC Boys from 60's Madison Avenue and Jon Hamm/Don Draper as the heel we all hate to love.
And now for some Music– This week iTunes has a brand new offering, "13" from Heavy Metal Masters Black Sabbath.  Believe it or not Tony Iommi and his crew are still bringing the hard, heavy, hammering noise just in time to kick off their latest (and no doubt last) World Tour.  And they still got Ozzie too!  Yes, Hip-Hop generation…there was a time long ago when real, actual human beings played real, actual musical instruments all by themselves.
That's it for this weekend.  Now just keep the pizza guy's number handy, make sure the refrigerator is well stocked and you're all set to turn on, tune in and drop out.