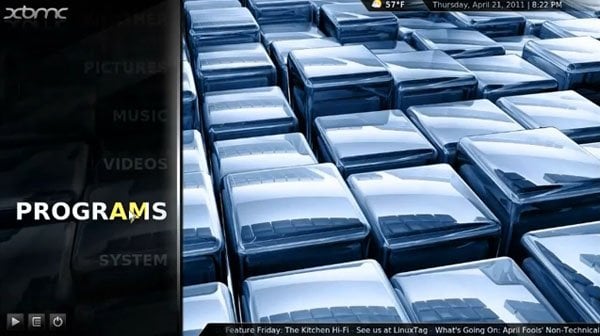 Getting the most out of XBMC on your Apple TV is a difficult thing to do. Whether watching the latest movies, looking to stream last nights TV episodes, listening to music on Pandora, or playing video games on your Apple TV 1 or Apple TV2, XBMC has the ability to handle the job. But wait, there's more! What most people tend to overlook is that XBMC goes far beyond a stand alone media center. With this software installed you can use your Apple TV as a social media hub, a torrent controller, a Nintendo gaming console, or even the front end of an NZB client.
Though all these things can be added to your Apple TV with relative ease, almost nobody takes advantage of these features because it is located in a section that is often overlooked. The Programs category, within XBMC, is a treasure trove of software waiting to expand and multiply the level of enjoyment you get out of your little black box.
Most of these tools are available to you within the official XBMC repo. This comes preinstalled when you put XBMC on your Apple TV, meaning you need only go to the appropriate section and choose "Get More!" If you want even more, you can find countless others, and support for these add ons, by visiting forums.xbmc.org, as well as checking out the Fusion Installer from XBMC HUB. Below I am providing a somewhat-complete list of program add-ons. Simply read through the list below and see if anything grabs your attention. If it does, install and enjoy!
PROGRAM ADD-ONS

Read also:
XBMC on Apple TV: How to navigate XBMC's menus options
Top 10 best XBMC addons for Apple TV 1 and Apple TV 2
Supercharge your current XBMC installation with XBMC Hub Wizard