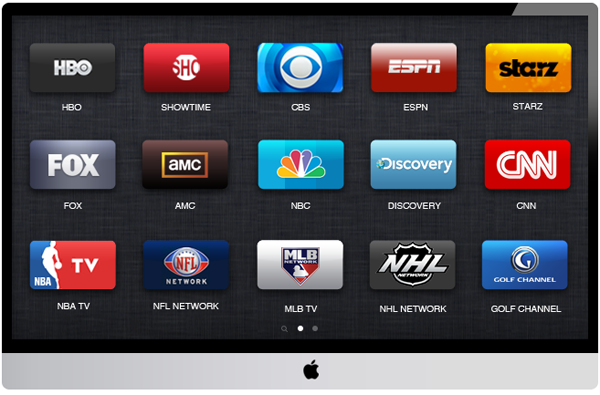 Rumors have been swirling for nigh on a year now about what would come to pass when Apple finally delivers its television. Not that the Apple TV is any slouch mind you, but visions of a fully integrated Apple HDTV have had experts and fanboys alike drooling. News about a possible release schedule and what could be expected of this hardware has been slow to nonexistent in recent months leaving many people filling that informational void with speculation. One particularly juicy daydream was just delivered by our friend over at The Verge and we simply had to pass it on. So here is one die-hard's dream of the perfect Apple TV.
The goal is to explore what would be possible if the software manufacturers and the cable providers could hold hands and work together. After all, the HDTV technology today has plenty of punch behind it, but 2K or 3K resolutions wouldn't mean a thing unless there was a way for subscription-focused live internet streaming to link without limitations to Apple's superior content delivery system. So the Apple TV would seamlessly integrate with all of our mobile devices, while maintaining a more friendly relationship with non-apple products as well.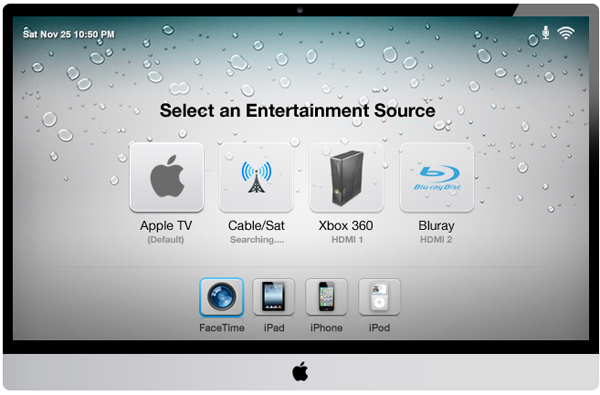 When it comes to hardware, it's obvious what should go on the 'must' list. You've got to have Bluetooth and AirPlay, as well as integrated WiFi technology that passes muster. That beautiful HD quality FaceTime camera and software should make an appearance, as well as 3D technology if they can get it right (which means losing the terrible glasses, of course). Resolution should bottom out at 1080p, and outputs should include USB, Optical Audio, HDMI and Apple's new Thunderbolt. That will allow for an expanded hard drive, though inclusion of a DVR with at least 1TB of storage should be in the conversation.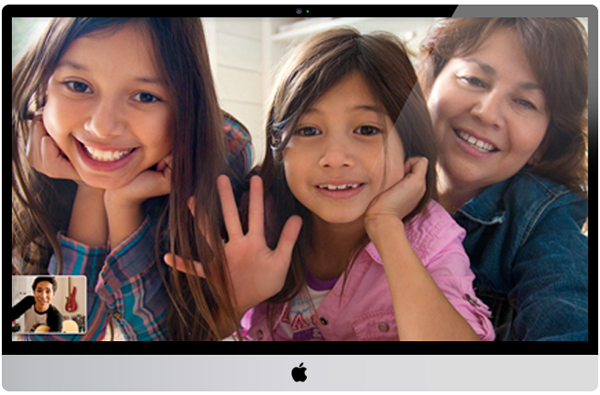 Of course, FaceTime won't be the only iOS App to make an appearance. What would be perfect is a fullscreen App store, where you could buy and utilize many of the apps that make the iPhone, iPod and iPad so fantastic. But you would also be able to download one-click access to the various players you most frequently use (Hulu Plus, VUDU, Netflix, etc.) AND to purchase subscriptions to pay cable networks. Ideally you'd be able to pick a monthly or yearly subscription to ShowTime or AMC, while also paying for membership to HBO Go or one of the other fantastic cable streaming sites.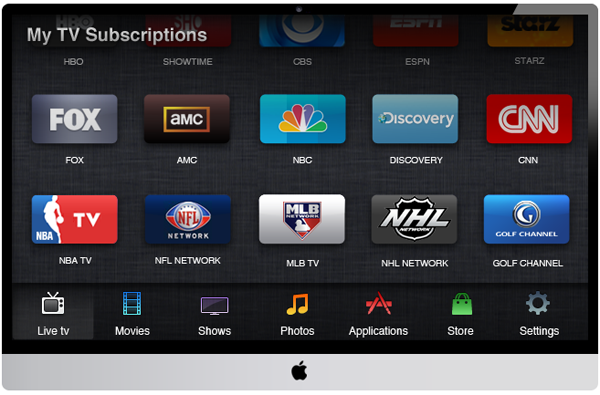 As with your other Apple hardware, the Apple TV would certainly utilize Spotlight for searching. But in our ideal device it would be able to search not only your library's content, but anything available on iTunes, within an app Store, or upcoming in a TV guide listing. That way you'd immediately see any free and paid options. If Siri was integrated to help remind you of subscribed shows or TV Guide alerts, that would just be the icing on the cake.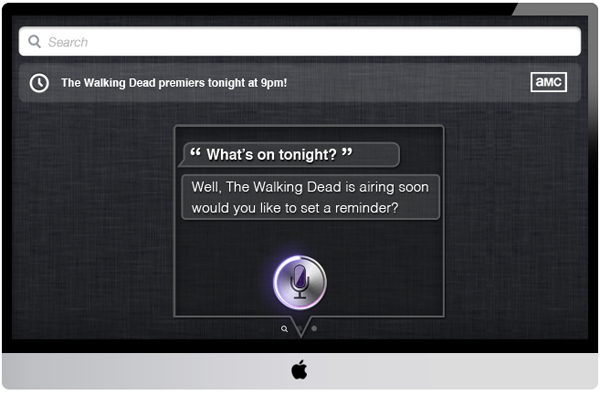 And as far as that TV guide is concerned, the closer the resemblance to our app screen the better. All the channels could be listed vertically, with click-through descriptions. The guide would cleanly integrate with iTunes, so you could see all upcoming releases the same way. Previews would be available for all movies (as on Apple Trailers), and anything you bring to the party through an external drive would upload to the same guide and be visually cataloged.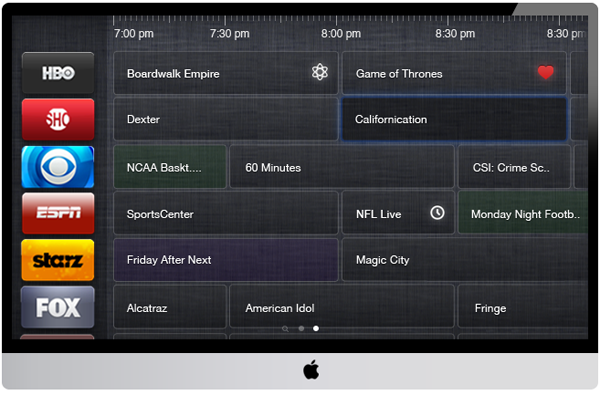 Is all of this probable, or even possible? Who really knows. This is the Apple TV that will live in our dreams until we are given one in real life. It's going to take Apple becoming more willing to accept non-Apple products, and the cable providers choosing the joy of the user over maximizing advertising profits. If you think it's probably not going to happen, you can dream at least. It's what Steve Jobs would have wanted.