The Apple TV 2, Apple TV 3, iPad 2-4, iPhone 4-5, and some iPod touches have all shared one thing in common over the past few years and that one thing is AirPlay. Well, as of this year Apple has decided to updated its latest Mac OS X, Mountain Lion build, with support for the mirroring functionality as well. There is no arguing that AirPlay is one of the strongest growing features in Apple's multimedia arsenal. For those of us who have the distinct pleasure of utilizing AirPlay to the fullest, we know that it is something everyone needs in their lives. That said, there is a large segment of the globe that is unable to take advantage of these features.
What about those of us who haven't done the upgrade to the newest Operating System? What about those of us who have upgraded, but want to use AirPlay while still working on your Mac? What about those of us who have an amazing surround sound system and discover that the Mac's AirPlay functionality only supports stereo? Well… your answer just may be in a tool for Macs known only as Beamer!
Beamer App For Mac (by Tupil) – Straight From The Source
Now you can play any movie from your Mac on Apple TV.

Features include:

Drag any movie file onto Beamer and it will start streaming wirelessly to your TV with Apple TV instantly. No jailbreak required.

Beamer plays all (OK, almost all) movie files, so you don't need to convert your videos. AVI, MOV, MKV, MP4, WMV and FLV files will play just fine.

Wondering if it will support another File Format?

You can easily download the trial to test any obscure file format you may have. We strive to support as many movie files as possible. If you have a video that doesn't work, we'd love to hear about it.
THE GOOD
Beamer could not be any easier to use or set up! It is important to note that I say this because there is NO SETUP! Users need only download the app and turn on their Apple TV. Yes, that is it. Now, in order to play a movie from your Mac to your Apple TV 2, or 3, you need only drag the file from your Mac and drop it in the window that appears when opening the Beamer application. Within seconds your Apple TV will be streaming your movie.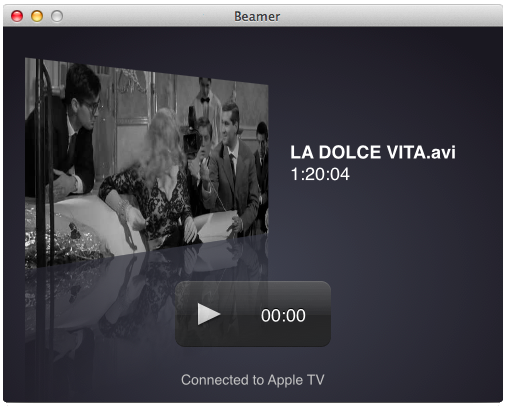 There are many benefits to Beamer that Mountain Lion's implementation of AirPlay Mirroring does not account for:
With Beamer you can user your Apple TV Remote to control your movie. This includes all remote functionality such as Play, Pause, Skip, Fast-forward, and Rewind;
With Beamer you can continue to work on your Mac, as the Beamer app is "just another window" on your desktop;
With Beamer you can user your Apple TV's complete audio setup. This means if you have a great surround sound system connected to your Apple TV, you can utilize it with your movie streaming;
With Beamer you can download and test the app before deciding to make the purchase.
Additionally, Beamer now supports subtitles, both embedded and external (subtitle files). Supported formats are: SSA/ASS, SubRip, SubViewer and MicroDVD.
THE BAD
I did have a somewhat poor experience with the app in two situations.
While the app handled all of the video formats I sent to it, I found that if I used larger .mkv files I wound up with very slow navigation.

As an example, when I played the 1080p release of BRAVE, by Pixar, I found that as I attempted to skip forward in the movie, my Apple TV would hang for a good 5 minutes or more while the App and the TV communicated.

In one instance (and only one) I found an .MP4 formatted video that would only play in intervals of 10 seconds, or so, at a time. Now, the app handled 3 other movies formatted in the exact same way so we can be sure it is not entirely and issue with its ability to read codecs. That said, the video does play via my Mac and AirPlay using Mountain Lion.
While I did have these two problems it is important to note that I did all of my testing while working on a 3MB connection speed, over a DSL line. This is not very good. So the fact is, this issue was likely caused by my internet connect more than the Beamer app itself. I would go as far as saying if you have at least a 6MB connection, this app will be smooth as butter… spread over your Apple TV.
THE UGLY TRUTH
In the end this app did exactly what it said it would do. Though the team behind the Beamer app is not trying to reinvent the wheel, they did find a way to do AirPlay without Apple's supported method. To quote their reasoning for not being available in the App Store:
"It was turned down for using undocumented Apple technology. We use an undocumented way to talk to the Apple TV with AirPlay. While this is unsupported by Apple, it works well in practice."
That aside, I was not disappointed with this app at all. There are many players in this field right now, but Beamer is by far the easiest option for users who have video content on their hard drive, or other local storage, and want to be able to share it on their Apple Televisions. All in all, if your set up is missing any of the features we have mentioned in this review, you should seriously consider Beamer. After all it is free to download and try.
Beamer for Mac is sold at $15.00 and you can get it from here. A free trial (limited to the first
15 minutes of each video) is available from here.
Beamer requires a Mac (2007 and up), OS X 10.6+ (Snow Leopard, Lion or Mountain Lion) and Apple TV (2nd or 3rd generation).