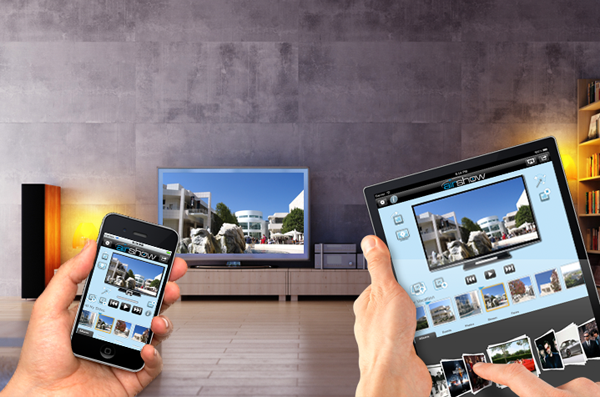 Editing photos on your iPad, iPhone, iPod, and yes, even your Apple TV! It is no secret that we all love to take photos with our mobile devices leaving the only question to be: "How can I edit, and share, my pictures?" Well, Air Show HD hopes to be an answer to this question. And a few others. It is true that Apple has offered the ability to share and edit your photos since the release of iOS 5. That said, there is one thing that Apple has never addressed and that is in regard to the photos you may not want to share publically.
As of today, if you decide to set up a slideshow with your iOS device, on your Apple TV, you have little-to-no control over what photos you will be showing. The only power you are given is the ability to select what folder you will be viewing within the default photo gallery. Well, if you are anything like me, you may not want to show every photo within that location to others.
This is where Air Show steps in.
Air Show HD by Splitmo – Straight From The Source
Show off your best pictures on your big screen TV using Air Show and an Apple TV. Zoom in, crop and caption your best pictures while Air Show automatically builds a slide show for you.
Air Show allows you to search through your photos, adding them directly to the TV or the generated slide show. Air Show shows only the photos YOU want without your friends seeing potentially embarrassing pictures by accident.
If you want to save more than 3 slide shows, Air Show provides unlimited slide shows as a one time in-app purchase.
Full Retina support for the iPhone 4, 4s, 5 and the new iPad.
The GOOD:
1)  This application works AS ADEVERTISED. With every press of a button you are given clear directions on what you need to do, and how you need to do it. This enables all users, at every skill level, to be able to use this application. Air Show keeps it simple.
2)  The UI of Air Show makes navigation quite easy. The ability to drag and drop photos gives the feel of a more advanced program, like Photoshop, running on your iOS device. Though the functionality could be considered "advanced" the use of these features does not leave you feeling as if the app were overly complicated.
3)  The AirPlay function is insanely responsive. Though most of the credit for this feature may go to Apple, iOS, and the software development behind the two, Air Show HD has done a great job taking advantage of these features. You are given the ability to zoom in, and out, while the slideshow is streaming to the Apple TV. This is a feature that the default iOS gallery does not have functioning fully.
The BAD:
1)  At first glance, this application feels lacking. When I first launched it and started using it to stream slideshows, I felt it was missing some basic functions that iOS does very well by default, such as multiple transition animations. That said, the longer I played with Air Show, on my iPad 2, the more I began to see it for the benefits it offers. Not to mention, updates are prevalent in all apps. Surely there will be more to come from this app.
The UGLY TRUTH.
In the end, Air Show HD stands on its own against the latest features, and options, of the default iOS gallery and its' ability to stream slideshows to your Apple TV. As of today it is missing quite a few features that I would want to see in order for this application to become a full time app that I would use on a regular basis. Again, that said, there are two things that make Air Show stand out as an application worth downloading to your device today:
Air Show is absolutely free, right now! The fact is that we all love finding free apps and taking them for a test-drive. So, I would encourage you to head over to iTunes and give Air Show a shot.
The simple fact that I can select photos from different locations and easily create a customized slide show, is a powerful feature in-and-of itself. If you have "private" photos mixed in with your collection,  this app is absolutely  worth trying. I was able to create a slide show of select wedding pictures, vacation shots, and some graphic art I had made, all the while forgoing some "more embarrassing" shots.
Also read:
Air Show updated with music playlists and color captions support