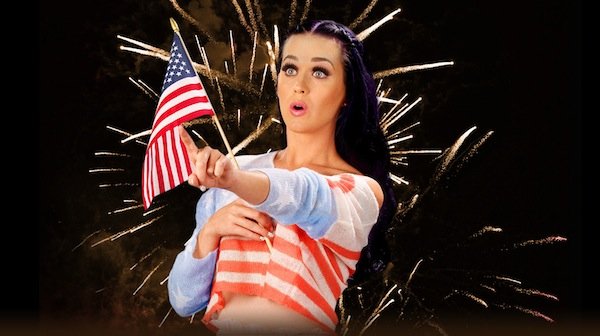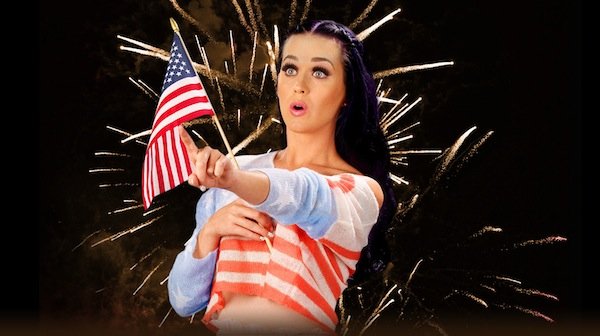 After setting off our fireworks arsenals, firing up our BBQ's, slurping heroic amounts of ice cold beer and otherwise celebrating our independence from the British (at least I think it was the Brits) we're going to do what we do best.  Kick back, watch TV and yell at the screen!
So if you're also celebrating your own independence (any type will suffice) we salute you with a few pix that may make it a little easier to cut ties with your outdoor weekend festivities.
Speaking of "Fireworks", available for streaming this week is the surprisingly effective 2012 music documentary, "Katy Perry- Part of Me". For girls from the ages of 6-16 this will undoubtedly be a weekend highlight but if you're more on the adult side of the musical scale you may be pleasantly surprised if you tune in.  And, of course, for the men/boys out there I can think of at least two gorgeous reasons to watch!
If you're in the mood for a rock solid comedy/drama then you may want to give 1998's underrated, "The Truman Show" a second (or first) look.  Starring Jim Carrey, Ed Harris and Holland Taylor, this dramedy gets better with age and Carrey really flexes his acting muscles in this ahead-of-its-time look at our egocentric cult of celebrity.  With laughs!
But if you prefer to celebrate with some of the best gun battles, beat downs, car chases and explosions ever set to celluloid then the now classic 1991 "Terminator 2: Judgment Day" is finally here with Edward Furlong, Robert Patrick, Linda Hamilton and Governor You-Know-Who as everybody's favorite kick-ass cyborg.  A mega-blast from the past!
Alternative Pick of the Week– 2005's "The Constant Gardener" with a heartbreaking Ralph Fiennes and a luminous Rachel Weisz . Director Fernando Merielles carefully unfolds a riveting tale of global intrigue, sordid dealings and big money before almost magically unveiling a true adult love story that was there all the time but still sneaks up on you with a devastatingly warm embrace.  Thoughtful, provocative and deeply affecting from start to finish.
TV Pick of the Week– "Monk" with Tony Shaloub as the titular detective with a baffling array of O/C quirks.  Enjoy Shaloub's hapless genius, the fun 50 min mysteries and the endearing 2000 era "technology".
A small but disturbingly effective documentary, 2010's "Cropsey" chronicles the true life, creepy-crawly events surrounding a series of child disappearances around Staten Island and the bizarre nature of the tragedies as well as their lingering "urban legend" style effects.  An absolutely grim fairy tale that is strictly for adults.
A very different type of documentary that in some ways is equally disturbing, 1976's curiously fascinating "Grey Gardens" examines the very strange lifelong relationship between the mentally unbalanced Beale Sisters that spawned a Broadway show.  The good news is that after watching this you'll feel much healthier about your own siblings.
Now time for some laughs with Comedy Central's weekly show, "CC: Stand Up".  And you've got a treasure of stand-up hilarity to choose from with 5 seasons (12 episodes each) and every 21 minute episode featuring a different set from some of comedy's current best laugh artists.  Prepare to laugh until it hurts.
You can't stop "the Rock" and 2013's "Snitch" proves it.  A break-even movie at the box office for Dwayne Johnson, this crime thriller nevertheless features one of his most effective performances as a father trying to save his son from the clutches of prison by diving into an evil den of drug dealing lowlifes. With Barry Pepper as a DEA agent and Susan Sarandon doing what she does.
If you like your hunks a bit funnier then click on one of 2012's best comedies, "21 Jump Street", with hot rocket Channing Tatum and Jonah Hill as hilariously mismatched undercover cops eagerly infiltrating high school.  Ostensibly based on the 90's TV show this riotously funny comedy really stands on its own as one of the more original takes on the "buddy movie" that's been created in a long time.  Fun Game– Try to see if you can catch the brilliantly meta, uncredited Johnny Depp, Peter DeLuise cameos as Officers Hanson and Penhall.  You won't!
And while you're catching your breath…remember when Lindsay Lohan was a fresh-faced beauty poised to become the Next Big Thing?  Neither do we but she was and 2004's excellent cultural comedy, "Mean Girls" proves it.  With the luscious Rachel McAdams as the Queen Bee-Yotch, this wicked HS game of winner-take-all also features Tina Fey (who penned the clever script) and Amy Poehler and doesn't short you on the laughs.  High School never looked so hilarious.
Free App of the Week– "Pandora" by Pandora Media, Inc.   Free internet Radio that works like a charm.  Yes, there are commercials but we did say "free", didn't we?
That's all for this week so save us a bratwurst and a beer until next time!