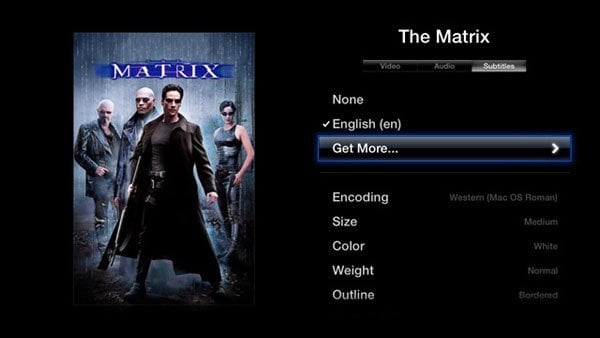 FireCore has released an update to their aTV Flash (black) for Apple TV 2. aTV Flash (black) 1.6 adds integrated subtitle downloads (courtesy of OpenSubtitles.org), support for purchased iTunes content, expanded codec support, refined video playback, improved networking, Wake-on-Lan (WOL), additional translations and a bunch of other improvements and bug fixes.
Here is a full changelog:
Added integrated subtitle downloads from OpenSubtitles.org
Added support for purchased iTunes content (matching iTunes login required)
Added video deinterlacing option
Added Wake-on-Lan (WOL)
Added Portuguese (Portugal) translation
Added support for displaying subtitles in lower 'black bar'
Added support for .WTV files
Added support for multiple simultaneous AFP connections
Improved bulk fetching & added automatic artwork caching
Improved automatic downscaling for large thumbnails
Improved metadata reloading for images
Improved buffering over AFP
Resolved various audio synchronization issues
Resolved possible overflow in 5.1 AC3 audio
Resolved issues with zoom for 4:3 movies
Resolved missing audio for .dvr-ms files (ASF containers)
Resolved rare SRT file crash
Resolved issues with slideshow animation
Resolved file specific metadata fetching issues
Resolved rare ISO file crashes
Resolved issue with displaying identical thumbnails for images with the same name
Resolved metadata loading issues for files containing non-latin characters
Resolved rare 5ch audio file crash
Resolved issues with incorrect metadata for files with '<TVShow Name>/S01E0.avi' pattern
Resolved auto-start issues in Couch Surfer
Reduced memory footprint for large software-decoded videos and slideshows
Other minor UI improvements & bug fixes
If you're already running a version of aTV Flash (black), the new 1.6 version can be installed through the Maintenance –> Manage Extras menu. Links for the new version can also be found in your FireCore account under the Downloads tab.
If you're not yet using aTV Flash (black) you can get started here.
And here is a tutorial on how to install aTV Flash (black) on your jailbroken Apple TV 2.
IMPORTANT: Once the Apple TV 3 jailbreak is available your aTV Flash (black) license will cover both Apple TV 2 and Apple TV 3.