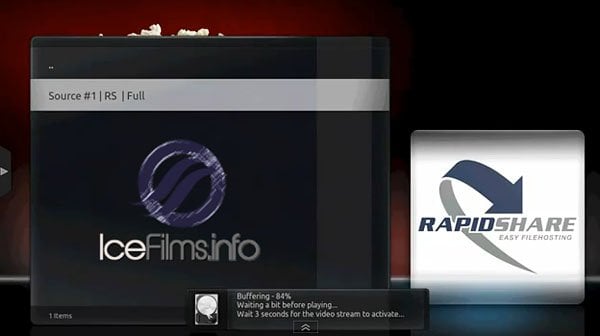 IceFilms is back and ready to increase the "awesome sauce" of your Apple TV! If you are one of our many fans with XBMC installed on their Apple TVs, you are likely aware of the fact that XBMC has always offered the ability to install third party add-ons. Sadly, this past December, the official XBMC Team took the odd step of closing access to some of XBMC's most popular add-ons.
Just when it appeared as though these amazing tools would disappear, a new home arrived to connect developers, users, and add-on development. Since moving to XBMCHUB.COM the IceFilms team has been hard at work expanding the abilities and functionalities of it's add-on and now it is ready, once again, for the prime time.
There are a few things that must be in place prior to installing the latest build:
Jailbroken Apple TV with XBMC installed (see existing guides for details)
SSH File Client

Windows – WinSCP
MAC – CyberDuck

The Current IceFilms repo
A willing mind and a CAN-DO attitude
INSTALLATION
SSH into your Apple TV by using the following command. Make sure you use the IP address of your Apple TV. This is located in the Network information under the Settings menu on your Home Screen.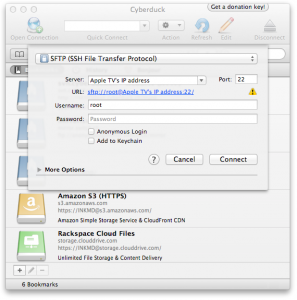 At the top you will likely see a drop down menu that says "File Transfer Protocol." Here you will need to select the option that says "SFTP" or "SSH"
Server: Here you need to enter the IP address of your Apple TV that we located earlier.
Username: root
Password: alpine
Click on the "Connect" button and you will find yourself inside the File System of your Apple TV.
Next you will need to navigate to the location that XBMC associates as its Home Page. This location is found @ "/User"
Now we need to find the repo that you download earlier in this tutorial. Once you have located the file, you will need to drag it from your computer into this file location as seen below.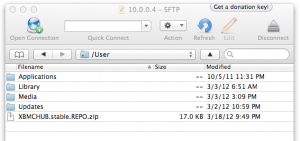 Open XBMC on your Apple TV and navigate to the System Menu.
Select the option titled "Add-ons". This will open the Add-ons control panel that is built into XBMC.
Click the option titled "Install From Zip File"