A File Manager will then pop up. From here you will simply navigate to the "Home Folder". Here you will find the IceFilms Repo .zip file we transferred over to our Apple TV in step #4.
Within a few seconds you will see a popup informing you that the IceFilms Repo has been successfully installed.
Now select the option that says "Get Addons". This will open up a new window revealing a list of all your installed repositories.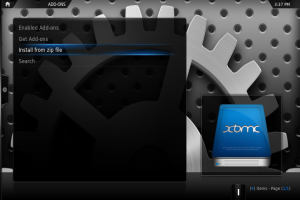 Simply open the repo labeled "anarchintosh addons". Once inside select Video Add-ons and then click IceFilms.
You will now have the option to install the Add-on.
Now navigate back to your Home Screen… (simply use the MENU button on your Apple TV remote to back out of each screen until at the main menu)
Select the menu option labeled "VIDEOS", followed by Video Add-ons. Here you can scroll down until you see IceFilms. Open and enjoy.
There is no need to do any custom setup, unless you are a premium account holder for RapidShare, or the Real-Debrit services. If you are, hold the menu button down while the IceFilms add-on is highlighted. Here you will see the option to adjust the Add-Ons Settings. If you are not a premium member, avoid using the RapidShare links as they have begun throttling the buffer speed for free users. That said, there are many other links that you can still enjoy for free.
If you have problems, or questions, regarding IceFilms simply visit Eldorado, anarchintosh, or any of the other developers of the IceFilms add-on at xbmchub.com.
umOuch (Andrew Brasher)
You may also want to read:
XBMC 11.0 Eden for Apple TV 2 5.0 (iOS 5.1) released (+how to install tutorial)
How to jailbreak Apple TV 2 5.0 (iOS 5.1) with Seas0nPass (tethered)
How to install XBMC 11.0 Eden on first-generation Apple TV
XBMC 11.0 Eden for Apple TV – Review