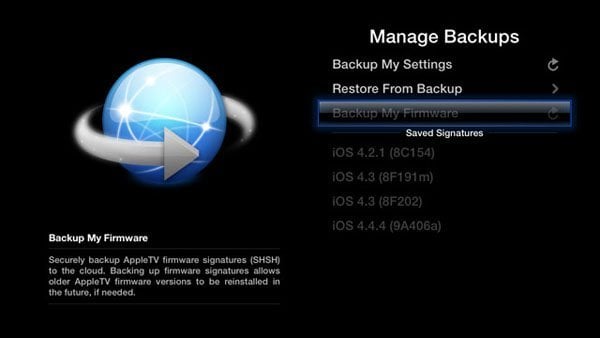 FireCore has released a new version of aTV Flash (black) for Apple TV 2. Version 1.3 comes with firmware backup option, new translations, playback enhancements and some other improvements and fixes.
aTV Flash 1.3 automatically backups Apple TV firmware signatures (SHSH) to the cloud. Backing up firmware signatures allows older Apple TV firmware versions to be reinstalled in the future. According to FireCore, this feature will integrate seamlessly with the upcoming version of Seas0nPass, allowing for one-click restores to the firmware of your choosing.
Here is the complete list of changes in 1.3:
Added automated firmware signature backups
Added Danish, Dutch, French, Greek, Italian, Brazilian Portuguese, and Spanish translations
Added support for advanced (learned) remote commands
Added support for multiple external subtitles (movie.en.srt, movie.de.srt, etc…)
Added support for folder based organization/playback
Added support for embedded DVD chapters
Added chapters section heading to Playback Menu
Added global zoom setting
Improved playback performance for movies with invalid timestamps
Improved appearance of VobSub subtitles
Improved metadata fetching for localized file names
Improved audio track filtering
Improved playback bar to match native player
Improved metadata and bulk folder fetching stability
Improved Media > Settings menu layout
Resolved issues with folder name changing on metadata fetching
Resolved issues with buffering
Resolved rare DVD related crash
Resolved floating AFP issue that was causing connection issues
Resolved floating buffer overflow in software decoder
Minor changes to Grid View appearance
Minor UI improvements
Other miscellaneous bug fixes
If you're already running a version of aTV Flash (black) the new 1.2 version can be installed through the Maintenance –> Manage Extras menu. Links for the new version can also be found in your FireCore account under the Downloads tab.
If you're not yet using aTV Flash (black) you can get started here.
You may also want to read:
How to install aTV Flash (black) 1.0 on Apple TV 2
Rogers and Bell already have the Apple iTV in their labs, controlled with Siri and hand gestures
42-inch Apple HDTV for $1499 appears in Best Buy survey (updated)