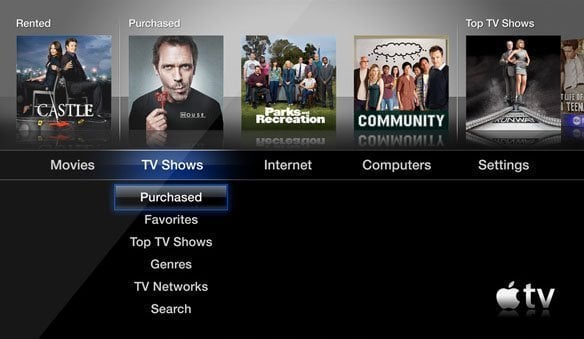 Not later than yesterday, we wrote about Apple's rumored plans not to push any hardware update for the Apple TV this fall and instead focus on software updates… and here it is: the Coupertino-based company just released Apple TV Software Update 4.3 (build 8F455) that adds Vimeo support and – more importantly – the ability to purchase TV shows from iTunes directly from your Apple TV.
Apple has already confirmed that shows purchased on Apple TV can be re-downloaded on other iOS devices (TV shows has been added to the "Purchased" sections of iTunes on both iOS and Mac/PC applications). All the shows previously purchased on other iOS devices or with iTunes automatically show up as available to play on Apple TV.
"In other words, Apple just rolled out a cloud-based storage locker for TV shows," commented Daring Fireball's John Gruber.
This feature, however, may be U.S.-only: TUAW's readers from UK, Canada and New Zealand are reporting they are getting just Vimeo support.
Obviously, if you don't have SHSH blobs saved, stay away from the update if you don't want to lose your jailbreak.
You may also want to read:
No Apple TV 2 update this year?
How to Jailbreak Apple TV 2 on iOS 4.3 or iOS 5 Beta with Seas0nPass 0.7.7 (untethered)
Bluetooth coming to Apple TV 2 with iOS 5
Apple to Enter TV Display Business?