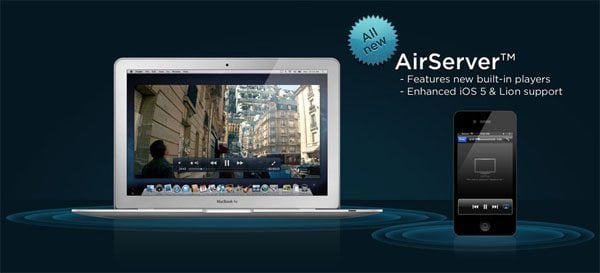 Brought to you by the developers of Remote HD, AirServer is an advanced AirPlay/AirTunes receiver that lets you seamlessly stream audio, videos, photos, and photo slideshows to your Mac or iOS device. The software has just been updated to version 3.0, which comes with a new built-in video players and enhanced iOS 5 and Lion support. AirServer has now the ability to stream slideshows with visual effects and music intact via AirPlay.
Here is the full list of new features and changes:
Re-engineered support for iOS 5
New iOS 5 playlist support
New built-in video, photo and slideshow players for Lion
New built-in photo and slideshow players
Slideshow player supports visual effects and music
Multiple displays, mouse gestures and keyboard support on Lion
Fullscreen mode with Plex and XBMC in the background
Support for both fullscreen and windowed mode
Audio password protection
Automatic rebroadcasting on overloaded networks
Automatic relaunching after crashes
Audio streaming crash fixes
Wake on demand (with display) now supported on Lion
Prevent Mac from going to sleep when streaming videos, music or photos
Prevent Screensaver from going off when photo or video streaming is in progress
Fixed cursor issues after playback finishes
Fixed Dual-mode AirPlay for iOS 5
You can purchase AirServer through PayPal ($7.99; Mac only) or get it from Cydia (iPhone/iPad; $4.99).
UPDATE: We are giving away 10 free licenses for AirServer 3.0 for Mac. Join us on Facebook or follow on Twitter and retweet the contest message for your chance to win. The winners will be announced on Friday, October 21st.
You may also want to read:
AirPlay Mirroring Coming to iPhone 4S
Remote HD now supports Apple TV 2 (updated)
AirPlay Streaming Hacked into the Old Apple TV (updated: giveaway!)