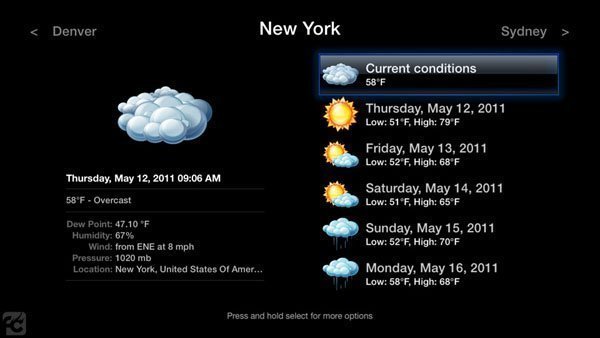 aTV Flash (black), Firecore's flagship product for the 2nd generation Apple TV, has been updated to Beta5. This time the developers' main focus has been on building and improving the Media Player feature: according to Firecore, the Media Player has received a "big boost" in Beta5, but is still under heavy development with many more features and improvements still to come.
What's new in Beta5?
General
Added AppleTV 4.2.2 compatibility
Improved installer routine
Improved handling of failed installations
Improved error handling
Minor UI adjustments
Media Player
Added SMB streaming
Added photo slideshows
Added basic video playlists
Added 'Favorites' section
Added individual photo browsing and viewing
Added support for 'xxx.xxx.xxx.xxx/folder' shares
Added support for guest/anonymous NAS logins
Added volumes list sorting
Added option to disable metadata fetching
Added option to hide file extensions
Improved handling of HD video files
Improved memory management
Improved DVD file detection
Improved remote share folder browsing (root folder issue)
Improved Remote.app support
Resolved artifact issues (green line near bottom of screen)
Resolved rare crashes related to AFP streaming
Resolved issues in share navigation resulting in incorrect 'menu' button handling
Resolved issues resulting in incorrect video playback after rewinding on 'fastest' speed
Resolved issues related to removing saved shares
Resolved duplicate AFP share entries
Resolved conflicts with XBMC
Minor UI fixes
Other miscellaneous fixes
Couch Surfer Pro
Added HTML5 audio support (for sites like https://tv.tunein.com/)
Added EyeTV streaming
Improved web pages scrolling and layout handling
Improved iOS-optimized JavaScript support
Improved highlighting of large web elements
Auto-complete history is now cleared when clearing history
New SSL indicator
Other minor bug fixes
Weather
Added 5-day forecasts
Added location search option
Added automatic location detection (if no saved locations exist)
Added day/night weather forecasts
Added 'Feels Like' temperature info
Minor UI fixes
Last.fm
Added lightweight audio streaming player
Improved memory management
What Firecore is still working on
New lightweight audio/video player
Additional codecs
DVD chapter controls
AC3/DTS (5.1 surround) sound
Subtitle support
Multiple audio track support
Improved UI and file browsing
Better memory management
Beta5 is available through the Downloads tab in your account. If you're already running aTV Flash (black) on your AppleTV all the new features can be installed through the Maintenance –> Manage Extras menu.
You may also want to read:
Apple Updates Apple TV 2 Firmware to 4.2.2, Untethered Jailbreak is Already Out
SHOUTcast Radio App Updated to Support AirPlay
AirPlay Implementation on the Old Apple TV is Now Complete
AirPlay-Enabled Apps: Air Video (review)