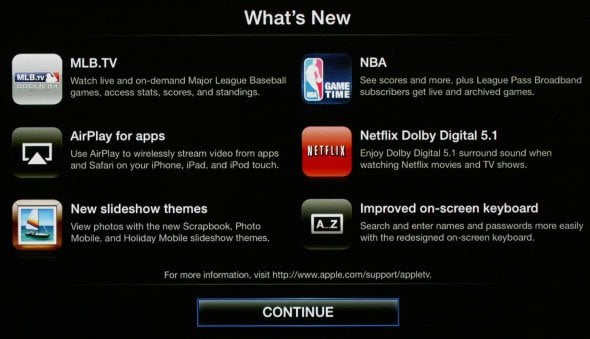 Apple TV 2 software has been updated to version 4.2 (iOS 4.3), which brings new capabilities to those tiny black boxes that are still not jailbroken or are ready to lose the jailbreak. MLB.TV and NBA Game Time are now available as streaming content options, AirPlay has been updated to support video from iOS apps and websites and the support for Dolby Digital 5.1 on Netflix has been added (the full list of new features is below).
As you already know, if you don't want to lose your jailbreak (and all the apps/plugins/add-ons you've already installed) you can't update. But if you have SHSH blobs saved you can update to 4.2, check out the new features and then decide whether you stay with these ones or you prefer to go back to your old jailbreakable 4.1.1 (iOS 4.2.1) to enjoy some other great features it offers (XBMC, Hulu, aTV Flash and many more).
AppleInsider reports that users are reporting flickering issues with latest Apple TV software update. Check out the AppleInsider post and the growing thread in Apple's Discussions forums for the latest.
To disable auto-apdates:
–          with nitoTV installed: nitoTV -> Settings -> AppleTV Updates – click "OK" to disable
–          with aTV Flash installed: Maintenance -> Settings menu
Full list of Apple TV Software Update 4.2 features:
NBA Game Time: live and on-demand games with an NBA League Pass Broadband subscription. Available are both live and on-demand games. NBA League Pass costs $100 for one-year unlimited streaming or $65 if you pick 7 teams to watch (check all the available options here). Non-subscribers can access real-time NBA scores and in-game stats, plus see the full-season schedule, standings, stats, and video highlights.
MLB.TV: live and on-demand Major League Baseball games in HD with an MLB.TV subscription ($100 a year for standard and $120 for the premium offering; details here).
AirPlay for apps and websites: wirelessly stream video from iOS apps and websites that are enabled for AirPlay, on an iPhone, iPad, and iPod touch running iOS 4.3.
Netflix Dolby Digital 5.1: support for Dolby Digital 5.1 surround  sound on Netflix streaming (Not available with all titles.)
New slideshow themes: new Scrapbook, Photo Mobile, and Holiday Mobile slideshow themes.
Improved on-screen keyboard.
AirPlay photo slideshow themes: All Apple TV photo slideshow themes are now available when using AirPlay to wirelessly send a photo slideshow from an iPhone, iPad, or iPod touch to Apple TV.
HDMI color mode: atv software update 4.2 includes a setting for changing the color mode output over HDMI.
Connectivity and performance fixes.
You may also want to read:
How to Watch Hulu on Apple TV 2
How to jailbreak Apple TV 2 with greenpois0n rc6
How to install XBMC on Apple TV 2