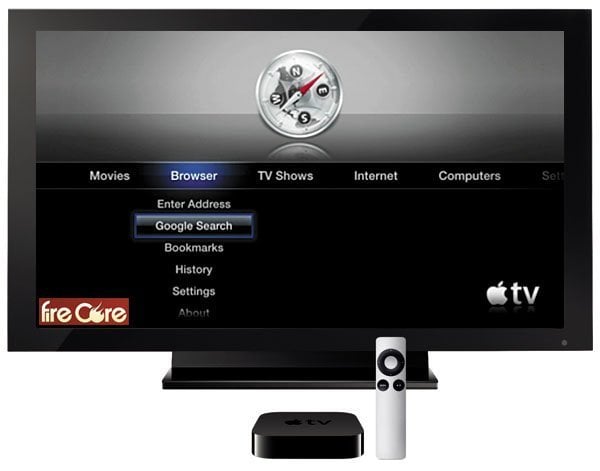 Fire Core has finally released the first beta version of aTV Flash (black) for the Apple TV 2G. It gives you a web browser with HTML5 support (not all HTML5 sites are supported yet), a Plex client that lets you stream nearly any kind of video from Plex Server running on your Mac, Last.fm access and some info on demand (current weather and news feeds). Fire Core promises to enable additional media formats such as AVI, MP4, MKV, DVD files and to support media streaming from most NAS devices (including Airport Extreme and Time Capsule) in the near future. You don't need to be worry about the original Apple TV features, they will all remain fully operational.
The new aTV Flash is compatible with the 4.0 Apple TV software only. The new 4.1 software requires a few adjustments and the company plans to have compatible version available soon.
Note: before installing aTV Flash (black) your atv will need to be jailbroken!
Currently the software is for Mac only. Windows compatible version is expected to be available within the next few days.
For the current users aTV Flash is available as a free upgrade.
(Some instructions from the developer: After logging into your account you will have an extra download link for aTV Flash (black). Your normal aTV Flash license and download links will remain unchanged. Additionally any available renewal specials can also be found in your account.)
For the new users the software is available at the discounted price of $19.95 during the beta (pre-order) phase. Once the final version is ready for release the price will return to the normal level of $29.95.
The original aTV Flash is also being reduced to $39.95.
GIVEAWAY
We have 10 licenses of aTV Flash (black) to give away! Follow @appletvhacks, retweet the contest message and join us on Facebook for your chance to win. The winners will be announced on Monday (December 6th).
Related news
AirVideoEnabler Allows AirPlay Video Streaming from Any App
Apple TV 2G Gets 4.2.1 Software Update
Groovy Brings Grooveshark to Your Apple TV
How to Install Plex on Apple TV 2G