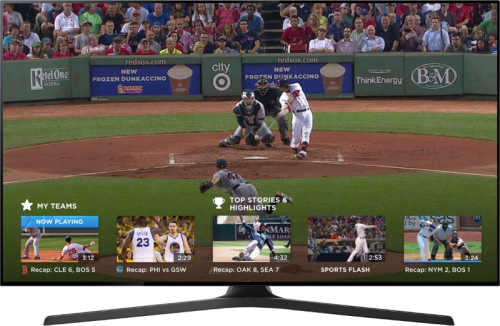 Yahoo today launched Yahoo Sports for Apple TV 4, a new app that all allows users to watch their personalized sports news, highlights and live games completely free.
At launch, users can watch the most recent news and highlights from MLB, NHL, NBA, PGA and some of the top soccer leagues from around the world.
They will also get the coverage and in-depth analysis from the Yahoo Sports editorial team such as The Vertical with Woj, Instant Reactions, Sports Dash, and Power Rankings.
The app also gives access to Yahoo Sports' full slate of  live streaming options including the MLB Free Game of the Day.
Just select your favorite teams through a simple one-time setup and from then on you'll get a personalized sports playlist of top highlights from your teams and the top stories across sports.
Yahoo said they will be releasing new features for the app in the coming months.
The Yahoo Sports app for Apple TV 4 is available for download now through the Apple TV App Store.
Be sure to follow Apple TV Hacks on Twitter, Facebook or Google+ for all the latest Apple TV-related news.