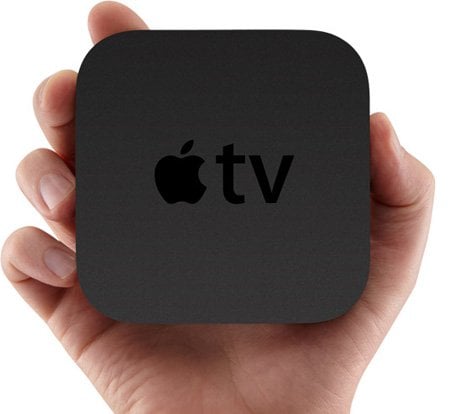 "We've sold a lot of them but it's never been huge hit," Jobs said last week. How could we not agree: Apple TV wasn't a game changer for the living room. But hey, there are hundreds thousands of users completely satisfied with the existing ATV (according to the analysts, Apple might have sold 3 million Apple TV devices worldwide) and most of them never even thought of hacking this mysterious box! That's why here at Apple TV Hacks, we think Steve has figured it out very well: what the average customer wants from his/her HDTV in the living room is to play latest movies, popular TV shows, family vacation photo slideshow and maybe some music from time to time. We, geeks, need more, that's obvious, and that's why we are so disappointed with the new device. The only thing we can do now is to try to squeeze as much as we can out of this hockey puck when we put our hands on it sometime at the end of September.
But before that happens, let's focus on what we know about the second generation Apple TV so far.
The box
3.9 inches (98 mm)x3.9 inches  x0.9 inches (23 mm); 0.6 pounds (1/4th the size of existing ATV)
built-in power supply
no power button
Connectivity
HDMI (cable sold separately)
Optical audio
10/100BASE-T Ethernet
Micro-USB (for service and support); loses host USB
Built-in IR receiver
Wireless
802.11n Wi-Fi (a/b/g compatible)
2.4GHz and 5GHz
Processor
Apple A4 chip (replacing Intel Pentium M that powered the old ATV)
Storage
No internal storage – instant online streaming (iTunes, Netflix, Flickr, Mobile Me, etc.) and local streaming (from your mac or pc via iTunes).
But Steve only said there will be no "storage management", no details were given on what exactly is inside the box, no details on RAM.
Video formats
H.264 (up to 720p, 30 fps)
MPEG-4 (up to 2.5 Mbps, 640 by 480 pixels, 30 fps)
Motion JPEG  (up to 35 Mbps, 1280 by 720 pixels, 30 fps)
No 1080p, only720p!
According to Engadget, Apple felt that using 720p allowed them to strike a balance between quality and bandwidth.
In comparison to old, hacked ATV, the new device looses 1080p
Audio formats:
HE-AAC (V1), AAC, protected AAC (from iTunes Store), MP3, MP3 VBR, Audible (formats 2, 3, and 4), Apple Lossless, AIFF, and WAV;
Dolby Digital 5.1 surround sound pass-through
Photo formats
JPEG, GIF, TIFF
Controller
Aluminum Apple Remote (included)
iPhone or iPod touch running Remote app (free). Not so comfortable as Apple Remote device, but facilitates writing: use your device's QWERTY keyboard to quickly tap out the title instead of clicking letters on the Apple TV screen.
OS
No details on the OS are given by Apple. According to Boing Boing, an Apple spokesperson said that the new Nano and Apple TV don't use iOS, but other sources reports he has only confirmed that the new Nano doesn't use this OS.
Since the second generation Apple TV is powered by A4 chip, like other iOS devices, it probably runs some form of iOS, just not identical as iPhone or iPad.
Content
–          iTunes rentals available in the US, Australia, Canada, France, Germany, Ireland, New Zealand and the United Kingdom:
–          HD: new releases – $4.99, library titles – $3.99
–          SD: new releases – $3.99, library titles – $2.99
–          instant access; you have 30 days to start watching, and once you begin, you can watch as many times as you want in 24 hours
–          availability: often the same day they come out on DVD
–          searching by top movies, title, or genre; trailers, reviews, Rotten Tomatoes rating
Older Apple TVs will continue to work as they have been working up to this point, and they will continue to be able to purchase movies and TV shows even though the new Apple TV is rental-only.
–          iTunes rentals only available in the US
–          titles from: ABC, ABC Family, Fox, Disney Channel and BBC America
–          commercial free
–          99¢ per episode (HD and SD)
–          once you rent an episode, you have 30 days to press Play. Then it's yours for the next 48 hours
–          Apple TV keeps track of your favorite shows so the next time you turn on your TV, you can see which season you're watching and which episodes are new
–          only available in the US
–          Netflix subscription required
–          watch your content right away or add it to your instant-watch queue
Mobile Me (access to Mobile Me galleries)
Fickr
YouTube
Slidshows (various slideshow themes, music from your iTunes library)
Internet radio
Local streaming
–          music, videos and photos streamed from PCs and Mac
–          iTunes 10 required
Coming soon: streaming from iPhone, iPod touch or iPad to the Apple TV with AirPlay, a new feature that will come with iOS 4.2 in November. There will be no need to rent or buy a movie or TV show again if you already have it on one of your iOS devices.
Price and availability
Apple will start shipping the new Apple TV at the of September/beginning of October for $99.
Sadly, there will be no updates for current ATV.
Possible hacks
Hacking the new Apple TV will be much more difficult since it has no USB host (no patchstick, no external hard drive) and hard drive (no room for additional files). "The hacking will probably have to be done via hooking the AppleTV up like a hard drive, and I doubt it will be as easy as the original one," thinks NitoTV. And if the device is truly based on some form of the iOS, we will rather have to talk about "jailbreaking", not "hacking".
But we are sure that together with the great and creative ATV Hacks community we will soon make the new device more "usable". "We're committed to developing for the AppleTV platform, and will continue to do so once these new models are available," said Firecore, the developer behind aTV Flash. Fingers crossed!
Interesting comment from our Facebook page:
"The real question is whether app developers will be able to utilize "air play" for their apps.. If so then apps like HuLu+ pandora ect will be able to work on the new aTV that way and apps like stream-to-me and airVideo will be able to deliver any video codec from your Mac or network storage drive (if you have an iOS device)."
Hands-on
Engadget
WIRED
Ars Technica
Boing Boing