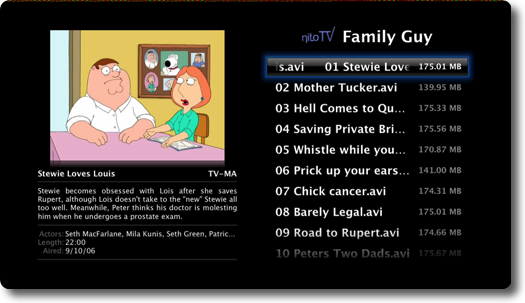 If there is one Apple TV plugin you should try out, look no further than the nitoTV plugin by nitoSoft. As far as we know, it is the only plugin project being actively developed for the Apple TV. The guys at nitoSoft has been furiously releasing updates at a break-neck pace. Unlike most plugins out there, this one is more refined than others.
Based on a port of mplayer, a popular open source movie player, nitoTV seamlessly integrates with the Apple TV interface to bring you a viewing experience like no other.
For starters, it lets you play movie files in just about any format out there; so for those of you complaining that Apple TV doesn't support so and so format, take a look at this plugin. It even supports subtitle, something we're still waiting for Apple to do something about with their movies and TV shows. Yes, sometimes, I just like to watch my shows in Thai and other times, in Japanese.
Don't feel like spending the time converting all your DVDs to mp4 to play on the Apple TV? No worries, mate. The plugin will play your DVD content, be it from actual DVD from a mounted USB DVD drive or from a ripped ISO. You can even mount the ISO on a network drive. The last few revisions includes a "DVD Import" feature, which supposedly imports the content of a DVD without even conversion. We haven't tried this out ourselves but it's worth a look.
All in all, we think Apple can sure learn a thing or two from the development of this plugin. Are you listening, Apple?
To the folks at nitoSoft, we salute you for bringing this gem to our favorite platform.