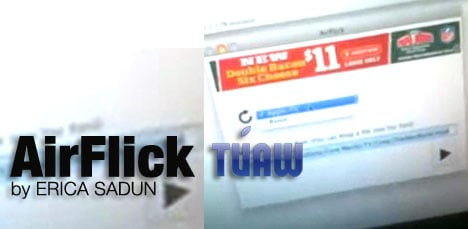 After releasing an application called AirPlayer that allows you to stream video to your mac from your iPad using Apple's built-in AirPlay services, TUAW's Erica Sadun has now released AirFlick that transmits data to any Apple TV 2 outside of iTunes. According to Erica, AirFlick offers the potential of real-time transcoding of otherwise unsupported file types into Apple TV-compatible data. It also allows you to open videos located on the internet by pasting a URL and clicking the play button. Erica was able to watch a number of Internet Archive (archive.org) mp4 videos on a big screen TV by browsing that website, selecting URLs, and opening them with AirFlick.
This is how she explains how the AirFlick works:
AirFlick works by transforming your Mac into a web browser, the same way AirPlay works on your iPhone or other iOS device. For Mac-based files, AirFlick tells your Apple TV to connect to a local URL and serves the data that the Apple TV plays back. So long as those files are in a supported format such as mp4, m4v, mp3, etc, the Apple TV can read and display the file data.
Download AirFlick for Mac
[source: TUAW]
You may also want to read:
How-To: Jailbreak Apple TV 2G on iOS 4.2.1 with PwnageTool
AirVideoEnabler Allows AirPlay Video Streaming from Any App
Groovy Brings Grooveshark to Your Apple TV