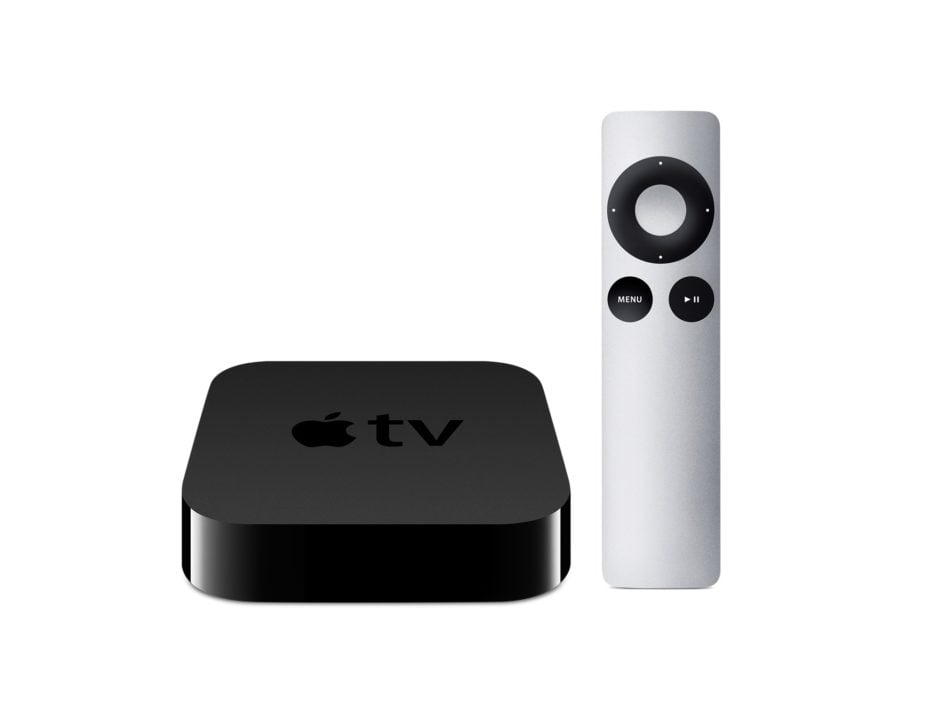 If you have the Apple TV 3rd generation, then you know that this is in fact a very impressive streaming device. On the other hand, the competition right now is fiercer than ever. There are many other similar devices that you can use to stream your favorite movies and TV shows. The Apple TV's Full HD playback is indeed nice, yet in terms of the content and features you can access with it, it leaves a lot to be desired. However, if you own an iPod Touch, an iPhone or maybe an iPad, then the Apple TV may soon become an essential part of your Apple ecosystem. In the apple tv 3rd generation review below we'll try to fill you in on everything you need to know about it prior to purchasing it.
Build quality, hardware, size, and price
Even though it's a few years old, no one can deny that the apple tv 3rd gen looks amazing. It measures 23 millimeters in height, and 100 millimeters square. In fact, it's has such a small form factor that you can easily place it on your TV without worrying about it taking too much space. If you check the back of the device, you'll notice there are several ports. These include optical S/PDIF, HDMI, Ethernet (10/100 Megabits), and a micro USB port. However, according to Apple, this port is for diagnostics only.
The Apple TV also features a dual band 802.11n Wi-Fi, meaning that it can effectively connect to 2.4 GHz and also 5GHz networks. If you're curious about the apple tv 3rd generation price, you can currently get it for as little as $59. The apple tv 3rd generation Amazon may be cheaper, so be sure to check its price on Amazon as well.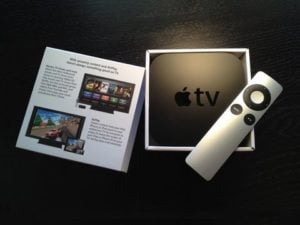 Setup and control
You can easily control the Apple TV via its sleek and small, yet very thin aluminum remote. Even better, the remote is very simple to use, features a central Select button, but also a 4 way cursor pad that you can use to navigate through menus.
It's possible to also use the Remote application for your iPad or iPhone. With it, you can control your Apple TV from your tablet or phone. What's great about the app is that you don't require line of sight, since it works over Wi-Fi.
To set up the Apple TV, you just have to plug in the soft-touch power cable and then hook it up to the HDMI port of your TV. Keep in mind that Apple doesn't provide an HDMI cable, so you should get one separately. Next, all you have to do is enter your Apple ID and password. Once you do that you'll be taken to the home screen.
Interface
What many will love about the Apple TV is the fact it has one of the simplest interfaces you'll ever find on a media streamer. The icons on the home screen are large, therefore easy to navigate through. It's important to mention that the top row is dedicated to Apple Services. You cannot delete them, but you can reorder them. The Apple TV runs on TVOS which works very smoothly. Even though it's a bit old, the Apple TV 3rd gen has hands down one of the best operating systems ever put in a streaming device.
Content and AirPlay
The reason why people get an Apple TV is to consume content and there are many ways for them to do that. You can use apps, but you can also use AirPlay. AirPlay allows you to beam content from your Mac, tablet or smartphone to your Apple TV. This means that almost any content you can watch on your smartphone can also be beamed to your Apple TV.
If you want, you can also use AirPlay's Mirroring function. As the name suggests, you'll be able to send what you see on your laptop, tablet or smartphone to your TV. This can be very useful if you want to watch a movie with your friends or someone else.
Apple movies and TV
One of the best things about the Apple TV is that you can rent and also purchase TV shows and HD movies from Apple's collection. In fact, Apple has the second largest collection of content (Sky Now ranks first) you can choose from, so no matter what TV show or movie you want to see, there's a good chance Apple has it.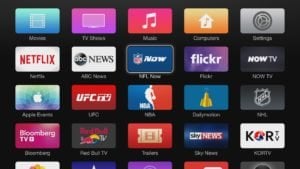 If you want, then you can also watch content you purchased from another device. Dolby Digital surround tracks are also supported by Apple (where available). Therefore, if you're into surround sound, then just plug your Apple TV into an audio video receiver and enjoy it! One thing to bear in mind when purchasing live shows from Apple is that its version is usually a day behind the live broadcast.
Photos and iCloud
With photographs from your Mac, iPad, and iPhone going into iCloud, you can easily view them on your Apple TV at any given time. Not only that, but all the content you uploaded, such as your shared streams, photo stream, movies, etc can be accessed from the interface. Based on your internet connection, the content can be viewed pretty fast.
You may also have photographs that have yet to be uploaded to iCloud. If that's the case, then you can use AirPlay to view on them your Apple TV.
Apple music
By using the music app, you can easily browse through the music store to play any songs that you may have purchased. If you have an iTunes Match subscription, then the songs you ripped from CDs are also made available.
Summary
If you're the type who wants to have access to all his favorite TV shows and movies at any given them, time you certainly need to buy apple tv 3rd generation. Its impressively simple interface, great functionality, amazing build quality, but also low price make it a solid choice for anybody looking for an affordable, yet top quality streaming device.