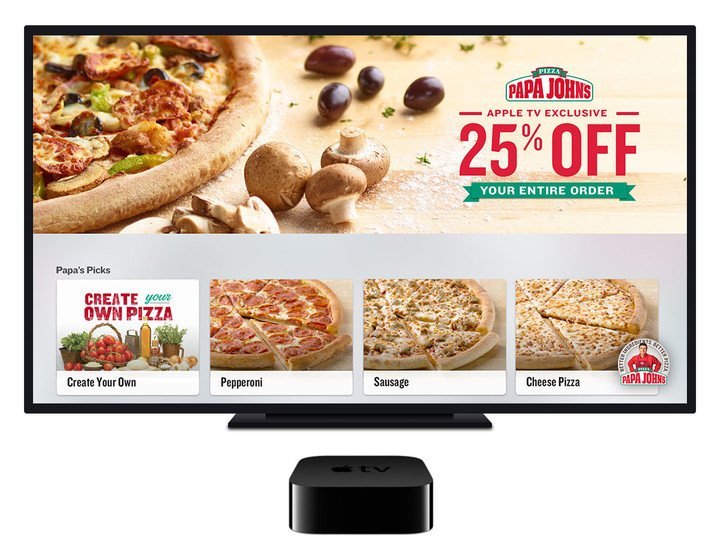 Papa John's has released a new Apple TV app that will allow you to order for your favorite pizza, side dish, desserts or drinks. The app will also give Apple TV users 25 percent off their order.
The Papa John's Apple TV app is only available for the latest fourth generation Apple TV. It is also the first food delivery app to be available on the set top box.
As mentioned above, all Apple TV users will receive 25 percent off on their orders. To avail this amazing offer on the Apple TV, you will need to have an existing account at the restaurant. Simply sign in to the Papa John's Apple TV app using your existing credentials and you're all set. You can then access your favorite meals on the app.
Papa John's is the first restaurant that lets you order food straight from your TV. Yes, there's not really a need for this, but since we're all getting lazier and bigger, this makes things easier. You no longer have to get up from the couch to order your favorite pizza. Just launch the Apple TV app and you'll have your pizza in no time, delivered to your couch.
"Papa John" Schnatter, Founder, Chairman and Chief Executive Officer of Papa John's had this to say;
Pizza and entertainment are a natural fit. With the launch of our Apple TV app, we're hoping to make family movie night and friend gatherings around the TV even more enjoyable by delivering the same quality product and experience our customers expect in a convenient and interactive way.
From the Apple TV app, you can browse the entire menu of the restaurant and order any of the pizzas, desserts, sides, and drinks. You can even customize your pizza and add your favorite toppings, etc. If you want things to be fast, you can re-order a customized pizza that you had ordered before. Have a meal planned out? Order it in a seconds from the Apple TV.
The app is available for free on the tvOS App Store and works only on the Apple TV 4th gen. You can also ask Siri to download the app for you by saying 'download Papa John's from App Store.'