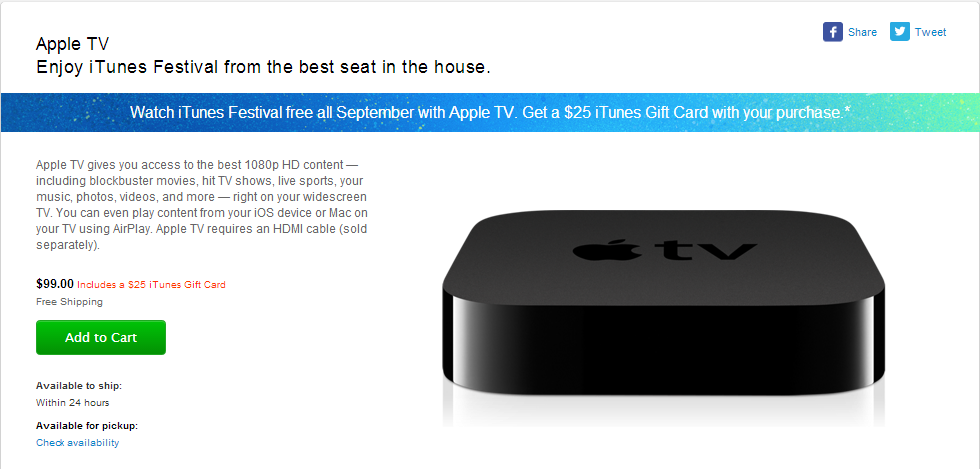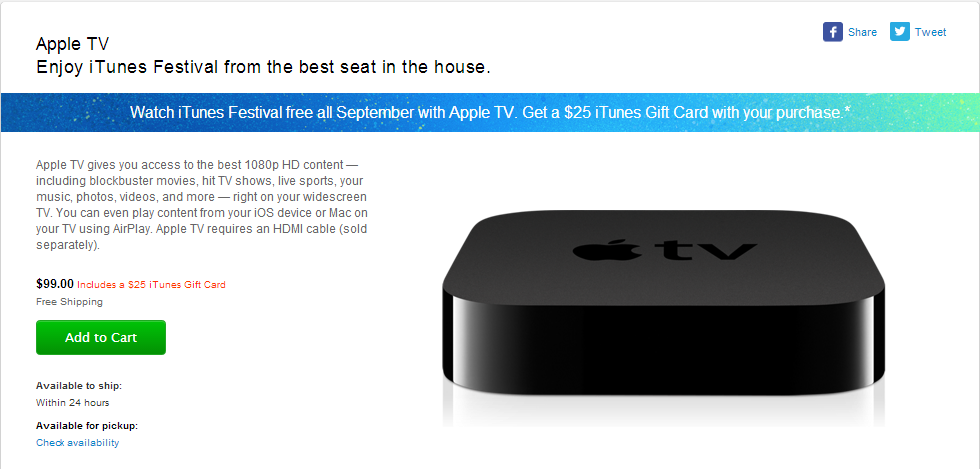 If you're a regular follower of Apple TV Hacks, you might remember reading  a similar story before. Earlier this year, Apple introduced a promotional offer for Apple TV, thanks to which every purchase of the set-top box would come with a free $25 iTunes Card. And as per Apple Online Store, the deal is live again.
Apple is citing the upcoming iTunes Music Festival as the reason for this celebration and wants you to enjoy it from the "best seat in the house".
Buy an Apple TV, and you can watch every performance of iTunes Festival right from your couch. What's better, you also get a $25 iTunes Gift Card you can use to purchase music from your favorite artists.
The offer will be available from today through September 30th. The $25 Gift Card can be used to purchase music, movies or apps from the iTunes or App Store and effectively cuts down the Apple TV 3 price to $74. However, if you're not much of an iTunes guy, you can get a similar offer of $75, for a refurbished one at the online store!
Whatever Apple might say to be the reason for the sale, analysts are forced to think in terms of an imminent Apple TV 4 release. It makes sense to assume that Apple is clearing the stock of the current generation Apple TVs to make space for the next.
However, similar speculations from last time were thrown into the bin as months passed by. Besides, the latest rumors point at an early 2015 launch for the Apple TV 4 launch. In the midst of these contrasting reports, it is hard for anybody to make a valid guess.
Be sure to follow Apple TV Hacks on Twitter, Facebook or Google+ for all the latest Apple TV-related news.